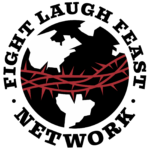 CrossPolitic Update
TLN (Total Living Network) on Affinity is adding us to their TV network beginning September 6th, this is in addition to our current airing on NRBTV on Direct TV. We are very grateful for this opportunity, and it is not possible apart from our Club members. So please
join the Club
! Every time we add a new show or
network, the workload grows. By the grace of we have accomplished a lot the last three years without any full-time staff, and that needs to change. Also don't forget, next 250 that sign up or increase their club membership will get a special edition, laser engraved Fight Laugh Feast pint!
We are live tonight at 7pm PAC time on Facebook, Twitter, and Youtube.
NRBTV on Direct TV: Channel 378 (Half hour show on Thursday at 4pm EST). You can also find NRBTV on apps, SmarTVs, Roku, Amazon Fire Stick, AppleTV, and more.
TLN on Infinity and various Partners: Starting September 6th Friday nights at 8pm PAC time. TLN can also be found streaming on Roku, Amazon Fire TV, Android TV, and Google Play.
Don't worry if you miss us live, you'll still be able to download the show on your favorite podcast platform.