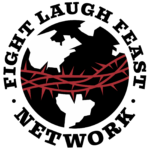 Happy New Year! We are looking forward to being at the G3conference.com January 16th through 18th, and then we will be touring throughout the east coast. Reach out contact@fightlaughfeast.com to support our trip, or possibly schedule us for an event as it fits the travel schedule.
We have big plans for 2020 and would appreciate your support. So far we have built CrossPolitic and the network without any full-time staff, and would love to change this. The best way to do this is by joining our club here. If you have a business that would benefit from our access on Direct TV, Xfinity, social media, and podcast audience, reach out to us contact@fightlaughfeast.com for options.
Lastly, we are putting on our first annual Fight Laugh Feast Conference in Nashville October 1st through 3rd. All sorts of details coming, but for now you can join our conference email list here.
What you will find in this email:
Network Update
Interview: None
Link to our Corporate Sponsor: All of them!
Our fall conference schedule
News articles that we read throughout this past week
Club Update
If enough money is raised, the PAC can also support legislators and candidates through direct expenses not coordinated with the candidates' campaigns, such as direct mailers, newspaper and radio ads. A financial contribution by "Abolish Abortion PAC" will appear on all of the legislators' campaign finance reports (which people do read) and will send a clear statement that the people of Idaho, through their financial contributions, want abortion ended in Idaho, without compromise.
To make your financial contribution to Abolish Abortion PAC, which will in turn be used to support our champion legislators, send a check payable to:
Abolish Abortion PAC
PO Box 916
Sagle, ID 83860
To stay up on what is going on visit http://www.abolishabortionid.com/. I think this is a great idea, and a good way to put your money where our desires are at and an opportunity to bless legislatures that stick their neck's out for this legislation. So, consider giving to this pack, even $10! I know Scott Herndon and he is a godly guy with a great family, and pray God's blessing on the legislative session this coming year. Well that is all for now.
Corporate Partners
One Hat Technologies
Does your business need a simpler digital workflow?
Is your software difficult for new people to learn?
Are there gaps in your software, where it just doesn't do everything you want it to?
Let OneHat make your life easier, with custom software, built just for your needs.
OneHat Technologies excels at creating beautiful, easy-to-use, and powerful business software. Their motto is: "Software craftsmanship to the glory of God."
They've been in business for 18 years and are striving to live out the lordship of Jesus Christ in the technology world.
So take the headache out of your day-to-day business processes with custom software (or a website or mobile app). Visit onehat.com/crosspolitic today.
That's "O-N-E-H-A-T" dot com, slash cross politic.
Also, OneHat is starting a network of Christian developers. So if you're a developer check it out on their website.
Visit our corporate sponsors–Classical Conversations, One Hat Technologies, Tenicor (Discount code: CROSSPOLITIC for 10% discount), Logos Online School.
News
And a Ukrainian 737 Goes Down in Flames in Tehran 
https://thedcpatriot.com/breaking-ukrainian-plane-crashes-just-outside-of-tehran-airport-in-iran-180-on-board/
China Announces Harsher Regulations in 2020
https://www.christianpost.com/news/china-imposes-harsh-new-rules-governing-religious-groups-in-2020.html
Planned Parenthood Part of the 1%
https://disrn.com/news/planned-parenthood-annual-report-reveals-highest-ever-number-of-abortions-and-government-funding