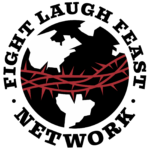 First, we are so excited to be putting on our first annual Fight Laugh Feast Conference in Nashville October 1st through 3rd. Registration is now live. Seating is limited so register now! All club members get $100 off of registration, so if you are a club member or become a club member, email us at contact@fightlaughfeast.com to get your discount code.
Secondly, we have new club content in our member portal! God and Government and No Limits Eschatology both with Gary DeMar. We also have East Coast tour content coming with David French, Pastors and Politics, and more. Support rowdy Christian media by joining our club, we can't thank you enough!   
Lastly, Ryan is the Executive Director of the Falkirk Center at Liberty University. Enjoy the show!