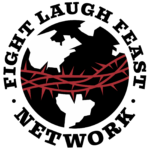 Three big announcements:
First, we are putting on our first annual Fight Laugh Feast Conference in Nashville October 1st through 3rd. All sorts of details coming, but for now you can join our conference email list here.
Secondly, download our app! Just type in Fight Laugh Feast Network in the Google or Apple app stores. We are slowly adding more content, but new shows will be in the app.
Lastly, support Riot and the Dance Water and bring it to your theaters March 6th! Just buy a public display license $195 here, and show it at your church, homeschool coop, local theater, etc…
Show Summary and Guest
Gary DeMar is an American writer, lecturer and current president of American Vision. The think-tank has a vision of "an America that recognizes the sovereignty of God over all of life and where Christians are engaged in every facet of society".
We met up with Gary at the G3 Conference to discuss his latest book on the rapture called The Rapture.
Featured Corporate Partner
Does your business need a simpler digital workflow?
Is your software difficult for new people to learn?
Are there gaps in your software, where it just doesn't do everything you want it to?
Let OneHat make your life easier, with custom software, built just for your needs.
OneHat Technologies excels at creating beautiful, easy-to-use, and powerful business software. Their motto is: "Software craftsmanship to the glory of God."
They've been in business for 18 years and are striving to live out the lordship of Jesus Christ in the technology world.
So take the headache out of your day-to-day business processes with custom software (or a website or mobile app). Visit onehat.com/crosspolitic today. 
Also, OneHat is starting a network of Christian developers. So if you're a developer check it out on their website.