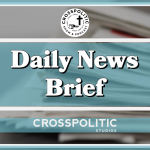 This is Toby Sumpter with your CrossPolitic Daily News Brief for Thursday, April 2, 2020
Gas Prices Drop Below $2/Gallon
https://www.npr.org/2020/03/31/824425219/average-gas-prices-are-below-2-a-few-stations-are-even-selling-for-under-1
Gas prices are dropping — to less than $1 per gallon in a few locations — but most Americans aren't supposed to go anywhere. That's the irony of the coronavirus lockdown.
The national average price for a gallon of gas is now $1.997, according to AAA, and it's expected to drop further in the next few weeks — to $1.75 or even lower. 
Prices vary across the country. In two states, Hawaii and California, the average price at the pump is still above $3. But drivers are paying less than $1.99 at more than two-thirds of the gas stations in the U.S., according to AAA data. In Oklahoma, the average price is $1.55. 
Individual gas stations can go even cheaper — multiple stations across the U.S. have sold a gallon of gas for less than $1, at least temporarily, according to GasBuddy. 
"In the last week, 99 cent prices have shown up at various times in Kentucky, Tennessee, Oklahoma, Wisconsin and Missouri and more could join in the days and weeks ahead," the price-tracking site said.
According to Gasbuddy: The last time the national average has been this low was March 23, 2016, caused by a crash in the oil market. During that period, the national average stayed below $1.99 for nearly three months, from January 2 through March 23, bottoming at $1.66 per gallon on February 14. 
2009: The Great Recession pushed the national average below $1.99 per gallon for roughly four months from November 20, 2008 to March 25, 2009, bottoming at $1.59 on December 29, 2008. Prices eventually staged a major recovery in 2010 and stayed high until 2014. 
Texas Governor Deems Worship as an Essential Activity
https://dailycaller.com/2020/04/01/texas-religious-services-essential-pastors-arrested/?fbclid=IwAR2nwqmt7MMzZfE5DG0Veyp_BkGTEnBo8dhrTdALA-JaB4tV_qaxMrdKyoo
Mary Margaret Olohan from Daily Caller: "As authorities arrest pastors for holding Sunday services in defiance of social distancing orders, Texas Gov. Greg Abbott announced Tuesday that religious services are to be considered essential in his state.
Abbott issued an executive order relating to state-wide continuity of essential services and activities during the coronavirus pandemic. The order mandated that all Texans will minimize social gatherings and in-person contact with people who are not in the same household, and, among other statutes, clarified that religious services conducted in churches, congregations and houses of worship are to be considered essential services.
"'Essential services' shall consist of everything listed by the U.S. Department of Homeland Security in its Guidance on the Essential Critical Infrastructure Workforce, Version 2.0, plus religious services conducted in churches, congregations, and houses of worship," the order stated. "Other essential services may be added to this list with the approval of the Texas Division of Emergency Management."
The governor encouraged those involved in essential services to practice good hygiene, environmental cleanliness, sanitation, social distancing and working from home when possible.
Abbott's order came as authorities arrested pastors in Louisiana and Florida for holding Sunday services and bused large groups of people to attend the services.  
Remember, Central Police Chief Roger Corcoran called Rev. Tony Spell of the Louisiana Life Tabernacle Church "reckless and irresponsible" for holding Sunday services, and Florida Hillsborough County Sheriff Chad Chronister called megachurch pastor Rodney Howard-Browne's actions "reckless disregard of public safety."
Meanwhile Michigan Governor Changes Course
https://www.realclearpolitics.com/articles/2020/04/01/religious_freedom_in_the_time_of_coronavirus_142832.html?fbclid=IwAR0SDIn7h8ed3qzlj4GU2Kidmq7l_nsm_P_1mNoMoY2Z6JNPiYpPizH–ag
Meanwhile, on the other end of the spectrum, we do have some magistrates clamping down or threatening extreme measures. Recall that we covered Bill de Blasio's authoritarian threats recently. And in Virginia, Gov. Ralph Northam issued an edict making it a crime to hold a church service with more than 10 people. Michigan Gov. Gretchen Whitmer banned large gatherings, including those at churches and religious institutions, and then went further, threatening "administrative actions" against doctors who prescribed the malaria drug hydroxychloroquine sulfate (which President Trump has cited as a "potential game changer" in treating coronavirus).
But then just days later, in Michigan, Governor Whitmer not only reversed course on hydroxychloroquine sulfate — she asked the federal government for shipments of the drugs – she also modulated her own order banning large gatherings, excluding religious groups from any penalties after state House Speaker Lee Chatfield conveyed his concerns about the penalties to Whitmer.
In an interview with "Fox News Sunday" anchor John Roberts, Whitmer explained that while she was greatly discouraging religious gatherings in light of the pandemic, she didn't believe the government had the right to order churches to close.
"Well, you know, the separation of church and state, and the Republican legislature asked me to clarify that," explained Whitmer. "That's an area that we don't have the ability to directly enforce and control. We are encouraging people, though: Do not congregate."
Chatfield, a Republican, took to Facebook to thank the governor for listening.
"People have a God-given right to assemble and worship, and that right is secured by both the United States and Michigan Constitution. While I do not think that that right can be taken away by an executive order, I believe that as Christians we also have a duty to love our fellow man and play our role within society," stated Chatfield. 
So, at last count, there are three state governors who have issued stay-at home orders or shelter in place orders that have specifically exempted Churches: Florida, Texas, and Michigan. Interestingly, Michigan is a Democratic Governor who accepted the pushback of her Republican legislature. 
Questions for our Projections
Lastly for today, I want read something that I posted on Facebook and Twitter yesterday. This is just a list of outstanding questions that have accumulated in my mind about the reliability of the data and projections surrounding the Covid19/Coronavirus. These are not "gotcha" questions. They are honest questions that I would be more than happy to receive reasonable answers on. 
How can we trust data projections for Covid19/Coronavirus if we do not know the total number of cases? Antibody tests are in the works, but to my knowledge they have not yet been widely used. Aren't we missing a very important denominator for our calculations?

If many cases are apparently mild or even symptom-free, how can we trust projections of the spread of the virus if we do not know how many people have already recovered and are immune? If the virus has been in America since late 2019 or at least early 2020 (as some doctors believe), doesn't a wide swath of immunity significantly reduce the rate of spread?

Is it true that many people who are dying WITH Covid19 did not necessarily die FROM Covid19? There are reports that there may be various state-mandated reporting policies related to this, perhaps even financial incentives to reporting deaths this way. How can we trust data and projections if we do not make this distinction in our mortality rates? An 90 year old with emphysema who tests positive for Covid19 shortly before dying isn't in the same boat as the occasional (outlier?) healthy 35 year old who gets the virus and clearly dies FROM the virus.

Do the mainstream data projections and models take into account differing qualities of healthcare systems or greater or lesser government bureaucracy/regulation/bottlenecks? Is the quality of healthcare projected neutrally between China, Italy, the UK, and the US? Again, if they do not distinguish differences in healthcare systems, how can we trust these projections?

Finally, do the mainstream data projections take into account demographic differences, density of population, average age of population, and other underlying medical factors, such as higher percentage of smokers or other pre-existing conditions? And if not, why should we trust these data projections?
This is Toby Sumpter with Crosspolitic News. You can find this show and all the others on the
Fight Laugh Feast Network at Crosspolitic.com or Fightlaughfeast.com or on our app, which you can download at your favorite app store, just search "Fight Laugh Feast". Support Rowdy Christian media, and become a Fight Laugh Feast Club Member, and for a limited time you can get your very own Fight Laugh Feast t-shirt. You can't get these anywhere else except by becoming a member (or upgrading your membership) while supplies last. You are also getting access to tons of quarantine content, including most recently, a new series called Pastors & Politics – with three episodes so far including Dan Fischer, Douglas Wilson, Roger Skepple, Pat Perkins, and George Grant. Plus hours more with David French, Erick Erickson, Walter Williams, Maj Toure, Curt Kennedy, Gary Demar, and our very own Worldview Shotgun Series. You also get $100 off your registration for our first annual Fight Laugh Feast Conference, where we hope to meet many of you in Nashville, TN October 1st through the 3rd. Go to fightlaughfeast.com to register now. Have a great day. https://flfnetwork.com/coming-soon/