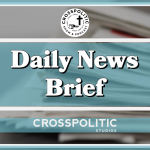 This is Jesse Sumpter, managing editor of the CrossPolitic Magazine. Here with your CrossPolitic Daily News Brief for Friday, June 5, 2020. Check out the CrossPolitic Magazine for articles and commentary on theology, politics, culture, and history.
George Floyd tested positive for COVID-19, autopsy shows
https://thehill.com/homenews/state-watch/501082-george-floyd-tested-positive-for-covid-19-in-autopsy
The Hill Reports: George Floyd had likely contracted and recovered from the novel coronavirus at the time of his death in Minneapolis police custody last week, according to an autopsy report released by the Hennepin County Medical Examiner's Office that also showed trace amounts of fentanyl and methamphetamine in his system.
The 20-page report is dated May 25, the day of Floyd's death. It indicates Floyd had tested positive for the virus on April 3, suggesting he had likely recovered by the time of his death. While a post mortem nasal swab confirmed the diagnosis, the report released on Wednesday noted "the result most likely reflects asymptomatic but persistent … positivity from previous infection."
The report, which lists Floyd's ultimate cause of death as "cardiopulmonary arrest complicating law enforcement subdual, restraint, and neck compression," contradicts that of an independent examiner hired by Floyd's family, which attributed Floyd's death as "asphyxiation from sustained pressure." The county report does not list the trace amounts of fentanyl and methamphetamine as a cause of Floyd's death.
Minneapolis police officer Derek Chauvin was charged Friday with third-degree murder and second-degree manslaughter. On Wednesday, Minnesota Attorney General Keith Ellison (D) announced the charges against Chauvin would be upgraded to second-degree murder and that the other three officers present on the scene were also charged with aiding and abetting second-degree murder and aiding and abetting second-degree manslaughter.
Massive Robert E. Lee Statue In Richmond, Va., Will Be Removed
https://www.npr.org/2020/06/04/869519175/massive-robert-e-lee-statue-in-richmond-va-will-be-removed
NPR reports: Virginia will remove a statue honoring Confederate Gen. Robert E. Lee in the city of Richmond "as soon as possible," Gov. Ralph Northam announced Thursday.
"Today, we're here to be honest about our past and talk about our future," Northam said, adding: "We have to confront where we've been in order to shape where we're going."
The statue will be placed into storage, where it will remain until government leaders and the community can discuss its future, according to the governor.
"In Virginia, for more than 400 years, we have set high ideals about freedom and equality," Northam said, "but we have fallen short of many of them."
The statue will be removed from Richmond's Monument Avenue, which is lined with effigies of Confederate generals. Of all the monuments, Lee's looms the largest — and unlike the others, it is owned by the state, a six-story monument on a 100-foot island of land that the state also owns.
It's up to the City of Richmond, the Confederacy's former capital, to decide what to do with the other statues; the city is in the process of determining what their fates will be.
Now some commentary: This is not the way to deal with history. History cannot be erased like this. History is messy and is rarely fixed by trying to erase it. 
Lee had an important role to play in American history. He was a key soldier in the United States Army. He also played an important role in the Mexican-American War as a chief aide. Later he was commander of the militia and US Marines who arrested John Brown at Harpers Ferry after Brown tried to incite slaves to rebel. Brown was also known to have captured some slave owners in Kansas and executed them with broadswords. This shows that Lee played an important role in bringing a criminal to justice. 
Even when it came to the Civil War between the states, Lee was against secession unless it was the last option possible. He described it as a revolution. In the end, he decided to side with the southern cause because that is where he and his family lived in Virginia. His decision was not racist nor aggressive. His motive was one of protection for his family and people.
Did Lee make mistakes? It depends on what you mean so we need to analyze it carefully. But we do know that he was human. All men are human and so all men make mistakes. This is what it means to know and study history. But if we judge men of history based on their mistakes and errors then we would never honor anyone. 
But the fifth commandment says honor your father and your mother. This means that we must honor those who came before us. Do we have to agree with everything they did? No. But we must not be quick to judge or condemn them. The solution is to honor the good things that they did. Honor does not mean we ignore their issues but that we recognize the ways they served our country and the good that they did. Lee was loyal to his country and family. Would that we had more loyalty in our generation. Lee was brave and courageous and could stand up to others when he thought they were wrong. Would that we had more men like that today. 
Ultimately, this statue was helping to train us about honor. If we have no one to honor then we will never learn this important skill. If we have no one to honor then we will not know what it means to be honorable. 
Northam said this action of removing the statue is "in order to shape where we're going." In this way Northam is shaping the future of Virginia but that future is one with no one to honor and that means there will be no honorable men. 
Gov. Cuomo swings at Trump: "Here in New York we actually read the Bible"
https://disrn.com/news/gov-cuomo-swings-at-trump-here-in-new-york-we-actually-read-the-bible
Disrn News reports: New York Gov. Andrew Cuomo slammed President Trump standing with the Bible in front of the historic St. John's Episcopal Church on Wednesday, saying that New Yorkers "actually read the Bible."
"The president held up the Bible the other day in Washington, D.C.," Cuomo said during a press conference on Wednesday. "Here in New York we actually read the Bible."
Cuomo began the conference with Bible verses he said "are especially appropriate for today in this time of where we are," citing verses from the gospels and Psalms.
Cuomo cited Matthew 5:9: "Blessed are the peacemakers, for they will be called children of God." He also cited Mark 3:23: "If a house be divided against itself, that house cannot stand."
He also cited Psalms 34:14: "Turn away from evil and do good. Search for peace and work to maintain it," and James 3:18: "The seed whose fruit is righteousness is sown in peace by those who make peace."
Cuomo's comments come after Trump stood with a Bible outside of historic St. John's Episcopal Church on Wednesday. The church had been burned by looters the night before.
Some final thoughts here: It is ironic to see Cuomo suggesting that he reads the Bible. Seems like he should have been doing that back in 2019 when he signed a bill allowing late-term abortions in New York state. He then had the spire of One World Trade Center lit up in pink to "shine a bright light forward for the rest of the nation to follow." Talk about blind eyes and deaf ears. New York is getting the abortion it wants: thousands dead from Covid-19 and looting and riots in its streets. Doesn't sound like the bright light that others should follow. Gov. Cuomo, while you are reading the Bible, maybe you should also listen to it. I would suggest that Psalm 34:14 is talking to you: "Turn away from evil and do good." 
This is Jesse Sumpter with Crosspolitic News. Check out the CrossPolitic Magazine for articles and commentary on theology, politics, culture, and history.   
Download the Fight Laugh Feat app at your favorite app store, just search "Fight Laugh Feast". Our app is the only way to get In the Bullpen with Mark Dewey – maybe the best worldview baseball podcast ever. Support Rowdy Christian media, and become a Fight Laugh Feast Club Member, and for a limited time you can get your very own Fight Laugh Feast t-shirt and access tons of content with Dan Fischer, Douglas Wilson, George Grant, David French, Erick Erickson, Walter Williams, Curt Kennedy, Gary Demar, and the Worldview Shotgun Series. You also get $100 off your registration for our first annual Fight Laugh Feast Conference, where we hope to meet many of you in Nashville, TN October 1st through the 3rd. Go to fightlaughfeast.com to register now. Have a great day.https://flfnetwork.com/coming-soon/