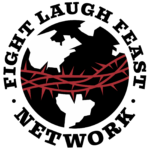 Two things to bring to your attention:
First, we are so excited to be putting on our first annual Fight Laugh Feast Conference in Nashville October 1st through 3rd. Registration is now live. Seating is limited so register now! All club members get $100 off of registration, so if you are a club member or become a club member, email us at contact@fightlaughfeast.com to get your discount code.
Secondly, we have new club content in our member portal! God and Government and No Limits Eschatology both with Gary DeMar. We also added more East Coast Tour content including interviews with David French and Dr. Walt Williams. Support rowdy Christian media by joining our club, we can't thank you enough!   
What you will find in this email:
Network Mission
Interview: Christopher Caldwell, The Age of Entitlement
Links to our Corporate Sponsor: Samaritan Ministries
Our Upcoming Events Schedule
News articles that we read throughout this past week
Network Mission
For far too long we have allowed secular media outlets like CNN, MSNBC, Fox, and others to dominate our airwaves. The advancement of the internet and technology, means that CrossPolitic and the Fight Laugh Feast Network is not bound to the gatekeepers of mainstream media. But here is the catch, in order to compete with mainstream media, we need to crowdsource our efforts. What do I mean by that, we need you to join our army of club members, so that we will have the resources to not only compete with mainstream media, but to take it over because Jesus is King. So, we are building something that hopefully by the grace of God will become a big voice for Christians all over the world. In three years, with little resources, we have found placement in millions of households on Direct TV and Comcast, and we will reach about 3 million in podcast downloads in this year alone. Thanks for considering supporting our work, and of course above all we appreciate your prayers that we would stay faithful to the gospel, as we proclaim it in the public square. Join the Club, grow the movement, and pray for reformation and revival in our country.
Interview
A must read book! Christopher Caldwell breaks down how the 1964 Civil Rights legislation basically created a competing constitution with our founding constitution. Caldwell reveals the real political turning points of the past half century, taking readers on a roller-coaster ride through Playboy magazine, affirmative action, CB radio, leveraged buyouts, iPhones, Oxycontin, Black Lives Matter, and internet cookies. In doing so, he shows that attempts to redress the injustices of the past have left Americans living under two different ideas of what it means to play by the rules.
Christopher Caldwell (born 1962) is an American journalist and a former senior editor at The Weekly Standard, as well as a regular contributor to the Financial Times and Slate. He is a senior fellow at the Claremont Institute and contributing editor to The Claremont Review of Books.[1] His writing also frequently appears in The Wall Street Journal, The New York Times, where he is a contributing editor to the paper's magazine, and The Washington Post. He has also written for The Atlantic Monthly and The New York Press and the assistant managing editor of The American Spectator. He's the author of Reflections on the Revolution in Europe: Immigration, Islam and the West and his brand new book is The Age of Entitlement: America Since the Sixties. He is married to Zelda and they have five children.
Corporate Partners
Samaritan Ministries
Samaritan Ministries is a health care sharing ministry with over a quarter of a million Christians that care for one another's needs—from broken bones to cancer, pregnancies to organ transplants—all without the use of insurance.
With no network restrictions, members have the freedom to choose the health care provider that works for them. This freedom gives them the opportunity to choose the doctor, hospital, and pharmacy that works best for their family whenever medical care is needed. Samaritan members receive financial support from other members and pay their health care providers directly.
Each month members get a notification telling them who to send their money to and how to be praying for them. Members can even send a little note to remind them that they are not alone.
Learn how health care sharing works at samaritanministries.org/crosspolitic.
Visit our corporate sponsors–Classical Conversations, Samaritan Ministries, One Hat Technologies, Subsplash, Logos Online School, New Saint Andrews College.
Upcoming Events
Grace Agenda
School of Practical Christianity
APRIL 24TH-25TH | MOSCOW, IDAHO
The Christian life is life. All the alternative ways of "living," are really only different ways of dying. Faith in Christ, and the new birth which brought about that faith, enables a person to actually live. So, now that you're alive, now what? How are you to live? How are you to love your neighbor? How are you to love the God who gave you that life? Welcome to the School of Practical Christianity.
Fight Laugh Feast Conference
October 1st through 3rd | Nashville, TN
Registration is Live!