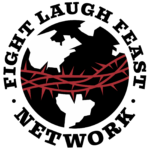 We look forward to seeing everyone at G3. Please be in prayer for this trip, as we will be heading north to Nashville, DC, Philly, and NYC for a number of interviews and events.
We have big plans for 2020 and would appreciate your support. So far we have built CrossPolitic and the network without any full-time staff, and would love to change this. The best way to do this is by joining our club here. If you have a business that would benefit from our access on Direct TV, Xfinity, social media, and podcast audience, reach out to us contact@fightlaughfeast.com for options.
Lastly, we are putting on our first annual Fight Laugh Feast Conference in Nashville October 1st through 3rd. All sorts of details coming, but for now you can join our conference email list here.
Interview
Luke Goodrich is the author of Free to Believe: The Battle over Religious Liberty in America, which has won awards form The Gospel Coalition and World Mag. Luke is also the vice president and senior counsel at the Becket Fund for Religious Liberty, where he has won multiple Supreme Court victories for clients like the Little Sisters of the Poor and Hobby Lobby. He frequently discusses religious freedom on networks such as Fox News, CNN, ABC, and NPR, and in publications like the Wall Street Journal, USA Today, and Time magazine. Goodrich also teaches an advanced course in constitutional law at the University of Utah law school. He lives in Utah where he enjoys exploring the outdoors with his wife and children and serving in their local church.

Scott Adams is the creator of the Dilbert comic strip, and the author of several nonfiction works of satire, commentary, and business. His current book, Loserthink, a guide to spotting and avoiding loserthink: sneaky mental habits trapping victims in their own bubbles of reality.
Corporate Partners
Samaritan Ministries is a health care sharing ministry with over a quarter of a million Christians that care for one another's needs—from broken bones to cancer, pregnancies to organ transplants—all without the use of insurance.
As we enter a new year, it's important to have a routine that incorporates gratitude and to remember God's provision this past year. It is amazing how often His kindness comes through the faithfulness of other believers, like health care sharing with Samaritan Ministries. Each month members get a notification telling them who to send their money to and how to be praying for them. Members can even send a little note to remind them that they're not alone.
Monthly memberships with Samaritan Ministries start at one hundred dollars depending on your age, household size, and the membership option you choose. You can calculate what that cost would look like for your situation on their website. Just go to SamaritanMinistries.org/crosspolitic.
Visit our corporate sponsors–Classical Conversations, One Hat Technologies, Tenicor (Discount code: CROSSPOLITIC for 10% discount), Logos Online School.
Upcoming Events
G3 Conference
The mission of the G3 Conference is to educate, encourage, and equip for the work of ministry and for the glory of God. Our mission is built upon the foundation of the holy Scriptures and upheld by three pillars – gospel, grace, and glory. It is our goal to see the people who attend the G3 to reach the neighborhoods and the nations with the gospel.
2020 G3 Conference: January 16th – January 18th (CrossPolitic will be there!)
Sign up here: https://g3conference.com/events/g3-conference-2020/
Grace Agenda
School of Practical Christianity
APRIL 24TH-25TH | MOSCOW, IDAHO
The Christian life is life. All the alternative ways of "living," are really only different ways of dying. Faith in Christ, and the new birth which brought about that faith, enables a person to actually live. So, now that you're alive, now what? How are you to live? How are you to love your neighbor? How are you to love the God who gave you that life? Welcome to the School of Practical Christianity.
Fight Laugh Feast Conference