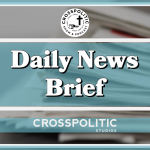 This is Toby Sumpter with your CrossPolitic Daily News Brief for Friday, August 14, 2020.
Today you will hear about several new court cases created by the Supreme Court's most recent term's decisions, which college football conferences have testosterone left in them, Israel is making peace with one of its neighbors, and Jared Kushner is hanging out with Kanye. 
Did Chief Justice Roberts Leave a Message in the Bottle of His Last Rulings?
https://www.washingtonpost.com/politics/courts_law/arkansas-abortion-florida-transgender-supreme-court/2020/08/12/588f1162-dc09-11ea-809e-b8be57ba616e_story.html?hpid=hp_hp-more-top-stories_court-decisions-755am%3Ahomepage%2Fstory-ans
Robert Barnes writes at the Washington Post about a cluster of abortion and transgender court cases likely to land back in the Supreme Court soon: "The Supreme Court's rulings from a momentous just-completed term already are altering the nation's legal landscape, almost assuring that issues such as abortion and transgender rights will be returning to the high court."
Just this last week lower courts reinstated abortion restrictions in Arkansas, stopped a Vermont program that disfavored students at religious high schools and ordered a Florida school district to allow a girl, who pretends to be a boy, into a boys locker room and restrooms.  
Barnes points out that all of these decisions were "based on the Supreme Court's decisions reached just weeks ago… The most consequential regards abortion, and whether Chief Justice John G. Roberts Jr.'s pivotal vote striking down a Louisiana law actually paved the way for courts to approve restrictions that have been enacted elsewhere."
Remember, Roberts was excoriated for his apparent flipflopping on his vote in the 5-to-4 decision in the Louisiana case June Medical Services v. Russo. Roberts voted with liberals to strike down a law, which Roberts said was identical to a Texas law the court had declared unconstitutional in 2016 — a decision that Roberts disagreed with. He voted against the 2016 decision, but apparently voted to disagree with himself in June Medical Services. Vice President Pence was among those calling Roberts a "disappointment to conservatives," specifically citing the abortion decision.
But liberals pointed out that Roberts based his vote on precedent alone. Barnes writes: "He did not join the opinion by Justice Stephen G. Breyer that said courts should balance the burdens imposed by state restrictions against their purported benefits in determining whether a law violates a woman's right to an abortion." Instead, Roberts said he continued to believe the Texas case was wrongly decided. He said courts should look only at whether a restriction places an "undue burden" on a woman's access to the procedure. Abortion supporters smelled blood in those instructions. 
Roberts's opinion "preserves the outer shell of the earlier decision while gutting its substance," New York University law professor Melissa Murray wrote in an op-ed in The Washington Post. "And in so doing, it invites states to push the envelope on abortion legislation, secure that, regardless of the benefits to patients, courts will bless the laws so long as they do not pose a substantial obstacle."
So, a unanimous panel of judges on the U.S. Court of Appeals for the 8th Circuit cited Robert's opinion as grounds for lifting the injunction against four measures passed by the Arkansas legislature in 2017 designed to limit abortions in the state. 
Is Roberts playing 4D chess or is he being too clever by half?
In the same article, Robert Barnes highlights a court decision by the US Court of Appeals for the 11th Circuit requiring a school district in Florida to allow a crossdressing girl access to boys bathrooms and locker rooms. In this case the panel cited the recent Supreme Court Bostock decision which identified workplace discrimination against sexual orientation and sexual identity as illegal under Title IX.
Remember, Title IX is a federal civil rights law passed as part of the Education Amendments of 1972. This law protects people from discrimination based on sex in education programs or activities that receive Federal financial assistance. Title IX states that:
"No person in the United States shall, on the basis of sex, be excluded from participation in, be denied the benefits of, or be subjected to discrimination under any education program or activity receiving Federal financial assistance."
However, Niel Gorsuch who authored the decision was clear that Bostock did "not purport to address bathrooms, locker rooms, or anything else of the kind," Gorsuch wrote in Bostock v. Clayton. "The only question before us is whether an employer who fires someone simply for being homosexual or transgender has discharged or otherwise discriminated against that individual 'because of such individual's sex.' "
But dissenters said the reasoning in the decision would be applied by lower courts to the controversy, and this panel from the U.S. Court of Appeals last week became the first to do so. The panel said the St. Johns County school board policy violated the Constitution and Title IX. "Bostock confirmed that workplace discrimination against transgender people is contrary to law. Neither should this discrimination be tolerated in schools," wrote Judge Beverly B. Martin, who was joined by Judge Jill A. Pryor.
He who says X must say Y – right? And surely Gorsuch knew they would be coming back? So was Gorsuch playing 4D chess or what?
But wait, there's one more: 
Robert Barnes writes: A panel of the U.S. Court of Appeals for the 2nd Circuit indicated there was little ambiguity in the Supreme Court's decision in Espinoza v. Montana Department of Revenue, which concerned whether religious schools must be included in public programs that benefit other private schools.
"A state need not subsidize private education," Roberts wrote for the five-member majority. "But once a state decides to do so, it cannot disqualify some private schools solely because they are religious."
That seems to doom a Vermont program that provides funding for high school juniors and seniors to dual-enroll in college courses before they graduate. Students at religious high schools were barred from the program, but not those at secular private schools or those who are home-schooled.
A panel of judges said the challengers "have a strong likelihood of success on the merits of their claims" because of the Espinoza decision, and halted the exclusion of students at religious schools while the lawsuit goes forward.
This is why we need weapons for this fight. Which is why we want to invite you to our first annual Fight Laugh Feast Conference in Nashville October 1-3. We've put together a package that is full of feasting and psalm singing, hearty fellowship, and a line up of speakers committed to showing you how God's Word applies to politics, economics, business, education, creativity, marriage and family, and much more. We aren't abolishing history. We're going to dig deep. So please join us this October 1st through the 3rd as we build a rowdy Christian culture for God's glory and our good. Go to Fightlaughfeast dot com and register today.
Which Football Conferences are Run By Men?
https://disrn.com/news/big-12-conference-joins-sec-and-acc-plans-to-play-football-this-fall/
The Big Ten and Pac-12 conferences have announced that their schools are run by sissies, and they will be staying home this fall and playing with dolls. Lining up with them are the Mid-American Conference and the Mountain West Conference, sucking their thumbs. As of now 54 of the 130 total teams in the Football Bowl Subdivision are out. As of now, the SEC, the Big 12, the ACC, the Sun Belt Conference, the American Athletic Conference, and Conference USA are still on. The four conferences that have cancelled their Fall season have announced their high hopes to play some kind of spring season, however, just about everyone and their grandmother notes how difficult the logistics would be for a spring football season. When asked on Big Ten Network if a spring season could be held, former Ohio State coach Urban Meyer said: "No chance. You can't ask a player to play two seasons in a calendar year."
Israel & the United Arab Emirates Announced a Peace Deal Thursday
https://www.haaretz.com/israel-news/with-trump-s-help-israel-and-the-uae-reach-historic-deal-to-normalize-relations-1.9070687
Israel and the UAE announced that they had reached a peace deal on Thursday that would lead to a full normalization of diplomatic relations between the two Middle Eastern nations — an agreement that U.S. President Donald Trump helped broker.
Under the agreement, Israel has agreed to suspend applying sovereignty to areas of the West Bank that it has been discussing annexing, a joint statement by all three parties to the agreement said.
Trump, in a tweet, called the agreement a "HUGE breakthrough," describing it as a "historic peace agreement between our two GREAT friends."
The joint statement said the three leaders had "agreed to the full normalization of relations between Israel and the United Arab Emirates."
"This historic diplomatic breakthrough will advance peace in the Middle East region and is a testament to the bold diplomacy and vision of the three leaders and the courage of the United Arab Emirates and Israel to chart a new path that will unlock the great potential in the region," the statement said.
The agreement was sealed in a phone call on Thursday between Trump, Netanyahu and Sheikh Mohammed Bin Zayed, crown prince of Abu Dhabi. The officials described the agreement, to be known as the Abraham Accords, as the first of its kind since Israel and Jordan signed a peace treaty in 1994.
Jared Kushner Met With Kanye West Last Weekend
https://www.usatoday.com/story/news/politics/2020/08/13/jared-kushner-spoke-kanye-west-but-not-donald-trump/3367208001/?utm_campaign=snd-autopilot
USA Today reports: White House adviser Jared Kushner said Thursday he spoke recently with rapper Kanye West – but not about any plan to have West run for president in order to help father-in-law Donald Trump win re-election.
"We had a general discussion, more about policy," Kushner told reporters.
Kushner said he and West "both happened to be in Colorado" at the same time last weekend, and got together because "he has some great ideas for what he'd like to see happen in the country. And that's why he has the candidacy that he's been doing."
Democrats described the Kushner-West meeting as the latest piece of evidence that Trump's re-election team is helping the famed producer and recording artist get on as many state ballots as possible. The idea, they said, is that West would draw African-American voters away from Democratic candidate Joe Biden, helping Trump prevail in closely contested states.
This is Toby Sumpter with Crosspolitic News. You can find this and all of our shows at Crosspolitic.com or on our app, which you can download at your favorite app store, just search "Fight Laugh Feast". Our app is the only way to get In the Bullpen with Mark Dewey. Support Rowdy Christian media, and become a Fight Laugh Feast Club Member, and for a limited time you can get your very own Fight Laugh Feast t-shirt and access to tons of extended discussions with Sho Baraka, David French, Erick Erickson, Maj Toure, Biblical Parenting with Doug and Nancy Wilson, God and Government and End Times Eschatology with Gary Demar, Pastors and Politics with George Grant and C.R. Wiley and more, Proverbs with Me, and our very own Worldview Shotgun Series. You also get $100 off your registration for our first annual Fight Laugh Feast Conference, where we hope to meet many of you in Nashville, TN October 1st through the 3rd. Go to fightlaughfeast.com to register now. Have a great day. https://flfnetwork.com/coming-soon/