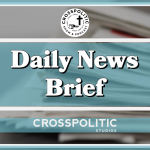 This is Toby Sumpter with your CrossPolitic Daily News Brief for Friday, August 21, 2020.
Today you will hear about Steve Bannon's arrest, Obama taking his presidential gloves off, stock markets feeling bullish, LA court sides with MacArthur again, Trump stumps in Pennsylvania, and South Australia says it can take your kids. 
Stephen Bannon Arrested
https://www.washingtonpost.com/national-security/stephen-bannon-arrested-charged/2020/08/20/6d46847c-e2ea-11ea-b69b-64f7b0477ed4_story.html?hpid=hp_hp-top-table-high_bannon-1010am%3Ahomepage%2Fstory-ans
Trumps former chief strategist, Steve Bannon was arrested Thursday on a boat off the coast of Connecticut with three other men: Brian Kolfage, Andrew Badolato, and Timothy Shea. All four men were charged with conspiracy to commit wire fraud and money laundering through a campaign called "We Build the Wall," which had raised over $25 million to help construct the wall along the Mexico border. Prosecutors allege that Bannon and the other men were siphoning off payments to themselves with fake invoices. Bannon appeared in court later on Thursday, pleading not-guilty to the charges, and was expected to be free on bail shortly. 
Trump said he felt "very badly" for Bannon but added, "I haven't been dealing with him for a very long period of time." The president also added that he thought the fundraising effort was not something he had ever approved of, "I thought it was being done for showboating reasons."
However, Donald Jr., was a guest at a symposium hosted by the group in New Mexico in 2019, where he praised the organization as "private enterprise at its finest."
"Doing it better, faster, cheaper than anything else," he added. And one of the group's advisers, Kris Kobach, former Kansas Secretary of State told the New York Times that he had talked with the president at one point about the We Build the Wall Effort and the president had told him that the project had his blessing and he's welcome to tell the media that.
Obama Breaks with Precedent 
https://www.washingtonpost.com/politics/2020/08/19/takeaways-democratic-convention-night-2/?utm_campaign=wp_post_most&utm_medium=email&utm_source=newsletter&wpisrc=nl_most
Former President Barack Obama spoke at the Democratic National Convention Wednesday night and broke with traditional American post-presidential protocol by attacking President Trump's presidency with far more vehemence than some believe has ever happened before. Michael Beschloss, a contributor for NBC and PBS, an historian of past American Presidents, tweeted out, "No former President has ever attacked his incumbent successor at a convention like Barack Obama tonight, or even come close."
This came as a pretty stark contrast to Obama's initial reports after Trump was initially elected, describing their post-election conversation as "excellent" and something that "encouraged" him. At Wednesday's convention speech Obama called Trump's presidency a reality show and warned America that in this coming election democracy was at stake.
This is why we need Weapons for this War. Which is why we want to invite you to our first annual Fight Laugh Feast Conference in Nashville October 1-3. We've put together a package that is full of feasting and psalm singing, hearty fellowship, and a line up of speakers committed to showing you how God's Word applies to politics, economics, business, education, creativity, marriage and family, and much more. Please join us this October 1st through the 3rd as we build a rowdy Christian culture for God's glory and our good. Go to Fightlaughfeast dot com and register today.
The Stock Market Roars Back to Life
https://disrn.com/news/shortest-bear-market-in-history-ends-as-sp-500-sets-new-record/
The S&P 500 closed at a new record high on Tuesday, rebounding from it's massive plunge in February and March, regaining and eclipsing its previous record set on February 19th. Taking just the S&P 500, this would be the third fastest recovery at just 102 days for the S&P, but measuring the whole market together, some economists are saying the whole bear market only lasted 126 days, making it the fastest rebound in US History, just ahead of most Hollywood actresses. 
Remember, economists typically look at the Nazdeq Index, the Dow Jones Industrial Averages, and the S&P 500 to gauge the strength of the overall economy. As it stands, the Dow Jones Industrial Averages are still trailing in full recovery. 
Vice President Mike Pence tweeted out Tuesday: "S&P 500 closed at a RECORD high today, fully wiping out its losses from the Coronavirus! This is the great American comeback!"
While everyone seems elated, many investors are still somewhat wary or cautious. Steven Wagner of Omnia Family Wealth, said many investors are still bewildered by the apparent disconnect between what people are still seeing on the ground and what appears to be happening with the markets. Most people think this signals significant optimism about the next year. 
LA Superior Court Not Insane
https://www.thomasmoresociety.org/pastor-john-macarthurs-religious-freedom-upheld-in-los-angeles-county-superior-court/
John MacArthurs's Special counsel at the Thomas More Society, Jenna Ellis, reported Thursday that "Judge Mitchell L. Beckloff correctly found there is no court order prohibiting Grace Community Church from holding indoor services. LA County continues to harass and target Pastor MacArthur. Having failed to get a court order to shut down the church they have sought three times, they're going to try again by hauling us back into court. Ironically, LA County said in its application for contempt that, 'Grace Church cannot thumb its nose at the court when decisions don't go its way,' yet that's precisely what LA County is now doing themselves. We will simply continue to defend our client's constitutionally protected rights because church is essential."
MacArthur and Grace Community Church are suing LA County for attempted to shut down worship under COVID emergency orders in violation of the state constitution. The lawsuit was filed after the church received a cease and desist order prohibiting indoor worship and threatening fines and imprisonment. That lawsuit is currently pending.
Trump Spoke in Pennsylvania Thursday
https://twitter.com/JackPosobiec/status/1296554881965273091?s=20
"Liberal hypocrites want to open our borders and let violent mobs rule the streets while they live in walled-off compounds and communities, they want to defund police while hiring private security. They want to let rioters burn churches while jailing you for praying in your church. They want to abolish school choice while sending their children to the best private schools in the land. They want to cancel you, take your jobs, turn your family against you for speaking your mind, while they indoctrinate your children with twisted worldviews." 
South Australian Government Claims Authority to Remove Children
https://caldronpool.com/authorities-granted-covid-19-powers-to-forcibly-take-children-from-their-homes/
Or maybe they'll just come get your children. In South Australia, the most recent COVID-19 Emergency Response Act claims authority to remove children from the custody of their parents. Section 25A asserts that in times of emergency the government has the authority to remove "a child from any premises, place, vehicle, or vessel to a place of residence of the child or to a hospital or quarantine facility, as the authorized officer thinks fit (and may, in doing so, use such force as is reasonably necessary)." 
While one would assume that this was originally written assuming actual dire emergencies – like active shooters in the home, a school fire, etc., what has happened in recent years is the complete re-invention of the definition of "emergency," especially what constitutes a health emergency. 
This is as good a time as any to remind you that nothing is religiously neutral. Everything is either ultimately serving Christ or it is at war with Christ. This is why public, government schools have been such a cancer to our culture. It is not that they are openly attacking Christianity all the time, but rather that require teaches to treat Jesus Christ as optional all day long. But to treat Jesus Christ as optional is to be at war with Jesus Christ. He is Lord, and there is no such thing as an "optional" Lord. 
So then, what constitutes good health? What is good for people? Good for children? By what standard? If you will not have the Word of God, the Bible, as your standard, then you will have another standard foisted upon you, and at some point, the authorized officer may use such force as is reasonably necessary. 
Is telling a little boy that he cannot wear a dress harmful? Is spanking abuse? Is counseling a homosexual to repent a hate crime? Well, if it hurts their feelings, is it a health crime now as well? And if governments can take your children for a virus that 99.9% of people will recover from, then anything that has a .01% chance of resulting in death may be twisted into a health emergency. 
But the only cure for this kind of insanity is the gospel. Jesus was crucified for sinners. He was raised from the dead to make all things new. 
This is Toby Sumpter with Crosspolitic News. You can find this and all of our shows at Crosspolitic.com or on our app, which you can download at your favorite app store, just search "Fight Laugh Feast". Our app is the only way to get In the Bullpen with Mark Dewey. Support Rowdy Christian media, and become a Fight Laugh Feast Club Member, and for a limited time you can get your very own Fight Laugh Feast t-shirt and access to tons of extended discussions with George Grant, Sho Baraka, David French, C.R. Wiley, Erick Erickson, Maj Toure, Doug and Nancy Wilson, Walter Williams, Gary Demar, and our very own Worldview Shotgun Series. You also get $100 off your registration for our first annual Fight Laugh Feast Conference, where we hope to meet many of you in Nashville, TN October 1st through the 3rd. Go to fightlaughfeast.com to register now. Have a great day. https://flfnetwork.com/coming-soon/