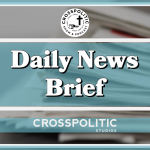 This is Toby Sumpter with your CrossPolitic Daily News Brief for Friday, August 28, 2020.
Today you will hear about Minneapolis rioting and looting again, NBA players vote not to continue season but cave a few hours later, meanwhile CNN is still calling riots peaceful protests, Virgina Senate passed a new bill to encourage rioting in Virginia, and the justice department is investigating states' handling of COVID-19. 
https://disrn.com/news/murder-suspects-suicide-met-with-rioting-looting-in-minneapolis-police-release-video-showing-the-man-killed-himself
After a murder suspect in Minneapolis killed himself in front of police Wednesday night, rioting and looting again broke out in the already ravaged city.
The Minneapolis Police Department released footage of the incident to show that the man killed himself, and was not killed by police, as some people believed. The suicide occurred around 6 p.m. and police released the video around 7:30 p.m. Demonstrations reportedly began peacefully, but deteriorated after the sun set.
The man was suspected in a homicide that took place earlier Wednesday. Local news reported that the Medical Arts building and numerous stores, including a Target, Haskell's liquor store, Sak's, Bruegger's Bagel Bakery, and Caribou Coffee had been vandalized. Video footage and photographs from downtown Minneapolis showed people throwing objects through store windows, climbing into buildings through broken windows, running wild through Nicollett Mall, and kicking out store displays.
Because nothing says you care about justice like destroying other people's lives.
https://sports.yahoo.com/amphtml/nba-players-vote-continue-playoff-165249984.html
At a players meeting on Wednesday, the NBA Lakers and Clippers voted to abandon the rest of their season, with Labron James and Kawhi Leonard speaking out in favor of ending the playoffs over the shooting of Jacob Blake. James took to Twitter saying "We Demand Change. Sick of it."
But on Thursday reports surfaced that league officials began discussing withholding salaries from the players, and magically, the players agreed to get back on the courts. Because apparently justice isn't worth that much money. 
One commentator chided the NBA players: "Brett Favre played the MNF game the day his dad died, threw 4 TD's in the first half, and was a legend for playing in the face of adversity. NBA players boycott the playoffs because a dude reaching for a knife, wanted on a felony sexual assault warrant, was shot by police."
Meanwhile, riots in Kenosha have destroyed the lives of countless others.  
https://nypost.com/2020/08/26/kenosha-store-owner-in-tears-as-she-sees-business-burnt-to-ground/?utm_source=facebook_sitebuttons&utm_medium=site%20buttons&utm_campaign=site%20buttons&fbclid=IwAR3snRawOHDk55UtwZ1vuVvadEBZHhuQkce-isfqwIniR4LmZJDvO1qMA0U
A business owner sobbed uncontrollably after seeing her furniture store reduced to ashes during the fiery protests sparked by Jacob Blake's police shooting in Kenosha, Wisconsin.
"It's all gone … we didn't do nothing to nobody," Linda Carpenter said while comforted by her son, Scott, as they surveyed their completely destroyed B & L Office Furniture, which had been in business for 40 years and was "still burning," she said.
"I don't think it's justifiable for anyone to destroy anybody else's property," she told Town Hall reporter Julio Rosas Tuesday.
"It's basically theft. Whoever did this stole from us," her son said.
Protesters started torching cars and businesses hours after video first emerged of local dad Blake, 29, getting shot several times in the back by a local officer Sunday.
Stores were also looted — forcing a local gaming business to announce it was having to close up for good because of it.
"Everything in the store was taken and the place was destroyed. For a business that was struggling to get back to normal and pushing through these hard times we will not be able to come back from this," the Gravity Gaming Lounge announced on Facebook.
"The damage to our building and the cost to replace the exterior damage and to top it off to replace everything stolen is going to be catastrophic … at this point we will be closing down completely."
Despite the obvious chaos, CNN is still running with the "peaceful protests" line. A reporter on scene in Kenosha, Wisconsin was seen early Tuesday morning in front a scene of burning cars, with a byline running on the bottom of his screen that read, "Fiery But Mostly Peaceful Protests After Police Shooting." 
This has sparked a new genre of memes: Titanic: Watery but Successful Voyage. The Lincolns attended a mostly peaceful play. Kennedy silent after mostly peaceful motorcade in Dallas. Orcs march on Minas Tirith in mostly peaceful protest. 
This is why we need Weapons for this War. Which is why we want to invite you to our first annual Fight Laugh Feast Conference in Nashville October 1-3. We've put together a package that is full of feasting and psalm singing, hearty fellowship, and a line up of speakers Douglas Wilson, George Grant, Glenn Sunshine, Rod Martin, myself, and Jeff Durbin and David Bahnsen – also a special Darren Doane after hours meet and greet. All committed to showing you how God's Word is a sharp sword to take with you into every battle, from politics to business to education and family and much more. Please join us this October 1st through the 3rd as we seek to build a rowdy Christian culture for God's glory and our good. Go to Fightlaughfeast dot com and register today.
https://www.wsls.com/news/virginia/2020/08/26/virginia-senate-passes-bill-allowing-assaulting-a-police-officer-to-be-a-misdemeanor/?ocid=uxbndlbing
On Wednesday, the Virginia Senate voted 21-15 to pass Senate Bill 5032, which would reduce mandatory minimum penalties, eliminating the mandatory minimum term of confinement for an assault and battery committed against a judge; magistrate; law-enforcement officer; correctional officer; person directly involved in the care, treatment, or supervision of inmates; firefighter; or volunteer firefighter or any emergency medical services personnel and provides that such crime can no longer be committed as a simple assault and must result in a bodily injury.
Justice Department Investigating Governors Over COVID-19 Orders
https://www.justice.gov/opa/pr/department-justice-requesting-data-governors-states-issued-covid-19-orders-may-have-resulted
Today the Justice Department requested COVID-19 data from the governors of states that issued orders which may have resulted in the deaths of thousands of elderly nursing home residents. New York, New Jersey, Pennsylvania, and Michigan required nursing homes to admit COVID-19 patients to their vulnerable populations, often without adequate testing. 
For example, on March 25, 2020, New York ordered: "No resident shall be denied re-admission or admission to [a nursing home] solely based on a confirmed or suspected diagnosis of COVID-19. [Nursing homes] are prohibited from requiring a hospitalized resident who is determined medically stable to be tested for COVID-19 prior to admission or readmission."
According to the Centers for Disease Control, New York has the highest number of COVID-19 deaths in the United States, with 32,592 victims, many of them elderly. New York's death rate by population is the second highest in the country with 1,680 deaths per million people. New Jersey's death rate by population is 1,733 deaths per million people – the highest in the nation. In contrast, Texas's death rate by population is 380 deaths per million people; and Texas has just over 11,000 deaths, though its population is 50 percent larger than New York and has many more recorded cases of COVID-19 – 577,537 cases in Texas versus 430,885 cases in New York. Florida's COVID-19 death rate is 480 deaths per million; with total deaths of 10,325 and a population slightly larger than New York.
The Department of Justice's Civil Rights Division is evaluating whether to initiate investigations under the federal "Civil Rights of Institutionalized Persons Act" (CRIPA), which protects the civil rights of persons in state-run nursing homes, among others. The Civil Rights Division seeks to determine if the state orders requiring admission of COVID-19 patients to nursing homes is responsible for the deaths of nursing home residents.
As announced on April 10, 2020, the department is also investigating the Soldiers' Home in Holyoke, Massachusetts, where COVID-19 has taken the lives of at least 76 residents.   
These data requests and Soldiers' Home investigation are not accusations of fault or wrongdoing by the states or any other individual or entity, and the department has not reached any conclusions about these matters.
Hurricane Laura
And finally the good news is that Hurricane Laura made landfall early Thursday morning and was rapidly downgraded to a Tropical Storm. At least four deaths were reported in southern Louisiana Thursday afternoon, but winds had reduced to 65 mph and the Governor had reported that the state had been spared worst-case storm surge and flooding.
This is Toby Sumpter with Crosspolitic News. You can find this and all of our shows at Crosspolitic.com or on our app, which you can download at your favorite app store, just search "Fight Laugh Feast". Our app is the only way to get In the Bullpen with Mark Dewey. Support Rowdy Christian media, and become a Fight Laugh Feast Club Member, and for a limited time you can get your very own Fight Laugh Feast t-shirt and access to tons of extended discussions with George Grant, Sho Baraka, David French, C.R. Wiley, Erick Erickson, Maj Toure, Doug and Nancy Wilson, Walter Williams, Gary Demar, and our very own Worldview Shotgun Series. You also get $100 off your registration for our first annual Fight Laugh Feast Conference, where we hope to meet many of you in Nashville, TN October 1st through the 3rd. Go to fightlaughfeast.com to register now. Have a great day. https://flfnetwork.com/coming-soon/