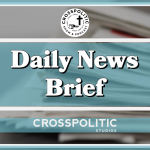 This is Toby Sumpter with your CrossPolitic Daily News Brief for Friday, December 18, 2020.
Today you will hear Rand Paul tell you what he thinks, Russians hacked the Pentagon, the Mayor of Paris got fined, FDA issues a watch out on the COVID vaccine, a Sheriff says he won't be releasing inmates, another study comes out warning about used masks, and a BBQ joint in Indiana is suing the governor over mask mandates and emergency orders. 
If you have a news story you think we might need to cover, please send articles and links to [email protected]
Rand Paul Says Fraud Happened and in Many Ways the Election Was Stolen
https://twitter.com/dcexaminer/status/1339267028801134593?s=20
Russian Hackers
https://apnews.com/article/technology-hacking-coronavirus-pandemic-russia-350ae2fb2e513772a4dc4b7360b8175c?utm_source=Twitter&utm_campaign=SocialFlow&utm_medium=AP
U.S. government agencies, including the Treasury and Commerce departments, were among dozens of high-value public- and private-sector targets known to have been infiltrated as far back as March through a commercial software update distributed to thousands of companies and government agencies worldwide. A Pentagon statement Monday indicated it used the software. It said it had "issued guidance and directives to protect" its networks. It would not say — for "operational security reasons" — whether any of its systems may have been hacked.
Also, you're a complete nube if you think our election machines could be hacked. 
Paris Mayor Fined for Hiring Too Many Women
https://www.wsj.com/articles/paris-is-fined-for-breaking-frances-gender-rulesby-hiring-too-many-women-11608122809
The city government of Paris has been dealt an unlikely punishment: a fine of 90,000 euros, equivalent to $110,000, for appointing too many women to senior positions and breaking France's gender-equality rules.
The offense dates back to 2018, when Mayor Anne Hidalgo appointed 11 women and five men to her senior team at a time when administrations around the world were trying to increase female representation in governments. But with 69% of the positions going to women and 31% to men, Paris broke national government rules to promote equality, which require that at least 40% of new positions should be allocated to each gender.
Ms. Hidalgo told a meeting of the city council on Tuesday that the appointments helped give women a louder voice in government in France and, with tongue in cheek, said she was delighted to pay the fine.
Economists Uma Kambhampati at Reading University in England and Supriya Garikipati at the University of Liverpool surveyed 194 countries and found that by mid-May, women leaders locked down their economies sooner and their countries suffered half as many Covid-19-related deaths on average as those led by men. However, this might in part be because women tend to lead left-leaning administrations that have been prepared to take more decisive state action to slow the spread of the virus.
Exactly. And that's why the Bible says it's a curse to be ruled by women and children. 
FDA Says Watch Out For Bell's Palsy with the COVID Vaccines
 https://disrn.com/news/fda-advises-vaccine-recipients-to-watch-for-symptoms-of-bells-palsy
As COVID-19 vaccines are being rushed to distribution sites all over the country, staff at the U.S. Food and Drug Administration is cautioning doctors and patients to watch closely for the manifestation of Bell's palsy in recipients.
The FDA staff stopped well short of calling the condition – which results in half the patient's face to droop and sag – a side effect. But after a handful of patients that played a part in the vaccine trial program developed the condition, health officials said it bears watching.
The occurrence of the condition was extremely rare among trial participants, at four in 30,000 for the Moderna vaccine and four in 43,000 for the Pfizer vaccine.
The freezing or weakening sensation that accompanies Bell's palsy is almost always temporary, and that appears to be the case in the vaccinated trial patients as well. All but one of the trial participants who developed the condition have seen it resolve already.
According to the FDA, each of the patients who dealt with the face paralysis experienced the condition 22 to 32 days after being inoculated. Doctors and officials have all noted that there is insufficient evidence to link any causal relationship between the vaccine and the condition.
Orange County Sheriff Refuses Order to Release Inmates
https://amgreatness.com/2020/12/17/california-sheriff-refuses-order-to-release-inmates-due-to-covid/
A sheriff in Santa Ana, California is fighting back against a judge's order to reduce Orange County's jail population in an effort to curb the spread of the coronavirus among inmates.
County Superior Court Judge Peter Wilson ruled Friday that 50 percent or 1,858 inmates out of 3,716 must be released including some who are locked up for murder and child molestation, a local ABC affiliate KABC-TV reported.
Sheriff Don Barnes pushed back against Wilson's order, saying, "I have no intention of releasing any of these individuals from my custody." Barnes was ordered to come up with a list of named inmates by Dec. 30. "These aren't low-lying offenders — these are people in for very serious offenses, like murder, attempted murder, and domestic violence," the sheriff warned.
This week, the jail reported total cases at 416, however Barnes suggested the sudden rise in cases to the jail recently beginning to test everyone, including asymptomatic patients, something that's not being done in the outside population.
"We have inmates who are participating in different practices. Either going to medical appointments or going to court or meeting with their attorneys. These people are all from the general public and we know there's a surge within the general public."
One Study Says Wearing A Used Mask Could Be Worse Than No Mask
https://nypost.com/2020/12/16/wearing-a-used-mask-could-worse-than-no-mask-amid-covid-19-study/
Wearing a used mask could be more dangerous than not wearing one at all when it comes to warding off COVID-19, a new study has found.
A new three-layer surgical mask is 65 percent efficient in filtering particles in the air — but when used, that number drops to 25 percent, according to the study published Tuesday in the Physics of Fluids. [I clicked on the link in the NY Post article and the study was disappeared.]
Researchers from the University of Massachusetts Lowell and California Baptist University say that masks slow down airflow, making people more susceptible to breathing in particles — and a dirty face mask can't effectively filter out the tiniest of droplets.
"It is natural to think that wearing a mask, no matter new or old, should always be better than nothing," said author Jinxiang Xi. 
"Our results show that this belief is only true for particles larger than 5 micrometers, but not for fine particles smaller than 2.5 micrometers."
To reach their findings, researchers used a computer model of a person wearing a pleated three-layer surgical mask to track how the face covering affected airflow and how particles passed through. They also looked at how the tiny droplets settled onto the face, in the airway and where they land in the nose, pharynx or deep lung.
They found that wearing a mask "significantly slows down" airflow, reducing a mask's efficacy and making a person more susceptible to inhaling aerosols into the nose — where SARS-CoV-2 likes to lurk. 
"In this study, we found that the protective efficacy of a mask for the nasal airway decreases at lower inhalation flow rates," the study said.
The pleats of a face mask also significantly affect airflow patterns and their efficacy changes with more use, the researchers found. The team plans to study how mask shapes affect protection from COVID-19.
"We hope public health authorities strengthen the current preventative measures to curb COVID-19 transmission, like choosing a more effective mask, wearing it properly for the highest protection, and avoid using an excessively used or expired surgical mask," said Xi.
Indiana BBQ Suing Over Emergency Orders and Mask Mandates
https://news-banner.com/2020/12/n-b-documents-read-the-lawsuit-yergys-filed-due-to-its-closure/?fbclid=IwAR2tgM_CpXaP3Yop2PFl74OS4NvsRFPBsqo6oqmyBZXE83BuPPwoWEH9avg
A lawsuit was filed on behalf of Yergy's State Road BBQ against the Wells County Health Department, Gov. Eric Holcomb and the state of Indiana over its closure due to its violation of the mask mandate.
The restaurant has been closed for nearly four months after the owner Matt Yergler was open on Facebook about not requiring employees to wear masks. He said the mask mandate is unconstitutional. The restaurant would be allowed to open if the management agreed to require employees to wear facemasks and paid their fines. The restaurant challenges the hearing officers' order and the health department's order since it states the health department didn't have the authority to shut the restaurant down to begin with. The lawsuit also challenges every executive order the governor of Indiana has put in place, since each "doesn't comply with the requirements" of the US and state constitutions, "the direct consequence of which is unjust injury to the Yergy's fundamental civil rights, liberty interests, and property rights. It also argues that the governor's emergency order is unconstitutional. 
The Yergy's point out that there is no rational basis for having healthy employeeds wear masks and that no one has been forced to consume Yergy's products. 
Yergy's State Road BBQ Bluffton, Indiana, a little south of Fort Wayne.
This is Toby Sumpter with Crosspolitic News. You can find this and all of our shows at Crosspolitic.com or on our app, which you can download at your favorite app store, just search "Fight Laugh Feast". Support Rowdy Christian media, and become a Fight Laugh Feast Club Member and get your very own Fight Laugh Feast t-shirt and access to all the talks at our first annual Fight Laugh Feast Conference as well as many exclusive behind the scenes interviews as well as our very own Worldview Shotgun Series. Go to fightlaughfeast.com.