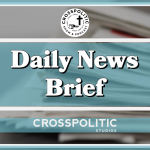 This is Toby Sumpter with your CrossPolitic Daily News Brief for Friday, January 15, 2021.
Today you will hear about NJ Governor committed Grant Theft, a Michigan County calls Governor Whitmer a King George wannabe, charges brought on years old Flint water crisis, and Jacob Blake finally speaks about his shooting. 
If you have a news story you think we might need to cover, please send articles and links to News@CrossPolitic.com 
Two National Events: Fight Laugh Feast Rally in Rapid City, South Dakota, April 29, 30, May 1 & the Fight Laugh Feast Conference in Nashville, TN, October 1-3. Why a rally in South Dakota in April? Because we want to stand with Kristi Noem – the only Governor in the Union to not overstep her authority. And we also want to encourage you wherever you are. Many churches are not meeting, many Christians feel all alone. But you're not alone. So the theme of the Rally in South Dakota is Love God, Sing Psalms, Defy Tyrants. Gather with likeminded Christians who love freedom, confess Jesus Christ is Lord, and be equipped to stand firm in these insane days. Go to flfnetwork dot com forward slash rally. 
Gov. Murphy Seizes Attlis Gym Assets
https://www.instagram.com/tv/CKAWzF-lBdQ/?igshid=1v05md4nubdv5
Baraga County Michigan Puts Gov. Gretchen on Notice
https://www.michigancapitolconfidential.com/citing-the-american-revolution-baraga-county-officials-revolt-against-state-covid-orders
Several Baraga County commissioners, plus the sheriff, prosecuting attorney, clerk, and treasurer of the Upper Peninsula county, have all signed a manifesto that places the state on notice that they will no longer enforce the state's COVID-19 mandates and restrictions.
The declaration reads: "Since March 10, 2020, the People of the State of Michigan have endured restrictions on their freedom which have not been seen in North America since the days of King George III and the American Revolution. In the face of a worldwide pandemic our political leadership in Lansing has ignored the protections guaranteed to all America citizens by the Bill of Rights in favor of the medical models designed to predict the course of a still, for the most part, unknown virus. The result has been the unilateral adoption of clearly unconstitutional measures which treat human beings like herd animals and which arbitrarily pick economic winners and losers. Our citizens' rights to assemble, to freely practice their religion, to travel, to keep their property, businesses and jobs, even to dress as they please have all been swept aside, and to what end? The pandemic rages on and Lansing's failed efforts to control the spread of the virus is blamed on the people themselves rather than the scientific community's admitted lack of data and understanding of COVID-19."
The manifesto continued: "Enough is enough. We have taken an oath to uphold and defend the Constitution of the United States of America, an oath we take very seriously. Accordingly, we hereby put the State of Michigan on NOTICE that we have no intention of participating in the unconstitutional destruction of our citizens' economic security and Liberty. We further declare our intention to take no action whatsoever in furtherance of this terribly misguided agenda. 
Finally, we call upon the Michigan Legislature to exercise their co-equal authority by adopting constitutionally sound measures which limit the unchecked exercise of executive power, which restore individual responsibility and accountability, and which return Michigan to the ranks of freedom-loving governments everywhere."
Nine Charged in Flint Water Crisis
https://www.cnn.com/2016/03/04/us/flint-water-crisis-fast-facts/index.html
Flint, Michigan once thrived as the home of the nation's largest General Motors plant. The city's economic decline began during the 1980s, when GM downsized. 
In 2011, the state of Michigan took over Flint's finances after an audit projected a $25 million deficit.
In order to reduce the water fund shortfall, the city announced that a new pipeline would be built to deliver water from Lake Huron to Flint. In 2014, while the pipeline was under construction, the city turned to the Flint River as a water source. Soon after the switch, residents reported changes to the water's color, smell and taste.
Tests in 2015 by the Environmental Protection Agency (EPA) and Virginia Tech indicated dangerous levels of lead in the water at residents' homes.
Lead consumption can affect the heart, kidneys and nerves. Health effects of lead exposure in children include impaired cognition, behavioral disorders, hearing problems and delayed puberty.
A class-action lawsuit charged that the state wasn't treating the water with an anti-corrosive agent, in violation of federal law. As a result, the water was eroding the iron water mains, turning the water brown. Additionally, about half of the service lines to homes in Flint are made of lead and because the water wasn't properly treated, lead began leaching into the water supply, in addition to the iron.
Overall, more than a dozen lawsuits, including several additional class-action suits, were filed against Michigan and the city of Flint, as well as various state and city officials and employees involved in the decision to switch the source of the drinking water and those responsible for monitoring water quality. The range of remedies sought included monetary compensation for lead poisoning and refunds for water bills. 
Wednesday, nine individuals were charged with varying degrees of willful neglect, perjury, threats, withholding information, and one health official being charged with involuntary manslaughter for the deaths of several residences. Among them former Governor Rick Snyder was charged with willful neglect of duty. 
https://twitter.com/thehill/status/1349829029793292292?s=20
The government of Michigan "trampled on the trust [of the people] and evaded accountability for far too long… Government power is not granted as a blank check. It is borrowed by those who swear an oath to faithfully discharge their duties in service of the people."
I wonder if Gov. Whitmer was listening to that press conference? Nah. Probably not. 
Jacob Blake Interview
https://hotair.com/archives/john-s-2/2021/01/14/jacob-blake-interview-abc-news-left/?utm_source=Twitter&utm_medium=social&utm_term=jacob-blake-interview-abc-news-left&utm_content=0&utm_campaign=PostPromoterPro
ABC News' Good Morning America (GMA) interviewed Jacob Blake Thursday morning. It was Blake's first television interview since the shooting in Kenosha, Wisconsin back on August 23rd. Blake was partially paralyzed after one of the bullets hit his spine and he is now in a wheelchair.
Blake admits he had a knife which he claims dropped to the ground during the struggle. He says he reached down and grabbed it before walking away.
"I shouldn't have picked it up," Blake admits, and says, "I wasn't thinking clearly."
Blake claims he was just going to put the knife into the car and then, "Throw myself to the ground and put my arms behind my back."
That's a little hard to believe. Blake just had a physical fight with police. He's been tased three times and he's walking away with a knife in his hand. We're supposed to believe that he was just about to surrender if only he could get the knife into the car?
This is Toby Sumpter with Crosspolitic News. You can find this and all of our shows at Crosspolitic.com or on our app, which you can download at your favorite app store, just search "Fight Laugh Feast". Support Rowdy Christian media, and become a Fight Laugh Feast Club Member and get your very own Fight Laugh Feast t-shirt and access to all the talks at our first annual Fight Laugh Feast Conference as well as many exclusive behind the scenes interviews as well as our very own Worldview Shotgun Series. We still have a few Fight Laugh Feast tumblers left for club members at 25$ a month or more. Go to FightLaughFeast.com. Have a great day.