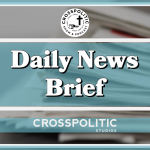 This is Toby Sumpter with your CrossPolitic Daily News Brief for Friday, January 8, 2021.
Today you will hear Stephen Colbert go off on the storming of the US Capital, Biden is official President-Elect and Trump says there will be an orderly transition, but all his social media accounts have been locked, the COVID vaccine is not FDA approved, and a NY public health bill is raising eye brows. 
If you have a news story you think we might need to cover, please send articles and links to [email protected] 
Two National Events: Fight Laugh Feast Rally in Rapid City, South Dakota, April 29, 30, May 1 & the Fight Laugh Feast Conference in Nashville, TN, October 1-3. Why a rally in South Dakota in April? Because we want to stand with Kristi Noem – the only Governor in the Union to not overstep her authority. And we also want to encourage you wherever you are. Many churches are not meeting, many Christians feel all alone. But you're not alone. So the theme of the Rally in South Dakota is Love God, Sing Psalms, Defy Tyrants. Gather with likeminded Christians who love freedom, confess Jesus Christ is Lord, and be equipped to stand firm in these insane days. Go to flfnetwork dot com forward slash rally. 
Stephen Colbert Goes Off On the Maga Rally Storming the Capital 
https://www.facebook.com/watch/?v=721269098573106
While Colbert has an entirely slanted take on all of this, there are three things worth noting. First, his point about Giuliani and the judges is probably the single best answer to charges of election fraud. 60 some judges and zero wins. Are we that corrupt? Maybe. But it really is a sticking point for many. Lots of those judges were appointed by Trump. Second, Trump really does need to take responsibility for what happened in the capital building Wednesday, and I say that knowing that there were likely shenanigans on multiple levels. Either he meant for them to do that or not, and a woman got killed in the process. And third, while leftists like Colbert are totally slanted and hypocritical, you should be aware of what many of your neighbors are hearing. Also, despite some of the smug, he's still somewhat funny.   
Following Electoral Vote Confirmation early Thursday Morning, Trump Says There Will Be Orderly Transition
https://www.wsoctv.com/news/politics/latest-trump/XADBNNQKIM7OTK6D6AEAJGSWNA/
President Donald Trump now says there "will be an orderly transition on January 20th" after Congress concluded the electoral vote count certifying President-elect Joe Biden's victory and after a day of violence when his supporters stormed the U.S. Capitol.
Trump says in a statement tweeted by his social media director Dan Scavino, "Even though I totally disagree with the outcome of the election, and the facts bear me out, nevertheless there will be an orderly transition on January 20th."
He adds: "I have always said we would continue our fight to ensure that only legal votes were counted. While this represents the end of the greatest first term in presidential history, it's only the beginning of our fight to Make America Great Again."
Trump's account was locked by Twitter for 12 hours late Wednesday, with a notice from Twitter saying that three of Trump's tweets needed to be deleted before his account would be unlocked. 
https://www.wsj.com/articles/president-trump-to-regain-ability-to-tweet-from-his-personal-twitter-account-11610032898
Likewise, Trump's Facebook and Instagram accounts were also suspended. In a statement from Facebook CEO Mark Zuckerburg, he wrote: "The shocking events of the last 24 hours clearly demonstrate that President Donald Trump intends to use his remaining time in office to undermine the peaceful and lawful transition of power to his elected successor, Joe Biden. 
His decision to use his platform to condone rather than condemn the actions of his supporters at the Capitol building has rightly disturbed people in the US and around the world. We removed these statements yesterday because we judged that their effect — and likely their intent — would be to provoke further violence…
We believe the risks of allowing the President to continue to use our service during this period are simply too great. Therefore, we are extending the block we have placed on his Facebook and Instagram accounts indefinitely and for at least the next two weeks until the peaceful transition of power is complete."
As has been noted before, if Zuckerberg and Facebook are a private publishing company, then they should be free to allow whoever and whatever they want on their platform, but if they are something more like a public utility, as they are currently protected by law, then the bar ought to be much higher for determining what falls under free speech and what is actually criminal. 
The Pfizer Vaccine is NOT FDA Approved
A listener writes in with a correction to a news piece I reported on earlier this week, "I was listening to cross politic news today and Toby said the new covid vaccine was fda approved. This is actually not true. As of last week, when I looked at BOTH the FDA and Pfizer websites, they both stated that this particular vaccine has not been approved by the FDA."
And the listener is correct. And I stand corrected. 
https://www.fda.gov/emergency-preparedness-and-response/mcm-legal-regulatory-and-policy-framework/pfizer-biontech-covid-19-vaccine-frequently-asked-questions
The FDA granted Emergency Use Approval to the Pfizer vaccine, but the manufacturer is responsible to collect appropriate placebo-controlled trials and then submit a Biologics License Application (BLA) in order to get official FDA "approval." 
Share Plug
Is CrossPolitic a blessing to you? One of the most significant ways you can help us is by sharing this news brief or your favorite show with someone you think would appreciate it. Tell someone about the Fight Laugh Feast App. Thanks to all of you who have already done that. 
A Bill in New York State Committee Has Raised Some Eye Brows
https://www.wkbw.com/news/local-news/years-old-bill-that-would-allow-state-to-detain-contagious-patients-extremely-unlikely-to-gain-any-traction-in-albany
Republican lawmakers in New York are crying foul over a piece of legislation that would give state and county leaders the ability to detain contagious patients during a state of emergency.
The bill is Assembly Bill 416. While it's making the rounds on social media now, it was originally proposed in 2015 during the Ebola outbreak and has never once been heard by committee. It has been introduced in the 2015-2016, 2017-2018, 2019-2020 legislative sessions, and the current session.
The bill is described as:
"An act to amend the public health law, in relation to the removal of cases, contacts and carriers of communicable diseases who are potentially dangerous to the public health."
The bill goes on to read:
Upon determining by clear and convincing evidence that the health of others is or may be endangered by a case, contact or carrier, or suspected case, contact or carrier of a contagious disease that, in the opinion of the governor, after consultation with the commissioner, may pose an imminent and significant threat to the public health resulting in severe morbidity or high mortality, the governor or his or her delegee, including, but not limited to the commissioner or the heads of local health departments, may order the removal and/or detention of such a person or of a group of such persons by issuing a single order, identifying such persons either by name or by a reasonably specific description of the individuals or group being detained. Such person or group of persons shall be detained in a medical facility or other appropriate facility or premises designated by the governor or his or her delegee.
-a416
The wording of this bill worries lawmakers like Assemblyman Steve Hawley, a Republican from Batavia.
"Protecting the health of our neighbors is a noble goal to be certain, but this bill forfeits our constitutional liberty in a way we can never allow," said Hawley in a media release.
"In my opinion, just introducing these bills creates a negative impact that ultimately harms the effort to get our state past the pandemic, safely," said Senator George Borello, a Republican who represents, Chautauqua, Cattaraugus and Allegany counties.
The bill was introduced by Assemblyman Nick Perry from Brooklyn. The bill was written in 2015 after a woman refused to quarantine after working closely with patients who had Ebola.
Perry wrote this on his Facebook page on Sunday regarding a416:
"Somewhere in the future there may be the need for people to protect from a person or persons carrying a very deadly and transmittable virus, and this bill is designed to ensure that our government could lawfully act protect all the people.

I am open to amendments that would address real concerns raised by critics and will quite happily accept suggestions that will improve the bill in regard to concerns to constitutional rights."
Assemblyman Nick Perry
The governor is specifically mentioned in the bill as having power to detain contagious patients.
According to an adviser of Governor Andrew Cuomo, the governor never knew this bill existed.
"It apparently is six years old, has no Senate sponsor and has never moved out of committee. We have real problems to focus on and I urge the crazy uncles who are fueling this cut rate Qanon – and the politicians pandering to them — to knock it off, turn off Proud Boy Twitter and take a walk or something," wrote Rich Azzopardi Senior Advisor to the Governor.
To get a sense of just how many bills are proposed and never make it out of committee, in the 2019-2020 session 7,982 assembly bills didn't make it out of committee. In the New York State Senate, 6,098 didn't make it out of committee. In that same time period, 753 bills were signed into law by Governor Andrew Cuomo.
This is Toby Sumpter with Crosspolitic News. You can find this and all of our shows at Crosspolitic.com or on our app, which you can download at your favorite app store, just search "Fight Laugh Feast". Support Rowdy Christian media, and become a Fight Laugh Feast Club Member and get your very own Fight Laugh Feast t-shirt and access to all the talks at our first annual Fight Laugh Feast Conference as well as many exclusive behind the scenes interviews as well as our very own Worldview Shotgun Series. We still have a few Fight Laugh Feast tumblers left for club members at 25$ a month or more. Go to FightLaughFeast.com. Have a great day.