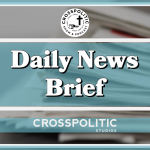 This is Garrison Hardie with your CrossPolitic Daily News Brief for Friday, May 12th, 2023.
Concordis Education Partners:
Classical Christian education has reminded us to aim education at truth, but the trivium has been used as a formula rather than a way of training students in discernment.
To teach well, you must coach.
Concordis Foundation is offering their third annual BOOT CAMP – a faculty summit – July 11-13th in Moscow, Idaho. This is a three-day intensive teaching training where you learn to coach students, using the trivium, so that you can meet students at all learning levels.
Learn more at concordispartners.com
https://www.foxnews.com/politics/border-patrol-chief-authorizes-release-migrants-us-without-court-dates-title-42-ends
Border Patrol chief authorizes release of migrants into US without court dates as Title 42 ends
The head of U.S. Border Patrol has sent out a memo authorizing the release of illegal migrants into the U.S. without court dates if agents face overcrowding as the Biden administration scrambles to deal with a historic surge in migration at the border ahead of the end of Title 42.
The memo says that migrants can be allowed into the country on parole — a process typically reserved for "urgent humanitarian reasons or significant public benefit" — if Customs and Border Protection (CBP) faces overcrowding. The memo calls the practice "parole with conditions" as migrants are required to make an appointment with Immigration and Customs Enforcement (ICE) or request a Notice to Appear by mail.
Under a parole release, migrants are rapidly released into the country, do not get an alien registration number and do not receive a court date.
The use of parole is being authorized if a sector capacity goes above 125%, if agents apprehend 7,000 a day over 72 hours or if average time in custody goes above 60 hours.
Agents have been encountering over 10,000 migrants a day since Monday, and there are no signs of that slowing down with the looming end of Title 42, which is expected to bring an even bigger wave with it.
The memo noted the enormous numbers agents are encountering.
"For the past 7 days, USBP has averaged over 8,750 encounters per day. This is over double the average daily encounters of 4,284 in May of 2019, the highest month of the 2019 surge. Even with significant personnel along the SWB, a significant detention capacity, and interagency resources supporting the effort, this situation requires urgent action," the memo states.
The public health order has been used since March 2020 to expel over two million migrants due to the COVID-19 pandemic. The Biden administration has told migrants that it will not be easier to enter the U.S. once the order drops as there will be stiffer penalties until Title 8. Parole is not a Title 8 authority.
The use of parole is legally questionable, with critics arguing it is not supposed to be used to wave in thousands of migrants. The state of Florida successfully sued the Biden administration in March to block a similar policy, "Parole + ATD."
On Thursday, Fox Digital reported that Florida sued this week over the latest plan to release migrants into the U.S. interior, saying it is "materially identical" to the policy that the federal court enjoined.
"Florida seeks a temporary restraining order to preserve the status quo until the parties can brief motions for a preliminary injunction or to postpone the effective date of the new policy," the lawsuit states. "The Biden Administration's behavior, if left unchecked, makes a mockery of our system of justice and our Constitution."
The judge has given the Biden administration a 4 p.m. deadline Thursday to respond to the request for a temporary restraining order, adding that it appears the administration is "preparing to flout" the court's order.
A Department of Homeland Security (DHS) spokesperson this week claimed that the releases are similar to those conducted by prior administrations.
https://thepostmillennial.com/breaking-house-votes-yes-on-measure-to-secure-us-mexico-border?utm_campaign=64487
House votes YES on Secure Border Act in 219-213 vote, includes e-Verify requirement, with 2 Republicans joining Democrats to vote against border security
On Thursday, House Representatives debated the Secure the Border Act of 2023 as Title 42 expired at the southern border, which lays out sweeping new requirements and restrictions for securing the southern border.
The bill passed 219-213. Two Republicans, Reps. Thomas Massie and John Duarte voted along side all Democrat members against the bill.
The bill was introduced to the House of Representatives on May 2 in anticipation of the flood of illegal immigrants expected in the wake of Title 42, which allowed expulsions due to the pandemic emergency.
The bill calls for the "immediate resumption of border wall construction" no later than seven days after the bill is enacted, using previously set aside funds and materials for its construction.
No later than 180 days after the bill is enacted, a report shall be submitted to congressional committees that outlines a strategic 5-year technology investment plan for border security, including potential upgrades in security technology, communications equipment, screening equipment, incorporating in input from the private sector.
In an effort to retain Border Patrol personnel, the bill will authorize up to $100,000,000 in appropriated funds for the Commissioner of the US Customs and Border Protection to give to front-line agents who hold a position equal to or below level GS-12, has been with Border Patrol for five years or longer, and commits two additional years of service with Border Patrol upon acceptance of the bonus.
The bill also requires that the Commissioner hire and train enough Border Patrol agents to maintain an active duty presence of no less than 22,000 full-time agents.
The bill also includes a provision prohibiting the requirement to take a Covid-19 vaccine or adverse actions taken against a Department of Homeland Security employee.
The Secretary of Homeland Security would be required to send a report no later than 60 days after the bill is enacted on whether Mexican drug cartels meet the criteria for being designated as a foreign terrorist organization.
The bill amends the Immigration and Nationality Act, stating that those found not to be eligible for parole shall be deported from the country.
The bill also increases penalties for illegal entry or presence in the country from $50-$250 up to $500-$1000.
Illegal immigrants who overstay a visa are subject to imprisonment of no more than six months and/or a fine for the first offense, and a fine and/or no more than two years of imprisonment for subsequent offenses.
The bill also mandates the use of e-Verify, a system used to check if a person is authorized to work in the United States.
https://www.washingtonexaminer.com/policy/education/connecticut-wesleyan-pay-for-students-abortions
Connecticut liberal arts college says it will pay for students to get abortions
A liberal arts university in Connecticut says it will now cover the costs of any student who wishes to get an abortion or a Plan B contraceptive, regardless of their insurance status.
Wesleyan University announced last week that, following a pressure campaign from the university's Young Democratic Socialists of America chapter, the school would now pay for any student to get an abortion or emergency contraceptives. The school has also committed to footing the bill for any transportation costs incurred by students seeking abortions.
"Consistent with the health center's mission to provide education and support in the decision-making process, students will be able to access emergency contraceptives by consulting with a nurse at Davison Health Center," the university told NBC Connecticut in a statement.
The decision comes after the Young Democratic Socialists of America chapter at Wesleyan collected over 700 signatures on a petition that urged the school to "ensure all students are able to overcome financial burdens to and lack of transportation for abortion procedures."
"This victory comes in the wake of landmark efforts by Barnard College students to secure abortion pills on campus as well as a broader movement for reproductive justice nationwide," the student organization said in a press release. "Wesleyan now plays a pioneering role in reproductive healthcare among private liberal arts colleges by committing to cover the entire cost of abortion after insurance for all students."
After the Supreme Court issued a ruling that overturned Roe v. Wade last year, the availability of abortion for college students has gained increased attention, as numerous states with widely recognized state universities have banned abortion altogether. Students have increasingly reported that access to abortion has become a factor in their college decision-making process.
Democratic-controlled states, meanwhile, have taken steps to make abortion as available to college students as a flu shot.
The entire University of California and California State University systems are required by law to provide abortion pills to students at their respective university health centers, and last year, the University of Massachusetts Amherst announced it would be providing abortion pills on campus as well.
https://www.foxnews.com/us/marine-veteran-charged-manhattan-da-jordan-neely-subway-chokehold-death
Marine veteran to be charged by Manhattan DA in Jordan Neely subway chokehold death
A New York City subway rider accused of choking a homeless man to death is expected to turn himself in to police on Friday morning to face a manslaughter charge.
"We can confirm that Daniel Penny will be arrested on a charge of Manslaughter in the Second Degree," a spokesperson for the Manhattan District Attorney's Office said. "We cannot provide any additional information until he has been arraigned in Manhattan Criminal Court, which we expect to take place tomorrow."
On May 1, Penny, a 24-year-old Marine veteran and college student, put 30-year-old Jordan Neely in a fatal chokehold after what police described as an altercation on a northbound F train.
Neely was allegedly threatening passengers on the subway and having a mental episode. He was yelling and pacing back and forth, when Penny interjected, tackled him to the ground and put him in a chokehold, witnesses and police said.
The incident sparked protests and violent clashes last week after the Marine veteran was taken into custody and released.
And now for my favorite topic… sports!
https://www.boundingintosports.com/2023/05/prosecutors-confirm-former-buffalo-bills-punter-matt-araiza-was-not-present-when-alleged-gang-rape-occurred/
Prosecutors Confirm Former Buffalo Bills Punter Matt Araiza Was Not Present When Alleged Gang Rape Occurred
After having the criminal charges against him dropped, former Buffalo Bills punter Matt Araiza now has to undergo a stressful process of fighting the civil lawsuit against him for an alleged gang rape at a college party that occurred when Arazia and the plaintiff were attending San Diego State University at the same time.
However, based on new information, that might be over soon, and potentially in Araiza's favor.
During a nearly year long investigation by San Diego police and detailed review by prosecutors, they have come to the conclusion that the alleged gang rape that the female plaintiff accused Araiza of being part of stands in question since evidence shows that Arazia, then a college student at the time when the plaintiff was 17-years-old, was not even present during the alleged crime.
Yahoo Sports has obtained a 200-plus page transcript, covering a meeting in which a San Diego deputy district attorney broke the back of the case.
According Yahoo Sports' summary, "Araiza couldn't have led the girl into the alleged gang rape because he had 'left' the home at about 12:30 a.m., an hour prior to when evidence suggested the alleged gang rape would have occurred."
Deputy district attorney Trisha Amador stated that "He wasn't even at the party anymore. All I know is that at that point, suspect Araiza is gone from the party."
Prosecutors additionally told the plaintiff that the recordings that were made of the situation "made it impossible" to identify Araiza or any other potential suspects since their faces and voices aren't clear enough to make a prosecution.
Further, there are questions as to whether a rape occurred at all as the plaintiff claimed, and not a consensual sexual situation.
"In looking at the videos on the sex tape, I absolutely cannot prove any forceable sexual assault based upon what happened," said Deputy DA Amador.
Because of this lawsuit, then-rookie Araiza was cut from the Bills team, crippling his rookie season so he could "take care of this situation," according to Buffalo general manager Brandon Beane.
But Araiza isn't out of the woods yet, despite the prosecutors themselves admitting he wasn't present at the event – civil suits have a much lower standard of proof than criminal cases do.
As news broke of the developments in the civil suit, online figures in sports and media began to defend Arazia, including Daily Wire columnist Matt Walsh and Outkick.com founder Clay Travis.
"False rape accusers should receive the same penalty that we give to rapists," Walsh posted to Twitter. "Instead, in a vast majority of cases, they receive no penalty at all and are free to move on like nothing happened."
"The Bills released punter Matt Araiza for an allegation of sexual assault that police proved was 100% a lie," tweeted Travis. "Why shouldn't his accuser face criminal charges for lying? He's lost a year of his career & his good name. She has zero consequences. Not right."
Thanks to all the legal trouble, Araiza is still a free agent. We've seen plenty of comebacks from legal trouble in the National Felon League. Araiza could be the next to move on to a respectable career.