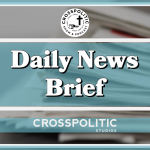 This is Garrison Hardie with your CrossPolitic Daily News Brief for Friday, May 5th, 2023. Watch out for the revenge of the 5th if you're into that… or cinco de mayo, take your pick.
https://tvpworld.com/69620835/us-navy-deployed-drag-queen-influencer-to-boost-youth-recruitment
As part of a recruitment drive aimed at the country's youth, the U.S. Navy deployed a "drag queen influencer" to assist in boosting lagging numbers in the military.
In November of last year Joshua Kelley aka "Harpy Daniels", who has over 1,300,000 likes on TikTok, revealed that he was to be the Navy's 'Digital Ambassador'.
Whilst the U.S. Navy only recently revealed about approaching Kelley, the drag queen claims to have danced in drag in front of an audience of service officers on a number of occasions, even sharing one video from 2018 on his Instagram.
Kelley was part of a Digital Ambassador initiative that lasted from October 2022 to March 2023, "designed to explore the digital environment to reach a wide range of potential candidates," a Navy spokesperson told Fox News. The spokesperson also said that the Navy is navigating "the most challenging recruiting environment it has faced since the start of the all-volunteer force."
"The Navy did not compensate YN2 Kelley or any others for being Navy Digital Ambassadors. The pilot has concluded and we are now evaluating the program and how it will exist in the future," the spokesperson added.
Regarding his role as Digital Ambassador, Kelley wrote on his Instagram page: "Thank you to the Navy for giving me this opportunity! I don't speak for the Navy but simply sharing my experience in the Navy! Hoorah, and let's go Slay!".
Not only the Navy but more broadly the U.S. military face big problems in convincing young people to join. Only 13 pct of 18-29-year-olds are "highly willing" to join the military, whilst 25 pct declared themselves "somewhat willing" and 26 pct are "not willing at all."
Gender ideology has become a hot topic in the Navy and all branches of the U.S. Armed Forces.
In March, a group of House Democrats proposed legislation to prevent the Department of Defense from standing in the way of transgender people who want to serve in the military.
Some critics have argued that the purpose of the U.S. military is to provide security for the country, not to be a tool for gender ideology politics. Whilst others have suggested that in an unstable world, where a lot of military strategy is played out through bravado, such as with military drills, it is perhaps surprising that the U.S. would do the opposite of striking fear into their enemies.
It's a good thing we have Joshua to scare off said enemies, which ties in nicely for this next story!
https://www.usnews.com/news/world/articles/2023-05-03/second-oil-tanker-in-a-week-seized-by-iran-in-gulf-u-s-navy
Iran Seizes Second Oil Tanker in a Week in Gulf -U.S. Navy
Iran seized a second oil tanker in a week on Wednesday in Gulf waters, and the U.S. State Department called for its release, in the latest escalation in a series of seizures or attacks on commercial vessels in Gulf waters since 2019.
The Baa-rain-based Fifth Fleet of the U.S. Navy said the Panama-flagged oil tanker Niovi was seized by Iran's Islamic Revolutionary Guard Corps Navy (IRGCN) at 6:20 a.m. (0220 GMT) while passing through the Strait of Hor-mooz.
In Iran's first response, Tehran's prosecutor announced the oil tanker was seized on a judicial order following a complaint by a plaintiff, the judiciary's Mizan news agency said. No further details were provided.
The incident comes after Iran on Thursday seized a Marshall Islands-flagged oil tanker in the Gulf of Oman called the Advantage Sweet. That tanker is being held by Iranian authorities in Bandar Abbas, the Marshall Islands flag registry said on Tuesday.
Maritime security firm Ambrey has said it believed the Advantage Sweet's seizure was in response to a recent seizure via a court order by the United States of an oil cargo aboard the Marshall Islands tanker Suez Rajan.
The Niovi oil tanker seized on Wednesday had been travelling from Dubai toward the UAE's Fujairah port when it was forced by IRGCN boats to change course towards Iranian territorial waters, the Navy said.
The Niovi last reported its position at 0231 GMT on Wednesday off the coast of Oman in the Strait of Hormuz with the UAE as its destination, Refinitiv ship tracking data showed.
According to the International Maritime Organization shipping database,, the Niovi's owner is Grand Financing Co, and the ship is managed by Greece-based Smart Tankers, which did not immediately respond to a request for comment.
Vedant Patel, a deputy spokesperson at the U.S. State Department, told reporters the Biden administration and the "international community" call on Iran and its Navy to release the ships and their crews. "Iran's harassment of vessels and interference with navigational rights in regional and international waters are contrary to international law and disruptive to regional stability and security," Patel said.
About a fifth of the world's crude oil and oil products passes through the Strait of Hormuz, a choke point between Iran and Oman, according to data from analytics firm Vortexa.
Since 2019, there have been a series of attacks on shipping in the strategic Gulf waters at times of tension between the United States and Iran.
Indirect talks between Tehran and Washington to revive Iran's 2015 nuclear pact with world powers have stalled since September over a range of issues, including the Islamic Republic's violent crackdown on popular protests, Tehran's sale of drones to Russia and acceleration of its nuclear program.
https://justthenews.com/nation/crime/alleged-texas-killer-captured-following-manhunt
Fugitive illegal alien accused of mass killing in Texas captured
Authorities on Tuesday apprehended an individual suspected of killing five people in Cleveland, Texas, following a Friday evening altercation.
Authorities arrested Francisco Oropesa without incident on Tuesday evening, NBC News reported, citing the Montgomery County Sheriff's Office.
His arrest marks an end to the manhunt that had baffled law enforcement for days. Authorities indicated earlier this week that they had "zero leads" as to his whereabouts.
As of Monday, it was believed that Oropesa had slipped past a network of roadblocks in the Cleveland area, despite extensive efforts by law enforcement to contain him within a set perimeter.
During the manhunt, reports emerged that the fugitive had been deported four times, twice in 2009, and again in 2012 and 2016.
The manhunt ensued following Oropesa's alleged killing of five of his neighbors after reportedly being asked to stop shooting his firearm. Authorities indicated that four adults were found dead at the scene while one child died at the hospital later.
https://www.latimes.com/california/story/2023-05-03/gun-rights-advocates-renew-legal-fight-over-californias-10-day-wait-on-firearm-purchases
Gun rights advocates renew legal fight over California's 10-day wait for firearm buyers
Renewing a legal battle that some had considered settled, gun rights advocates filed a federal lawsuit this week challenging a California law that places a 10-day waiting period on most firearm purchases.
The law, which requires people to wait the prescribed "cooling off" period even if they've passed a more immediate background check, is aimed in part at deterring people from rushing to harm themselves or others with newly purchased weapons during periods of sudden distress or anger.
Gun control advocates and state officials say the law reduces gun violence, including suicides, and the law has been upheld in the face of legal challenges before — including by the U.S. Supreme Court, which in 2018 declined to hear an appeal to a lower court decision upholding it.
However, things have changed since the high court ruled last year — in New York State Rifle & Pistol Assn. vs. Bruen — that restrictions on firearms violate the 2nd Amendment if they aren't deeply rooted in the nation's history or analogous to some historical rule.
According to the San Diego gun owners and advocacy groups suing the state, the high court's 2018 decision allowing the waiting period law to stand was "abrogated," or undone, by its more recent Bruen decision, and, therefore, the law is unconstitutional under the court's newer historical standard.
The plaintiffs argue enforcement of the law "prevents law-abiding people from taking possession of lawfully acquired firearms for immediate self-defense and other lawful purposes — even after [state officials] know the individual is eligible to exercise their fundamental, constitutionally protected right to keep and bear arms."
The office of California Atty. Gen. Rob Bonta said it was reviewing the lawsuit Tuesday but could not otherwise comment. Bonta is the lead defendant in the lawsuit.
According to legal experts, the revived challenge reflects how massively the legal landscape around gun laws has changed since President Trump shifted the Supreme Court to the right and the court issued its Bruen decision.
It also reflects the increased confidence among gun rights advocates that the high court is ready and willing to overturn more gun laws, the experts said — even those it may have allowed to stand in the past.
Jake Charles, an associate professor at Pepperdine Caruso School of Law and an expert in firearms law, said he was "surprised it took until May of this year" for the waiting period law to be challenged again under Bruen — in part because it is obviously vulnerable.
Prior to Bruen, federal courts across the country judged gun laws not only through a historical lens, but by assessing whether they served a well-reasoned purpose of modern government.
When the California-based U.S. 9th Circuit Court of Appeals upheld California's 10-day waiting period law in 2016, it did so based on such a review. Writing for the court, Circuit Judge Mary Schroeder found that the 10-day waiting period was "a reasonable safety precaution," and therefore constitutional.
Now, however, Bruen has changed the relevant legal analysis and Schroeder's reasoning is now irrelevant, the plaintiffs argue.
The law rvive, they argue, because waiting period laws were not enacted in the country until 1923 — making them too recent to be considered part of the nation's tradition under Bruen.
Gun law experts said it's a strong argument.
Attorneys for California may still argue the law is similar enough to some historical law that didn't institute a waiting period for purchased weapons but restricted the purchase of them in some other way. The state has already argued that other modern gun laws being challenged — including its bans on assault-style weapons and high-capacity magazines — are similar enough to other historical laws to survive Bruen's test, even if they aren't exactly the same.