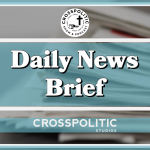 This is Toby Sumpter with your CrossPolitic Daily News Brief for Friday, November 20, 2020.
Today you will hear about articles of impeachment in Michigan, Trump Press Conference, a Dude in a dress giving health advice, European Economic Forum is openly talking about using the COVID crisis to reset the world economy, and Gavin Newsom is making up rules again.
Articles of Impeachment introduced Against Michigan Governor
https://twitter.com/BeauMattLaFave/status/1329201250500562955?s=20
On Twitter Rep. Lafave wrote: "Today I introduced Articles of Impeachment against Michigan Governor Gretchen Whitmer. The four articles of impeachment against Gov. Whitmer include failing to respect the separation of powers by exercising power granted to the legislative branch, violating the constitutional rights of the people of Michigan, issuing executive orders against the interests of the people and state, and using state resources to reward political allies."
Trump Press Conference: Sidney Powell Says Trump Won By a Landslide
https://twitter.com/conor64/status/1329521055661137920?s=20
Reactions to this presser were all over the map. 
The Dude in a Dress Tells People in Pennsylvania: "people will have the consequences of their actions as well as their families and their communities"
https://www.theblaze.com/news/masks-required-inside-pennsylvania-homes/
From the Blaze: A new Pennsylvania COVID-19 mandate requires the wearing of masks in homes when members of different households gather, the Associated Press reported.
Dr. Rachel Levine, the state health secretary, said Tuesday the order applies even if people are physically distant, the AP noted. But Levine acknowledged that officials are relying on voluntary compliance rather than on enforcement, the outlet added.
The order applies to every indoor facility, in addition to private homes, the AP said.
More from the outlet:
A separate order mandates that people who are traveling to Pennsylvania from another state, as well as Pennsylvania residents who are returning home from out of state, must test negative for the virus within 72 hours prior to arrival. The order does not apply to people traveling back and forth for work or medical treatment. People who refuse to be tested will be required to quarantine for 14 days, Levine said.

Again, the state has no plans to enforce that measure, but is asking for voluntary compliance.
The AP said health officials blamed the spread of the virus in part to small indoor gatherings, and Levine noted that how Pennsylvania does in the coming weeks and months will depend largely on the public's willingness to wear masks and practice social distancing.
"In the end, people will have the consequences of their actions as well as their families and their communities, and if they do not wear masks, if they do not social distance, then those communities are going to see even more spread of COVID-19," Levine added, according to the outlet.
Folks, do you wish you had a one stop news source that covered all current events from a distinctively Biblical worldview? Do you wish You could listen and watch the news any time day or night from a source that was committed to telling the truth about what's going on in the world and have a no-holds barred biblical analysis to accompany it? You tired of woke scolds and latte theologians nuancing everything to death. Do you wish Christian media was a little bit more rowdy and more idols got smashed? That's what CrossPolitic is all about. And we need your help to continue growing the Fight Laugh Feast Network. The best way you can help is by becoming a Fight Laugh Feast club member today. Many of you already have, and it has allowed us to grow so much already, but if you're tired of legacy media cramming their pagan worldviews down your throat and social media censoring views they don't approve of, support CrossPolitic as we build a Christian Media Platform and Network committed to the Lordship of Jesus Christ. Also, we like to laugh and drink beer. Support Rowdy Christian Media and become a fight laugh feast club member today. Go to Fightlaughfeast.com.  
The Great Reset?
https://www.youtube.com/watch?v=pF_kXE-HXSQ&feature=emb_title
Gavin Wants to Be California's Dad
Gavin Newsom Announced Thursday that Californians Have To Go To Bed at 10pm for 1 Month
"Non-essential work and gatherings must stop from 10pm-5am in counties in the purple tier."
This is Toby Sumpter with Crosspolitic News. Remember to send us stories and articles that you think we should cover to news at crosspolitic dot com. You can find this and all of our shows at Crosspolitic.com or on our app, which you can download at your favorite app store, just search "Fight Laugh Feast". Also, if you want to rock your Fight Laugh Feast bona fides visit rowdychristian.com for shirts, hats, hoodies, postmill coffee, etc. Also: did you hear we started a new magazine? Four issues a year for forty bucks. https://flfnetwork.com/product/fight-laugh-feast-magazine/
Support Rowdy Christian media, and become a Fight Laugh Feast Club Member and get your very own Fight Laugh Feast t-shirt and access to all the talks at our first annual Fight Laugh Feast Conference as well as God and Government and Eschatology with Gary Demar, Pastors and Politics with Pastor Douglas Wilson, as well as a great Parenting Basics session with Pastor Wilson and his wife, as well as the Worldview Shotgun Series. Go to fightlaughfeast.com.