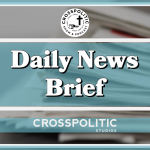 This is Toby Sumpter with your CrossPolitic Daily News Brief for Friday, October 23, 2020.
Today you will hear about Great Grandmother Eames doesn't give a sod, Jordan Peterson is back by the grace of God, Boise Chamber of Commerce might help girls get crushed in sports, the US Surgeon General is in Court in Hawaii, Tony Bobulinski says Joe Biden did too know about Hunter's business dealings, and an Italian restaurant in Pennsylvania ain't paying crap. 
Remember: If you come across a news story you think we might need to cover, please send it to: news at crosspolitic dot com. This is a great way to share articles and stories with us that may end up in our daily or weekly shows: news at crosspolitic dot com
Great Grandmother Margaret Eames Has More Wisdom than All of Parliament
https://twitter.com/ClarkeMicah/status/1319216248790700032?s=20
The Boise Auditorium District May Help Girls Get Crushed in Sports
https://www.idahostatesman.com/news/business/article246594583.html

The Greater Boise Auditorium District may help the American Civil Liberties Union fight Idaho's new law banning transgender girls and women from taking part in women's sports.
The district is considering the ACLU's request for a friend-of-the-court brief. The district would use revenue from the 5% tax it imposes on hotel-room stays to pay the legal bill. That could be up to an estimated $50,000, a district spokesperson said.
The district's elected board voted unanimously Tuesday to study the request for the next few weeks, spokesperson Mary Michael Rodgers said by phone. The board wants to ask the Boise Metro Chamber of Commerce and the Boise Convention and Visitors Bureau, an arm of the chamber, if they would help foot the brief's cost.
Board members worry that hotel-room bookings, restaurant patronage and other spending by out-of-state conventioneers and tourists will fall as organizations boycott Idaho because of the law.
"The board has no interest in getting into the politics of the debate, as to what's right or wrong," Patrick Rice, the district's executive director, said Wednesday by phone. "We have no political position on that. It's 100% about the economic impact."
In last winter's legislative session, Idaho lawmakers passed, and Gov. Brad Little signed, House Bill 500, also known as the Fairness in Women's Sports Act.
Jordan Peterson Has Reappeared after 18 months of absence 
https://www.youtube.com/watch?v=6_6zwVNn88o&feature=youtu.be
A reminder that all of the talks from this year's Fight Laugh Feast conference: Weapons for This War are up in the Club Member Portal, and if you're not already a club member, what are you waiting for? Go to fightlaughfeast.com and register today and get access to all of the talks: Douglas Wilson, George Grant, David Bahnsen, Jeff Durbin, Glenn Sunshine, and more. Also, if you want to rock your Fight Laugh Feast bona fides visit rowdychristian.com for shirts, hats, hoodies, postmill coffee, etc. Also: did you hear we started a new magazine? Four issues a year for forty bucks. https://flfnetwork.com/product/fight-laugh-feast-magazine/
US Surgeon General In Court In Hawaii
https://www.startribune.com/us-surgeon-general-to-be-in-court-on-hawaii-virus-citation/572815362/
A lawyer for U.S. Surgeon General Jerome Adams said Wednesday that his client, who is charged with illegally entering a Hawaii public park that was closed because of the coronavirus, will plead not guilty.
The criminal complaint against Adams, who was on Oahu in August helping with surge testing amid a spike in coronavirus cases, says he and two other men were looking at the view and taking pictures at Kualoa Regional Park on the island's northeastern coast. The rural park offers a view of the famed Mokolii island, also known as Chinaman's Hat for its cone shape.
Adams did not appear in court or on a video call for the Wednesday hearing, but his attorney, Michael Green, said his client understands the charge and will plead not guilty.
Because the charge is a "full misdemeanor," the judge said the not guilty plea could not be entered until Adams decided if he would waive his right to a jury trial. Green said Adams would not waive that right.
The judge set an arraignment date of Nov. 2 in circuit court.
Adams told a police officer who cited him that he was visiting Hawaii to work with Gov. David Ige on COVID-19 and didn't know parks were closed. Honolulu Mayor Kirk Caldwell had closed them at the time to try to prevent crowding that could spread the virus.
Violating any of the mayor's emergency orders is punishable as a misdemeanor, with fines of up to $5,000, up to a year in jail or both.
Former Buseiness Partner of the Biden Family Tony Bobulinski Says Sleepy Joe Was Involved
https://twitter.com/SteveDeaceShow/status/1319431291171950593?s=20
Fined Italian Restaurant Owner in Pennsylvania Says He Ain't Paying Crap
https://disrn.com/news/fined-restaurant-owner-who-told-pa-gov-tom-wolf-we-aint-paying-crap-wins-court-showdown
The owner of a Palmyra, Pennsylvania, Italian restaurant who defied Gov. Tom Wolf's COVID-mandated business shutdowns just won a significant victory in court. In May, Taste of Sicily co-owner Mike Mangano was ordered by the state to remain shuttered, but decided instead to open up completely – no masks, social distancing, or plastic barriers.
Eric Winter, the attorney who represented Taste of Sicily in court, explained the decision was made out of financial necessity.
"The business needed it," Winter said. "The family needed it, and they needed to do things to survive. They went ahead and reopened. And at that point, they had great support from the local level elected officials."
Nevertheless, Wolf's administration hit Taste of Sicily with $10,000 worth of fines for violating his decree. Mangano was undeterred.
"Some rob you with a gun, while others rob you with a pen," he said. "There's absolutely no fear here. We're going to continue to come to work, and the governor ain't going to do anything about it…We ain't paying crap."
Pennsylvania Judge Carl Garvey agreed with that sentiment, ruling that the family-owned business was treated in an unconstitutional manner and that they would not be liable for any arbitrarily assigned fines from Wolf's administration.
The governor said he intends to appeal the ruling, suggesting that the virus "upsurge" has been coming from restaurants and bars, and therefore, "looking at how we deal with those restaurants is an important policy tool" in combatting the pandemic.
"We don't care what the repercussions may be," Mangano reiterated. "We want the world to see how ridiculous it is for being penalized to go to work."
What we need is every business owner, every restaurant owner, every church, every city, every Sheriff to imitate this good Italian man. Not in the name of anarchy or libertarianism, but in the name of the God, in the name of the Constitution, in the name of the only kind of liberty there is, the kind that comes from lawful rule of law. 
This is Toby Sumpter with Crosspolitic News. Remember to send us stories and articles that you think we should cover to news at crosspolitic dot com. You can find this and all of our shows at Crosspolitic.com or on our app, which you can download at your favorite app store, just search "Fight Laugh Feast". Support Rowdy Christian media, and become a Fight Laugh Feast Club Member and for as long as the CrossPolitic gods smile upon the land, get your very own Fight Laugh Feast t-shirt and live and archive access to all the talks at our first annual Fight Laugh Feast Conference. Become a member now at fightlaughfeast.com.