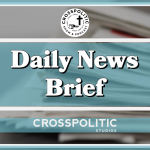 This is Toby Sumpter with your CrossPolitic Daily News Brief for Friday, October 30, 2020.
Today you will Twitter algorithms censoring people for doing their jobs, a Islamic attack in a church in France, a Catholic student wins a freedom of speech court battle with Florida State University, and finally an overview of studies and graphs from an article at The Federalisst demonstrating once more that masks don't work. 
Remember: If you come across a news story you think we might need to cover, please send it to: news at crosspolitic dot com. This is a great way to share articles and stories with us that may end up in our daily or weekly shows: news at crosspolitic dot com
US Customs & Boarder Protection Commissioner Censored for Celebrating Boarder Wall
https://thefederalist.com/2020/10/29/exclusive-twitter-suspends-u-s-border-chief-for-celebrating-walls-protection-from-illegal-aliens/#.X5rZVcjAJ_5.twitter
Twitter suspended U.S. Customs and Border Protection (CBP) Commissioner Mark Morgan for a post celebrating the success of the U.S. southern border wall keeping violent criminals from reaching American communities.
According to screenshots shared exclusively with The Federalist, Twitter locked Morgan's account Wednesday afternoon for apparently violating platform rules governing "hateful conduct" after the commissioner attempted to tweet about the wall's benefits.
Morgan tweeted: continue to build new wall every day. Every mile helps stop gang members, murderers, sexual predators, and drugs from entering our country. It's a fact, walls work." Along with a 16 second video showing the construction of the wall. 
"You may not promote violence against, threaten, or harass other people on the basis of race, ethnicity, national origin, sexual orientation, gender, gender identity, religious affiliation, age, disability, or serious disease," Twitter wrote in an email explaining the suspension. As is clear from the banned post's text, the commissioner did not threaten anyone based on race, national origin, or anything else.
Upon review reversed the decision, but it's still pretty crazy when your algorithm is confused by this kind post. 
Beheading and Two Other Murders in a Church in France
https://www.reuters.com/article/us-france-security-nice/three-dead-as-woman-beheaded-in-france-gunman-killed-in-second-incident-idUSKBN27E17D
NICE, France (Reuters) – A knife-wielding attacker shouting "Allahu Akbar" beheaded a woman and killed two other people in a suspected terrorist act at a church in the French city of Nice on Thursday, while a man waving a gun was shot dead by police in a separate incident.
Within hours of the Nice attack, police killed a man who had threatened passersby with a handgun in Montfavet, near the southern French city of Avignon. He was also shouting "Allahu Akbar" (God is Greatest), according to radio station Europe 1.
Thursday's attacks, on the birthday of the Prophet Mohammad, came at a time of growing Muslim anger at France's defence of the right to publish the cartoons, and protesters have denounced France in street rallies in several Muslim-majority countries.
After the Nice attack, Prime Minister Jean Castex raised France's security alert to its highest level and said the government's response would be firm and implacable.
The attacker had repeatedly shouted the phrase "Allahu Akbar" even while being detained by police.
One of the people killed inside the church was believed to be the church warden, Mayor of Nice Christian Estrosi said, adding that one woman had escaped from inside the church into a bar opposite the 19th century neo-Gothic building.
"The suspected knife attacker was shot by police while being detained. He is on his way to hospital, he is alive," Estrosi told reporters.
"Enough is enough," he added. "It's time now for France to exonerate itself from the laws of peace in order to definitively wipe out Islamo-fascism from our territory."
Reuters journalists at the scene said police armed with automatic weapons had put up a security cordon around the church, which is on Nice's Jean Medecin avenue, the French Riviera city's main shopping thoroughfare. Ambulances and fire service vehicles were also at the scene.
President Emmanuel Macron is due to visit Nice, Estrosi said.
In Paris, lawmakers in the National Assembly observed a minute's silence in solidarity with the victims. The mayor of Paris, Anne Hidalgo, said the people of Nice "can count on the support of the city of Paris and of Parisians"
Police said three people were confirmed to have died in the attack and several were injured. The French anti-terrorist prosecutor's department said it had been asked to investigate.
A police source said a woman was decapitated. French far-right politician Marine Le Pen also spoke of a decapitation having occurred in the attack.
A representative of the French Council for the Muslim Faith strongly condemned the attack. "As a sign of mourning and solidarity with the victims and their loved ones, I call on all Muslims in France to cancel all the celebrations of the holiday of Mawlid." (the birthday of Muhammad
France, with Europe's largest Muslim community, has suffered a string of Islamist militant attacks in recent years, including bombings and shootings in 2015 in Paris that killed 130 people and a 2016 attack in Nice in which a militant drove a truck through a seafront crowd celebrating Bastille Day, killing 86.
Catholic Student at Florida State Wins a Freedom of Speech Case
https://www.adflegal.org/blog/great-news-student-supreme-court-orders-jack-denton-reinstated-student-senate-president
He wrote, "everyone should be aware that black lives matter dot com, Reclaim the Block, and the ACLU all advocate for things that are explicitly anti-Catholic. I don't mean to anger anyone – I know this is a very emotional topic. However, it is important to know what you're supporting when you're Catholic. If I stay silent while my brothers and sisters may be supporting an organization that promotes grave evils, I have sinned through my silence. I love you all, and I want us to be aware of the truth. As far as it's a religious issue or not, there isn't an aspect of our lives that isn't religious, because God wants our whole lives and everything we do to be oriented around him! <3"
When his private text messages went viral, a student senate hearing was held:
Audio clip 1:20-2:41
Thankfully, Alliance for Defending Freedom took up Jack Denton's case, and earlier this month a court acknowledged that Jack's free speech rights were violated and ordered Florida State University to pay him as president of the Student Senate while the lawsuit continues. And then this week, the Student Supreme Court of Florida State University ruled that Jack should be reinstated to his position as Student Senate President.
A reminder that all of the talks from this year's Fight Laugh Feast conference: Weapons for This War are up in the Club Member Portal, and if you're not already a club member, what are you waiting for? Go to fightlaughfeast.com and register today and get access to all of the talks: Douglas Wilson, George Grant, David Bahnsen, Jeff Durbin, Glenn Sunshine, and more. Also, if you want to rock your Fight Laugh Feast bona fides visit rowdychristian.com for shirts, hats, hoodies, postmill coffee, etc. Also: did you hear we started a new magazine? Four issues a year for forty bucks. https://flfnetwork.com/product/fight-laugh-feast-magazine/
Yinon Weiss does us all a favor: 12 Graphs Show Mask Mandates Don't Stop Covid
https://thefederalist.com/2020/10/29/these-12-graphs-show-mask-mandates-do-nothing-to-stop-covid/
The Centre for Evidence-Based Medicine at Oxford University summarized six international studies which "showed that masks alone have no significant effect in interrupting the spread of ILI or influenza in the general population, nor in healthcare workers." Oxford went on to say that "that despite two decades of pandemic preparedness, there is considerable uncertainty as to the value of wearing masks." They prophetically warned that this has "left the field wide open for the play of opinions, radical views and political influence."
A study of health-care workers in more than 1,600 hospitals showed that cloth masks only filtered out 3 percent of particles. An article in the New England Journal of Medicine stated, "[W]earing a mask outside health care facilities offers little, if any, protection from infection" and that "[T]he desire for widespread masking is a reflexive reaction to anxiety over the pandemic."
There are many other credible studies showing lack of mask efficacy, such as studies published in the National Center for Biotechnology Information, Cambridge University Press, Oxford Clinical Infectious Diseases, and Influenza Journal, just to name a few.
Studies do show masks can help in the case of direct respiratory droplets, which would matter if somebody is coughing, breathing, or sneezing directly on your face. That happens normally in a tight and highly confined space.
But the plentiful evidence we have indicates masks would not meaningfully help with aerosol transmission, where two people are just in the same area, or even the same room. This is because the two people end up breathing the same air, with or without a mask, as visually demonstrated in this video.
Austria was one of the first governments to require masks, and it did so about 10 days after its cases began to go down. The level of downtrend did not change or improve after masks were required. After the nation's people wearing masks for an extended period, cases are currently four times where they were when Austria mandated masks, and cases continue to climb.
The article has charts for all the European nations that put mask mandates into effect. All of them have spikes in COVID cases after the mask mandates. Finally, there is a chart comparing those nations with the three Nordic nations that did not require masks: Sweden, Norway, and Denmark. Their rates of infection are lower in all three with no major spikes. Interestingly, there is another graph comparing Texas and Georgia over the last six months. Texas put a mask mandate in place around July 1, whereas Georgia has had no mask mandate. The graph shows an almost identical graph of infections, with Georgia a little under the numbers of Texas. 
All of this is why Martin Kulldorff, Professor at Harvard Medical School, specialist in infectious disease, tweeted recently "Twitter has censored two tweets by scientist and White House coronavirus Task force member @ swatlashoover (Dr. Scott Atlas). After 300 years, the Age of Enlightenment is over." 
Yes, that's true, but it's also the case that the humanist strain running through the Enlightenment was always heading to this sad end, Prof. Kulldorff. Science and reason only work if Jesus is Lord. Otherwise, you're trying to pin those things to sky with nothing to pin them to. 
This is Toby Sumpter with Crosspolitic News. Remember to send us stories and articles that you think we should cover to news at crosspolitic dot com. You can find this and all of our shows at Crosspolitic.com or on our app, which you can download at your favorite app store, just search "Fight Laugh Feast". Support Rowdy Christian media, and become a Fight Laugh Feast Club Member and for as long as the CrossPolitic gods smile upon the land, get your very own Fight Laugh Feast t-shirt and live and archive access to all the talks at our first annual Fight Laugh Feast Conference. Become a member now at fightlaughfeast.com.