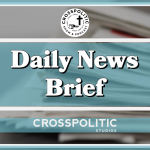 This is Toby Sumpter with your CrossPolitic Daily News Brief for Friday, September 11, 2020.
Today you will hear about a new Gallup poll that shows professional sports tanking, a study of college campus Covid cases finds zero hospitalizations, Michigan Gov. Gretchin Whitmer can't get out of the news, was the Belarusian President offered a COVID bribe?, and we close with thoughts on the 19th anniversary of 9-11.
Remember: If you come across a news story you think we might need to cover, please send it to: news at crosspolitic dot com. This is a great way to share articles and stores with us that may end up in our daily or weekly shows: news at crosspolitic dot com
https://news.gallup.com/poll/319256/farming-rises-sports-tumbles-industry-ratings.aspx
A new Gallup poll is out September 8, and things ain't looking good for sports. 
WASHINGTON, D.C. — For the first time in Gallup's 20 years of tracking Americans' views of various business and industry sectors, farming and agriculture is the clear leader. The former top-ranking industries — restaurants and computers — remain in the top four, with the grocery industry rounding out the group. Meanwhile, the pharmaceutical industry's image has improved modestly since last year, and it has yielded the "worst rated" distinction back to the federal government.
This year's rankings reflect significant changes in the ratings of six industries, three of which are delivering vital goods and services to Americans during the pandemic. These three — healthcare, farming and pharmaceuticals — are all rated more positively this year than in 2019, although where they rank on the list differs.
Farming and agriculture was already among the top-rated industries before 2020, but it has now moved to No. 1 with a 69% positive rating — an 11-percentage-point increase.
With a 13-point increase to 51%, the healthcare industry has advanced from the third-lowest-ranked industry to near the middle of the pack. This is the first time in the 20 years of Gallup measurement that a majority of Americans have rated healthcare positively. The latest reading mirrors the increase in Americans' confidence in the medical system that Gallup found earlier this year.
The pharmaceutical industry's positive rating has increased seven points to 34%. The industry is now the second-lowest-rated on a net (positive minus negative rating) basis.
Additionally, the internet industry has seen a six-point increase in its positive rating to 49%. It still lags behind the computer industry (at 56%), but the gap is narrower than usual.
Rather than engendering sympathy from Americans, the travel industry, which has been decimated by social distancing requirements, as well as by people's reluctance to fly and stay in hotels, has seen its positive rating slip 11 points to 41%.
The biggest slide, however, has been for the sports industry, with its positive score falling 15 points — from 45% to 30%.
The sports industry now has a negative image, on balance, among Americans as a whole, with 30% viewing it positively and 40% negatively, for a -10 net-positive score. This contrasts with the +20 net positive image it enjoyed in 2019, when 45% viewed it positively and 25% negatively.
This slide in the sports industry's image comes as professional and college leagues are struggling, and not always successfully, to maintain regular schedules and playing seasons amid the pandemic. Professional football, baseball and basketball games have also become focal points for public displays of support for the Black Lives Matter movement.
While it's not clear how much the various challenges and controversies swirling around the industry are each responsible for its slide in popularity, it is notable that sports has lost more support from Republicans and independents than from Democrats. In fact, Democrats' view of the sports industry has not changed significantly in the past year, while Republicans' has slipped from a +11 net-positive score in 2019 to a net -35 today, and independents' from +26 to -10.
The sports industry's image has also deteriorated more among women than men, and among older adults than those younger than 35. Sports has also lost more support from non-White than White Americans, but given the extraordinarily high ratings from non-White adults a year ago, this group continues to view the sports industry positively on balance today. That is not the case with White adults, who now view the sports industry more negatively than positively, and by a 22-point margin.
https://www.thecollegefix.com/bulletin-board/brown-u-epidemiologist-finds-zero-hospitalizations-from-26000-positive-covid-tests-for-college-students/?fbclid=IwAR3IAwJjbGBGzycFyLVP3YQEtz2T1P3Xyfy_UIFSN64dmEdSo_UVhz41XP0
Brown University epidemiologist Andrew Bostom tweeted Tuesday that he had tallied up just over 26,000 students testing positive for COVID-19 (which itself may double-count the same person for multiple tests), based on reported figures from 29 universities, all but three public, stretching east from Arizona.
Yet he could not find a single reported hospitalization among those supposedly infected students. (PCR tests are notoriously prone to produce false positives, given that they catch even inactive viral fragments.)
"[R]ather than recognizing the detection of mild cases among college students as portents of good news, universities continue to sow panic for no good reason," Daniel Horowitz writes:
How is this an emergency situation? If anything, the fact that there are so many cases is a blessing, because, with such a young population, these cases are a de facto vaccine, creating herd immunity without danger.
Yet the University of Arizona hired a private security firm to enforce harsh COVID-19 restrictions, "essentially turning the campus into a prison and criminalizing the lives of young adults who have near-zero risk from the virus." Horowitz notes that one so-called outbreak in the athletics department turned out to 84 percent false positives.
He denounces Ohio for forcing even students who test negative to be quarantined and letting their schools control visits from their parents.
This is why we need Weapons for this War. Which is why we want to invite you to our first annual Fight Laugh Feast Conference in Nashville October 1-3. We've put together a package that is full of feasting and psalm singing, hearty fellowship, and a line up of speakers Douglas Wilson, George Grant, Glenn Sunshine, Rod Martin, myself, and Jeff Durbin and David Bahnsen – also a special Darren Doane after hours meet and greet. All committed to showing you how God's Word is a sharp sword to take with you into every battle, from politics to business to education and family and much more. Please join us this October 1st through the 3rd as we seek to build a rowdy Christian culture for God's glory and our good. Go to Fightlaughfeast dot com and register today.
From the news @ crosspolitic dot com inbox:
https://www.detroitnews.com/story/news/politics/2020/09/04/michigan-governor-whitmer-residence-security-upgrade-1-1-m-maintenance/5715140002/
Gretchen Whitmer is currently spending 1.1 million tax dollars on a security upgrade to the Governor's residence, including an 8 ft. tall, electric fence. 
"It's unclear how much is being spent on the perimeter fencing that's being installed," The Detroit Free Press said.
Governor Whitmer has been very vocal about her opposition to President Donald Trump's proposal to build barriers around United States borders. She called the President's border wall too "costly" and "ineffective," suggesting that the funds would be better spent elsewhere.
Whitmer further expressed her thoughts about the border walls by tweeting, "$40 BILLION for the wall," and "Think how many kids that would educate, how many roads, bridges, and pipes it would fix."
Whitmer also campaigned against Trump's border walls in 2018, stating, "it is time we get back to building bridges, not walls."
Ok, one more from a listener:
https://neptuneprime.com.ng/2020/09/imf-world-bank-offered-me-bribe-to-impose-covid-restrictions-belarusian-president-claims/
Belarusian President, Aleksandr Lukashenko, said last month via Belarusian Telegraph Agency, BelTA, that World Bank and IMF offered him a bribe of $940 million in the form of "COVID Relief Aid."
In exchange for $940 million USD, the World Bank and IMF demanded that the President of Belarus imposed "extreme lockdown on his people"; force them to wear face masks; impose very strict curfews; impose a police state thereby crashing the economy.
Belarus President, Aleksandr Lukashenko, refused the offer and stated that he could not accept such an offer and would put his people above the needs of the IMF and World Bank.
9-11 Thoughts
Today marks the 19th Anniversary of the 9-11 attacks. On Tuesday, September 11, 2001, four passenger planes were hijacked midair by 19 al-qaeda terrorists, masterminded by Osama Bin Ladin. Two the planes crashed into the north and south towers of the World Trade Center, causing the 110-story towers to collapse over the following hour and 42 minutes, causing the collapse of the rest of the World Trade Center complex, including the 47-story 7 World Trade Center tower. A third plane crashed into the Pentegon in Arlington, Virginia. The fourth plane was intitially flown toward Washington, DC, but crashed into a field in Pennsylvania after passengers fought back against the hijackers. 
The attacks resulted in nearly 3,000 deaths, over 6,000 injured, and 10 billion dollars in infrastructure and property damage. 9-11 is the deadliest terrorist attack in recorded history, and the single deadliest for firefighters and law enforcement officers in American history, with 343 and 72 killed respectively. 
The attackers who planned and executed these attacks were wicked men, and all judicious efforts to bring them to justice were right and proper. And our remembrance of those who lost their lives as well as our honor of those brave and courageous men and women who gave their lives to save others is good and Christian. And yet, we should not pass this moment without also noting that all of that can be true and I believe is true, and at the same time, God used those attacks to strike America. Not only did Osama binladin strike America, but God struck America. 
This motif is found throughout the Bible, perhaps most famously in Isaiah where God uses the rod of foreign nations to strike Israel for their idolatries and evil, and God can do that and still hold the foreign nation to account for their violence and bloodshed. 
But here we are 19 years later, and we still have not learned the lesson. We have still not repented of our sins. In the aftermath of 9-11, George W. Bush attended a blasphemous, multi-cultural worship service in the National Cathedral, where the Lord Jesus was named alongside all of the gods of the nations. There were rabbis and Roman Catholics and Muslim Imams and more. It was a smorgasboard of idolatry, and it represented our disease and our hard-heartedness well. 
But the disease of idolatry can never be contained. If you do not destroy your idols, your idols will destroy you. And so here we are in 2020 being eroded from the inside by our idolatries, by our fears. Our idols of health and fitness: struck. Our idols of financial and economic security: struck. Our trust in horses and chariots to save us: struck. Our trust in government officials: struck. And now California and Oregon and Washington are up in flames for their mismanagement of God's creation, for their arrogant hubris in rejecting the sources of energy has provided, and believing the lies of climate change and environmentalism. 
If God wanted our attention, it could not really be more clear. God is striking America. God is striking us everywhere and in every way, and He will not stop striking us until we repent. Until we humble ourselves and confess our sins to our parents, to our children, to our spouses, and cry out to Him to save us. You cannot live in God's world and defy Him. You cannot live in God's world and carryon without His blessing. Jesus died and rose again, and now God is calling all men everywhere to repent and turn to Him, so that times of refreshing may come. But if we do not repent, no times of refreshing will come. There will only be times of frustration, times of tyranny, times of confusion, times of pillaging, and times of smoking haze and devastation. But Jesus is alive and He is seated at the right hand of the Father, and He must reign until all of His enemies have become His footstool. 
This is Toby Sumpter with Crosspolitic News. Remember to send us stories and articles that you think we should cover to news at crosspolitic dot com. You can find this and all of our shows at Crosspolitic.com or on our app, which you can download at your favorite app store, just search "Fight Laugh Feast". Support Rowdy Christian media, and become a Fight Laugh Feast Club Member and for as long as the CrossPolitic gods smile upon the land, get your very own Fight Laugh Feast t-shirt and access to tons of extended discussions with George Grant, Sho Baraka, David French, Voddie Baucham, C.R. Wiley, Tom Ascol, Erick Erickson, Maj Toure, Doug and Nancy Wilson, Walter Williams, Gary Demar, and our very own Worldview Shotgun Series. You also get $100 off your registration for our first annual Fight Laugh Feast Conference, where we hope to meet many of you in Nashville, TN October 1st through the 3rd. Go to fightlaughfeast.com to register now. Have a great day. https://flfnetwork.com/coming-soon/