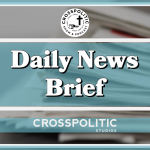 Good Monday, This is the Chocolate Knox with your CrossPolitic Daily News Brief for Monday, August 24, 2020.
Officials of Minnesota and Nebraska are saying a Motorcycle Rally in Sturgis, South Dakota is linked to new cases of CV-19.
https://www.newsweek.com/minnesota-nebraska-coronavirus-cases-sturgis-motorcycle-rally-1526942?utm_source=Public&utm_medium=Feed&utm_campaign=Distribution
Why the Black Lives Matter Protests Didn't Contribute to the COVID-19 Surge
Fredie Blom: 'World's oldest man' dies aged 116 in South Africa
Wildfires in Northern California have become the second-largest in state history as it and hundreds of other blazes have now destroyed nearly one million acres.
https://www.nbcnews.com/news/us-news/northern-california-wildfire-now-2nd-largest-ever-total-blazes-scorch-n1237778?cid=sm_npd_ms_fb_ma
Don't forget about our first annual Fight Laugh Feast Conference in Nashville October 1-3.  So  you can understand  how God made this world to work and get loaded up with weapons for this war.we've put together a package that is full of feasting and psalm-singing, hearty fellowship, and a line up of speakers committed to showing you how God's Word applies to politics, economics, business, education, creativity, marriage and family, and much more. Please join us this October 1st through the 3rd as we build a rowdy Christian culture for God's glory and our good. Go to www.Fightlaughfeast.com and register today.
NASA reported Saturday that an asteroid is headed toward Earth one day before U.S. Election Day this year, though the chances of an impact are less than 1 percent.
https://thehill.com/homenews/news/513246-nasa-asteriod-headed-toward-earth-before-election?amp
Coronavirus pandemics could last for another TWO YEARS, says World Health Organisation chiefhttps://www.the-sun.com/news/1350542/coronavirus-pandemic-another-two-years-who/
100 NYC Restaurateurs Announce Plans to Sue the City Over Indoor Dining Freeze
https://ny.eater.com/2020/8/21/21395651/nyc-restaurants-class-action-lawsuit-indoor-dining
This is Chocolate Knox with your daily Crosspolitic News Brief for Monday August 24. You can find this and all of our shows at Crosspolitic.com or on our app, which you can download at your favorite app store, just search "Fight 
Laugh Feast". Our app is the only way to get In the Bullpen with Mark Dewey. Support Rowdy Christian media, and become a Fight Laugh Feast Club Member, and for a limited time you can get your very own Fight Laugh Feast t-shirt and access to tons of extended discussions with George Grant, Sho Baraka, David French, C.R. Wiley, Erick Erickson, Maj Toure, Doug and Nancy Wilson, Walter Williams, Gary Demar, and our very own Worldview Shotgun Series. You also get $100 off your registration for our first annual Fight Laugh Feast Conference, where we hope to meet many of you in Nashville, TN October 1st through the 3rd. Go to fightlaughfeast.com to register now. Have a great day. https://flfnetwork.com/coming-soon/