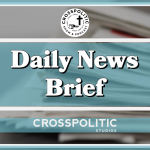 Good Monday, This is the Chocolate Knox with you CrossPolitic Daily News Brief for Monday December 14, 2020
Merry Christmas! And you know what can even make if a better merry Christmas? Waking up Christmas morning with nice cup of CrossPolitic Sovergen roast in your beautifully eched Fight Laugh Feast Tumbler…. Slurp…ahhh Taste Like resurrection victory…You should try some. Sign up on crosspolitic.com become a club and the second or third tier level and get you one of these postmill Fight Laugh Feast Tumblers Slurp.
And if you would like to send us news you can do that at news@Crosspolitic.com
You've heard by now that the 
Supreme Court Has Rejected Texas Challenge to Biden's Victory in the Presidential Election
Friday, Texas's Shot it's shot to try and void 20 million votes in four other states, clearing the path for Joe Biden's victory when presidential electors meet Today in state capitals across the nation TO  cast ballots: 306 for Mr. Biden, 232 for the incumbent.
Texas, exercising the privilege states hold to file claims directly before the Supreme Court, accused Georgia, Michigan, Pennsylvania and Wisconsin of violating their own state laws, and thereby the U.S. Constitution, by adjusting absentee voting procedures to accommodate the surge in mail-in ballots from voters following public-health guidance during the coronavirus pandemic.
In a brief order, the court said Texas lacked legal standing to bring the case. "Texas has not demonstrated a judicially cognizable interest in the manner in which another State conducts its elections," the unsigned order said.
Two justices, Samuel Alito and Clarence Thomas, reiterated their previously stated view that the court is required to allow states to file cases before it, but noted that they took no position on Texas's argument and wouldn't have blocked the Electoral College from meeting on Monday. 
Mr. Trump himself sought to intervene in the case, and in a Friday tweet called on "the Supreme Court of the United States to follow the Constitution and do what everybody knows has to be done."
The Supreme Court's order indicated that Mr. Trump's motion, along with many others filed over the past two days, was moot.
"The Supreme Court really let us down. No Wisdom, No Courage!,'' Mr. Trump wrote in a tweet late Friday.
The ruling by the court not to pick up the case has left many feeling that this has been a pattern. Judges not letting Trump's lawyers present the evidence to the courts and let his case be heard but Nationals Review AndreW McCarthay paints a bit of a different picture of what has actually be going on in the courts and he does this mainly with Wesconsin…
If you have the app you can review the whole article for yourself in the notes. Just one of the many benefits of having the app. And if you don't have the app you are missing out on everything FLF network and club portal with a boat load of goodies and membership perks that can be directly access on the app go to your favorite app store and download the Fight Laugh feast app now so you can be like everyone else that can just click the link to this story from Adrew Mc Carthy…
A Stunning Passage from the Latest Court Rejection of Team Trump
So, Andrew asks….
So what happened in Wisconsin?
Judge Ludwig (a Trump Appointed Judge) denied the state's claims that the campaign lacked standing. Instead, he gave the campaign the hearing they asked for — the opportunity to call witnesses and submit damning exhibits. Yet, when it got down to brass tacks, the morning of the hearing, it turned out there was no actual disagreement between the Trump team and Wisconsin officials about the pertinent facts of the case. The president's counsel basically said: Never mind, we don't need to present all our proof . . . we'll just stipulate to all the relevant facts and argue legal principles.
In the end, after all the heated rhetoric, what did they tell the court the case was really about? Just three differences over the manner in which the election was administered — to all of which, as Ludwig pointed out, the campaign could have objected before the election if these matters had actually been of great moment.
There was no there there. Despite telling the country for weeks that this was the most rigged election in history, the campaign didn't think it was worth calling a single witness. Despite having the opportunity of a hearing before a Trump appointee who was willing to give the campaign ample opportunity to prove its case, the campaign said, "Never mind."
The whole article is worth your time…
Fight Laugh Feast Merch & Magazine
Also, if you want to rock your Fight Laugh Feast bona fides visit rowdychristian.com for shirts, hats, hoodies, postmill coffee, etc. Also: did you hear we started a new magazine? Four issues a year for forty bucks. https://flfnetwork.com/product/fight-laugh-feast-magazine/
As I record this…
Members of the electoral college are convening in state capitals throughout the country today to formally vote for Joe Biden as the nation's next president, even as President Trump continues to falsely claim that he won the election.
Following the gatherings, which will continue throughout the day, Biden plans to address the nation. Trump has planned no public events but continues to tweet grievances about the election, which he claimed Sunday is "under protest."
Here's what to know:
Already, five of the states where Trump contested his defeat — Nevada, Arizona, Georgia, Pennsylvania and Wisconsin — have cast their electoral votes for Biden.

Follow the vote here

.

Trump signaled that he will

continue to challenge the results

of the 2020 election even after the electoral college meets to cast votes solidifying Biden's victory.
Congress nears deal on $1.4T government funding measure
https://www.politico.com/news/2020/12/14/congress-fundnig-government-omnibus-445053
  Congressional negotiators are closing in on a $1.4 trillion omnibus spending deal to ward off a government shutdown on Friday at midnight, crossing one major priority off the legislative agenda and adding further urgency around the inclusion of coronavirus aid in a year-end package.
Lawmakers could announce an omnibus compromise as soon as Today, with legislative text expected Tuesday. 
Congressional leaders and appropriators have labored over the last week to reach a compromise on major omnibus sticking points, including cash for President Donald Trump's border wall and how to classify $12.5 billion in veterans' health spending amid opposition from Republicans, who've been averse to deeming that money as "emergency" spending outside of strict budget caps.
A stimulus deal — if it can be reached — would be the biggest addition, by far, to any spending package. A bipartisan group of lawmakers is pushing a $908 billion economic rescue bill, the details of which will be unveiled later Monday. 
In a desperate bid to reach agreement, lawmakers decided over the weekend to split their proposal into two pieces — carving out the most contentious items, money for local governments and liability protections for businesses, into a separate bill. The other bill, with a $748 billion price tag, would include broadly bipartisan funding for schools and health care.
Seattle Considering 'Poverty Defense' Exempting Criminals Based On Their Needs
The Seattle City Council is considering changing the criminal code so that criminals who have committed trespassing, theft, or even simple assault could be exempt from prosecution if they could prove that their survival depended on their criminal acts.
Councilmember Lisa Herbold and Anita Khandelwal, the King County's director of the Department of Public Defense, introduced the idea of changing the criminal code. Herbold first brought the idea of what is nicknamed the "poverty defense" in October. 
If approved, the ordinance would excuse and dismiss — essentially legalizing — almost all misdemeanor crimes committed in Seattle by offenders who could show either: Symptoms of addiction without being required to provide a medical diagnosis; Symptoms of a mental disorder; or Poverty and the crime was committed to meet an "immediate and basic need." For example, if a defendant argued they stole merchandise to sell for cash in order to purchase food, clothes or was trying to scrape together enough money for rent. The accused could not be convicted.
"The advocates' proposal covers all misdemeanor crimes, except DUIs and domestic violence cases," 
Khandelwal stated, "In a situation where you took that sandwich because you were hungry and you were trying to meet your basic need of satisfying your hunger; we as the community will know that we should not punish that.
Former Seattle City Councilmember Tim Burgess slammed the idea, saying it issued a "powerful signal" that the Seattle city government doesn't "really care about this type of criminal behavior in our city," adding, "It leans on the scales heavily in favor of certain individuals based on status, and it says to others, 'you don't matter.'"
Scott Lindsay, a former mayoral Public Safety Advisor, echoed, "It's a green light for crime. If you are engaged in 100 different misdemeanors that are in our criminal justice system code, you are not going to be held liable. You are not going to be held accountable."
Khandelwal said the current system is "meeting nobody's needs … This is not that we don't care about the business community or about people who have experienced harm. It is that we know that this process – this processing of human beings through the system – is harmful to our clients and again very racially disproportionate, and also not getting business owners what they need either,"
France to start research into 'enhanced soldiers
France has the largest defence budget in the EU and troops deployed around the world
The French armed forces have been given the go-ahead to start research on developing "enhanced soldiers".
A report laid out conditions under which work on implants and other technologies designed to improve battlefield performance should be carried out in the future.
The report stresses that other nations are exploring such possibilities, and that France must keep up.
Defence Minister Florence Parly has emphasised the need to look ahead.
In a speech last week she said France had no immediate plans to develop "invasive" technology for soldiers. "But we must face the facts," she added. "Not everyone shares our scruples and we must be prepared for whatever the future holds."
She said "ways to maintain our operational superiority without turning our backs on our values" must be explored.
Details of the report by the military ethics committee were released on Tuesday.
"Human beings have long sought ways to increase their physical or cognitive abilities in order to fight wars," it warned. "Possible advances could ultimately lead to capacity enhancements being introduced into soldiers' bodies."
The report mentioned research on implants that could "improve cerebral capacity" or help soldiers tell enemy from ally. These could also allow commanders to locate them or read their vital signs from a distance. 
Drawing clear ethical lines, the document noted, was "therefore essential". It said eugenic or genetic practices should be banned, as well as anything "that could jeopardise the soldier's integration into society or return to civilian life".
In her speech, Ms Parly noted that in civilian fields, work on neural implants for humans was proceeding apace. 
This year Elon Musk unveiled a pig called Gertrude with a coin-sized computer chip in her brain, to demonstrate his ambitious plans to create a working brain-to-machine interface.
You can find this and all of our shows at Crosspolitic.com or on our app, Support Rowdy Christian media, and become a Fight Laugh Feast Club Member and get your very own Fight Laugh Feast TUMBLER AND  t-shirt and access to all the talks at our first annual Fight Laugh Feast Conference as well as many exclusive behind the scenes interviews with Voddie Bachaum, Tom Ascol, Erick Erickson, Sho Baraka, Douglas Wilson, David French, Gary Demar, Tom Ascol, Maj Toure as well as our very own Worldview Shotgun Series. Go to fightlaughfeast.com. 
Restoring Constitutional Secularism and Patriotic  Pluralism in the White House 
Prepared exclusively by Secular Democrats of America PAC for President-elect Joe  Biden and Vice President-elect Kamala Harris Transition Team 
Presented by Representatives Jamie Raskin and Jared Huffman 
Endorsed by Representative Jerry McNerney 
Preamble………………………………………………………………………………………..1 Legal Landscape………………………………………………………………………………3 Section I. Government Funding: Evidence-Based, Nonsectarian, and  Nondiscriminatory…………………………………………………………………………….5 Section II. Restoring Constitutional Secularism and Scientific Integrity……….…..8 Section III. Religious Freedom Abroad…………………………………………………..14 Section IV. Patriotism Pluralism and Sincere Inclusion: Protecting the Rights and  Dignity of Nontheists………………………………………………………………………..…15 Appendix (List of Trump Administration Actions)……………………………………..18 Congressional Freethought Caucus Membership…………………………………….26 Humanists for Biden Advisory Council Endorsements………………………………27 Acknowledgements…………………………………………………………………………27
Section I 
Government Funding: 
Evidence-Based, Nonsectarian, and Nondiscriminatory 
A secular government governs on the basis of reason, science, and evidence. Science was on the ballot in 2020 because this administration's dangerous disdain for expertise,  shocking denial of facts it dislikes for ideological reasons, and naked interference in what  should be nonpartisan scientific inquiry, have cost more than 260,000 American lives.  Government-wide policies on scientific integrity should be adopted by all federal agencies  to ensure that federal analysis is free from political and religious bias and that government  funding is used to support evidence-based programs. 
Additionally, taxpayer dollars should not be funneled either to contractors or grantees that  discriminate on the basis of religion, or to programs that promote a sectarian agenda, such  as private religious schools, crisis pregnancy centers, and abstinence-only sex education.  
The federal government has an obligation to exercise good stewardship of taxpayer dollars.  Therefore, it should not do business with organizations or contractors that will use  government funds to advance a sectarian agenda, or discriminate against its employees or  program beneficiaries on the basis of religion. If performing the duties of a government  contract comes into conflict with the requesting grantee or contractor's sincerely held  religious beliefs, it can and should seek funding elsewhere. No institution, religious or  secular, is entitled to access taxpayer funding.  
Utilize every mechanism at the administration's disposal to ensure that the  Department of Education does not funnel taxpayer dollars to private schools. Any  private schools receiving taxpayer funding, whether directly or indirectly, should  be held to the same nondiscrimination and accommodation requirements of  public schools and expected to meet curriculum standards for secular subjects,  including science and history. Where Supreme Court decisions are held to  require government funding for religious schools, or other religious programs, the  administration should seek to ensure that such funding cannot be used for  religious purposes; where it funds religious groups providing secular services, it  should use the authority that comes with the provision of such funding to ensure  that the services provided are delivered equally and without favor, and reach the  level of quality that publicly provided services reach. If receiving government  funds, religious schools should be required to teach curricula in accordance with  national secular standards, particularly in areas such as the teaching of science.
5 
All rules, regulations, memoranda, and other actions regarding federally  administered health care programs that sanction denial of care on the basis of  religion must be repealed. When federal funding is made available to community  or faith-based organizations to provide healthcare, that funding should go to  organizations that will provide the services required, not organizations that will  deliberately choose not to provide the full spectrum of services intended by the  program and that will not serve all program beneficiaries equally.  

Reverse all executive orders, rules, memoranda, and other actions that exempt  faith-based organizations contracting with the federal government from  nondiscrimination requirements that apply to secular organizations, including  employment discrimination. This includes the following (please see Appendix for  additional examples). 
Dismantle the Department of Justice Religious Liberty Task Force Dismantle the HHS Conscience and Religious Freedom Division Repeal Executive Order 13798, Promoting Free Speech and Religious  Liberty and reverse its implementation across various executive agencies 
Rescind and replace the Department of Justice Memorandum, Federal Law  Protections for Religious Liberty 

We urge your administration to disincentivize state funding for programs that are  not evidence-based and which can cause harm by spreading misinformation,  such as crisis pregnancy centers and abstinence-only education programs.  These programs are an ineffective use of taxpayer dollars and they cause  demonstrable harm to vulnerable communities.  

Work with Congress to incentivize states to increase their vaccination rates by  repealing all nonmedical exemptions to mandatory vaccination for children in  schools and day care centers. States like California and New York have taken  such actions, but only after experiencing severe outbreaks of measles and  whooping cough. Parents and children have the right to a school environment  free of vaccine preventable diseases. The most vulnerable among us who are  medically ineligible for vaccination depend on herd immunity to protect them. 

Reverse the Trump administration policies that have allowed faith-based  government-funded contractors to provide adoption and foster care services to  discriminate on the basis of religion and work with Congress to pass the Every  Child Deserves a Family Act. 
6 
Fully and robustly fund comprehensive, medically-accurate sex education.  

Reverse DHS/FEMA policies enacted under President Trump that allow disaster  relief to be used to directly fund houses of worship for sectarian purposes,  including public funds for disaster related facility repair, if those funds are not  made available for all private nonprofits. Prior to the Trump administration, the  long-standing policy was to reimburse houses of worship for damage sustained  while providing disaster relief services to the affected general public. It is  precisely in times of crisis that the federal government must be steadfast in  protecting the Constitution—the federal government should not grant privileges to  houses of worship suffering from natural disasters that are not available to  secular non-profits and institutions that equally suffer from these tragedies. 

The Trump administration took advantage of the urgency surrounding COVID-19  relief to issue new rules and guidance at the Small Business Administration that  egregiously violated the separation of church and state, upended long standing  policy, and privileged houses of worship by exempting them from standards  applied to all other 501(c)(3) organizations and businesses applying for  assistance. 
In past administrations, SBA policy held that "businesses principally engaged in  teaching, instructing, counselling or indoctrinating religion or religious beliefs,  whether in a religious or secular setting" were not eligible for receiving business  or economic disaster loans. As a result, millions of federal dollars from the  Paycheck Protection Program (PPP) have funded explicitly religious activities,  including paying clergy salaries, rent, and utilities. Given that houses of worship  are exempt from requirements that apply to all other 501(c)(3) organizations,  including filing the Form 990, this funding amounts to a taxpayer funded  giveaway to sectarian interests of which the government has no means to  conduct oversight and the recipients are not held accountable to American  taxpayers. We urge you to restore previous SBA policies and ensure that future  COVID-19 relief is allocated in a constitutional manner.