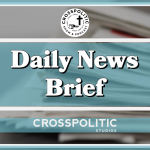 Good Monday, This is the Chocolate Knox With your CrossPolitic Daily News Brief For Monday, January 11th, 2020 b. Aka 2021 Thank you to everyone who sends us news to [email protected] every story here is fueled by you good folks. All 9 of ya.
Dem leaders and their allies in the media cheered on the violent left every step of the way…pic.twitter.com/goInUrw6P8

— Donald Trump Jr. (@DonaldJTrumpJr) August 31, 2020
Amazon puts Parler in a new predicament. 
https://www.washingtonpost.com/technology/2021/01/09/amazon-parler-suspension/
The following is an adaptation from Rod Dreher's "Live Not by Lies: A Manual for Christian Dissidents"
https://www.realclearbooks.com/articles/2020/11/16/a_quiet_totalitarian_revolution_649853.html
We Need To Go Beyond Deplatforming
https://thepostmillennial.com/mozillas-official-blog-we-need-more-than-deplatforming
Impeachment of Trump Round 2 
https://www.newsbreakapp.com/n/0YGWmhX2?pd=04njtsQ7&lang=en_US&s=i0
Healthy doctor dies after the vaccine
https://www.sun-sentinel.com/coronavirus/fl-ne-miami-doctor-vaccine-death-20210107-afzysvqqjbgwnetcy5v6ec62py-story.html
British police warn of going outside
https://www.christianpost.com/amp/british-public-face-fines-for-going-outside-during-third-lockdown.html
 Fight Laugh Feast Rally to Rapid City, South Dakota April 29th, 30th, and May 1st. Join us in the land of the free, the home of the brave, as we learn to Love God, Sing Psalms, and Defy Tyrants. Go to https://flfnetwork.com/rally/ to sign up now!