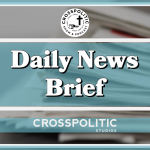 CrossPolitic Daily News Brief for Monday, November 23, 2020
Sidney Powell: It will be BIBLICAL
https://www.youtube.com/watch?v=Y68pEknYyCM&feature=youtu.be
Gov. Kate Brown, of Oregon's was asked if residents should call the cops if they see coronavirus violations.
https://www.foxnews.com/politics/oregon-governors-tells-residents-to-call-cops-on-people-violating-covid-restrictions
Get out!': Gathering at Orchard Park gym turns confrontational as health inspector arrives
https://buffalonews.com/news/get-out-gathering-at-orchard-park-gym-turns-confrontational-as-health-inspector-arrives/article_afde6d28-2c09-11eb-879a-7f9fc15b4747.html
I am the Chocolate Knox with your Crosspolitic News. Support Rowdy Christian media by joining our club at fightlaughfeast.com, downloading our App, and don't forget when you share our content on any platform preferably the app, That too is a massive show of support. Can't say that enough. Thank you for providing us with the resources to compete with the mainstream media. So if you haven't been I hope you find yourself over at fightlaughfeast.com
 Have a great day.