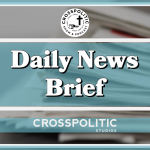 Good Monday!
This is the Chocolate Knox with your CrossPolitic Daily News Brief for Monday, November 9th 2020.
If you happen to see a story that you think is important send it over to  [email protected].
https://www.foxnews.com/politics/bidens-first-move-as-president-elect-mask-mandate-for-all-heres-how-he-plans-on-doing-it
Biden on Monday is slated to announce his coronavirus task force, which will be headed by Vivek Murthy, the former U.S. surgeon general, and David Kessler, the former commissioner of the Food and Drug Administration.
In addition, another member of the task force expected to play a key role will be Dr. Zeke Emanuel, an adviser to Biden and the architect of the Affordable Care Act. Emanuel told MarketWatch in an interview that it could be as late as November 2021 before the United States will be able to get out of the pandemic. 
John Zmriak was on our show and had something to say about your possible Ronna task force leader Zeke
*Clip from show
Biden is expected to go through his seven-point plan on Monday, w
Let's go through it together shall we and just highlight a fews items on his seven point list…1
Fix Trump's testing-and-tracing fiasco to ensure all Americans have access to regular, reliable, and free testing.

Double the number of drive-through testing sites.

Invest in next-generation testing, including at home tests and instant tests, so we can scale up our testing capacity by orders of magnitude.

Establish a U.S. Public Health Jobs Corps to mobilize at least 100,000 Americans across the country with support from trusted local organizations in communities most at risk to perform culturally competent approaches to contact tracing and protecting at-risk populations.

2

Fix personal protective equipment (PPE) problems for good.




Joe Biden will take responsibility, rather than leave states, cities, tribes, and territories to fend for themselves, and focus on producing more of these critical supplies in the United States. 

3

Provide clear, consistent, evidence-based national guidance for how communities should navigate the pandemic — and the resources for schools, small businesses, and families to make it through.

Social distancing is not a lightswitch. It is a dial. Joe Biden will direct the CDC to provide specific evidence-based guidance for how to turn the dial up or down relative to the level of risk and degree of viral spread in a community, including when to open or close certain businesses, bars, restaurants, and other spaces; when to open or close schools, and what steps they need to take to make classrooms and facilities safe; appropriate restrictions on size of gatherings; when to issue stay-at-home restrictions.

Establish a renewable fund for state and local governments to help prevent budget shortfalls, which may cause states to face steep cuts to teachers and first responders.

Call on Congress to pass an emergency package to ensure schools have the additional resources they need to adapt effectively to COVID-19.

Provide a "restart package" that helps small businesses cover the costs of operating safely, including things like plexiglass and PPE. Why stop there lets become a supply chain too!

4

Plan for the effective, equitable distribution of treatments and vaccines because discovering isn't enough if they get distributed like Trump's testing and PPE fiascos.

Invest $25 billion in a vaccine manufacturing and distribution plan that will guarantee it gets to every American, cost-free.
5

Protect Older Americans and Others at High Risk.




Joe Biden understands that Trump's failed response has made older Americans and others at high-risk even more vulnerable.

Establish a COVID-19 Racial and Ethnic Disparities Task Force, as proposed by Senator Harris, to provide recommendations and oversight on disparities in the public health and economic response. At the end of this health crisis, it will transition to a permanent Infectious Disease Racial Disparities Task Force.
6

Rebuild and expand the defenses that Trump has dismantled to predict, prevent, and mitigate pandemic threats, including those coming from China.
Immediately restore our relationship with the World Health Organization, which — while not perfect — is essential to coordinating a global response during a pandemic.
Expand the number of CDC's deployed disease detectives so we have eyes and ears on the ground, including rebuilding the office in Beijing, which shrunk dramatically under Trump.

7

Implement mask mandates nationwide by working with governors and mayors and by asking the American people to do what they do best: step up in a time of crisis.




Experts say that if 95% of Americans wear masks between now and December, we can save almost 70,000 lives. Joe has called on:

Every American to wear a mask when they are around people outside their household

Every Governor to make that mandatory in their state

Local authorities to also make it mandatory to buttress their state orders
https://themodelhealthshow.com/maskfacts/ Shawn Stevenson
This is premature … we have not finished counting votes: South Dakota governor
https://www.youtube.com/watch?v=c7BYXVbl5Jc
A reminder that all of the talks from this year's Fight Laugh Feast conference: Weapons for This War are up in the Club Member Portal, and if you're not already a club member, what are you waiting for? Go to fightlaughfeast.com and register today and get access to all of the talks: Douglas Wilson, George Grant, David Bahnsen, Jeff Durbin, Glenn Sunshine, and more. Also, if you want to rock your Fight Laugh Feast bona fides visit rowdychristian.com for shirts, hats, hoodies, postmill coffee, etc. Also: did you hear we started a new magazine? Four issues a year for forty bucks. https://flfnetwork.com/product/fight-laugh-feast-magazine/
This is the chocolate Knox with your CrossPolitic news Brief, Remember to send us stories and articles that you think we should cover to news at crosspolitic dot com. You can find this and all of our shows at Crosspolitic.com or on our app, which you can download at your favorite app store, just search "Fight Laugh Feast". Support Rowdy Christian media, and become a Fight Laugh Feast Club Member and for as long as the CrossPolitic gods smile upon the land, get your very own Fight Laugh Feast t-shirt and live and archive access to all the talks at our first annual Fight Laugh Feast Conference. Become a member now at fightlaughfeast.com.