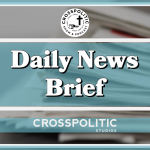 This is Toby Sumpter with your CrossPolitic Daily News Brief for Monday, October 12, 2020.
Today you will hear about the NFL going full Hand Maiden on mask regulations, a Washington Judge throws a wrench into LGBT tyranny, a DC Judge grants Capital Hill Baptist an injunction, Biden says he ain't telling what he'll do with the Supreme Court, Pelosi is talking about the 25th Amendment, one guy is projecting a Trump landslide, and the NBA commissioner says the BLM revival meetings will probably cool off next season. 
Remember: If you come across a news story you think we might need to cover, please send it to: news at crosspolitic dot com. This is a great way to share articles and stories with us that may end up in our daily or weekly shows: news at crosspolitic dot com
The NFL Adds 15 Yard Penalties for Inadequate Mask Wearing by Coaches
https://twitter.com/rtsentz/status/1314944604899139584?s=20
Audio Clip 1: 0:00-0:50 and 1:16-1:35
Cosmetic theater is right. 
Washington Judge Blocks LGBT Tyranny
https://reason.com/2020/10/09/coupled-barred-from-fostering-their-1-year-old-great-granddaughter-because-of-their-opposition-to-homosexuality-and-gender-transitioning/?fbclid=IwAR2fgwq9U0rBvoIWJv26Y9fyUsgX2pCio8bhPQm0DkNYQ5sVYGRDUm-0PhI
James and Gail Blais hope to foster, and eventually adopt, their great-granddaughter, H.V. After H.V. was born [in September 2019], concerns about her welfare arose. The Idaho Department of Health and Welfare ("IDHW") ultimately removed H.V. from her birth parents' care and later reached out to the Blaises about possibly fostering or adopting her. The Blaises expressed an interest in caring for H.V., so IDHW asked the Washington Department of Children, Youth, and Families ("Department") to evaluate the Blaises for a foster care license.
To address the needs of foster children who are developing, discovering, or identifying themselves as lesbian, gay, bisexual, transgender and questioning (LGBTQ+), the Department has promulgated several regulations and policies for Department staff and foster parents providing foster care services. The Blaises are devout Seventh-day Adventists. Following a home study, the Department denied the Blaises' foster care license application. Their answers to a series of hypotheticals involving a foster child who might in the future develop or identify as LGBTQ+ did not conform to Department regulations and policy…
The court therefore blocked the Department from categorically banning foster parenting by people who have objections to homosexuality or gender transition, and also "enjoins Department July 2018 Policy Roll Out Questions & Answers to the extent inconsistent with this order":
That said, the Court does not enjoin the Department from taking LGBTQ+ considerations into account when reviewing foster care license applications. But a foster care applicant's answers to LGBTQ+ hypotheticals cannot serve as the soledetermining factor when an applicant expresses sincerely held religious beliefs. It must base its decision on something more. If the only factor weighing against an otherwise qualified applicant has to do with their sincerely held religious beliefs, the Department must not discriminate against a foster care applicant based on their creed. The Department must make reasonable accommodations for religion—especially in cases like this one where the potential placement involves a biological family member. As Department guidance suggests, it must evaluate each applicant holistically: "All families are unique; these questions are not one size fits all."
A reminder that all of the talks from this year's Fight Laugh Feast conference: Weapons for This War are up in the Club Member Portal, and if you're not already a club member, what are you waiting for? Go to fightlaughfeast.com and register today and get access to all of the talks: Douglas Wilson, George Grant, David Bahnsen, Jeff Durbin, Glenn Sunshine, and more. Next year's conference has been scheduled for October 14-16 back in Franklin, TN again. Next year's theme is Politics of Sex. More information will be coming out soon, but mark the dates now. In the meantime, check out this year's talks.
DC Judge Grants Capital Hill Baptist Temporary Injunction 
https://www.washingtonpost.com/religion/2020/10/10/judge-approves-dc-church-coronavirus-challenge-mayor-bowser/
A D.C. federal court late Friday granted permission for a large D.C. church to hold outdoor worship services, saying the city's coronavirus restrictions banning church services of more than 100 people — indoors or out — appear to violate the church's religious exercise rights.
Capitol Hill Baptist Church, which has 850 members and no online worship services, has been meeting in a Virginia field. The U.S. District Court's granting of a preliminary injunction allows the church to meet outdoors en masse in the city, where most of its members live, while its lawsuit moves forward.
The church was not seeking a class action, and the decision, which can be appealed, applies only to Capitol Hill Baptist.
Capitol Hill Baptist, which had twice sought a waiver before suing, centered its argument on comparing D.C. Mayor Muriel E. Bowser's ban on religious gatherings over 100 with her toleration and encouragement of massive anti-racism protests over the summer. The church's brief notes that Bowser (D) appeared at a huge anti-racism rally in June, that the city police have been assigned to such events and that her office has not enforced its own ban on outdoor gatherings of more than 50 people.
The District argued that Capitol Hill Baptist has other options, such as breaking into smaller groups for services or meeting online.
"But the District misses the point. It ignores the church's sincerely held (and undisputed) belief about the theological importance of gathering in person as a full congregation," wrote Judge Trevor N. McFadden. "The District may think that its proposed alternatives are sensible substitutes. … But "it is not for [the District] to say that [the Church's] religious beliefs" about the need to meet together as one corporal body "are mistaken or insubstantial."
Biden Says the Voters Don't Deserve to Know Whether He Will Pack the Supreme Court
https://twitter.com/ArthurSchwartz/status/1314936688771321857?s=20
Audio Clip 2: 0:00-0:29
As Matt Walsh quipped on Twitter: "So voters have the right to know about the president's personal tax returns but they don't have the right to know whether a guy who wants to be president will toss out 150 years of precedent and forcibly reshape our nation's highest court for political reasons? Ok cool. Got it."
Pelosi Announces Intention to Invoke 25th Amendment
https://disrn.com/news/Pelosi-announces-legislation-invoking-25th-amendment-in-attempt-to-oust-trump-from-office/
On Thursday, Pelosi had previewed her intentions, announcing that she would "be talking about the 25th Amendment," which allows Congress to remove the president from office if he is deemed unfit for his duties. Pelosi cited Trump's health in the wake of his recovery from COVID-19 as her reasoning for the move.
Speaking at a press briefing Friday, Pelosi and Rep. Jamie Raskin (D-MD) introduced legislation to form the Commission on Presidential Capacity to Discharge the Powers and Duties of the Office. Raskin introduced a similar bill in 2017.
"This bill honors the duty by creating a standing commission of top former executive officials and medical experts selected in a bipartisan, bicameral way," Pelosi said. "A president's fitness for office must be established by science and facts. This legislation applies to future presidents, but we are reminded of the necessity of action by the health of the current president."
In order for such legislation to move forward, it would need support of the Republican-led Senate and Vice President Mike Pence.
🔦 White House physician Dr. Sean Conley announced Thursday that the president has responded "extremely well to treatment" and that Trump would be cleared to resume public engagements this weekend per CDC guidelines.
Kevin McCullough Predicts Trump Victory
https://twitter.com/KMCRadio/status/1314562286187675648?s=20
Kevin McCullough
@KMCRadio
Binge Thinker: Obliterating Confusion, Amplifying Truth, Pursuing Clarity
If you believe the polls. If you're soooo confident that you're ticket has this election sewn up in 26 days, why would you need to begin discussing the 25th Amendment to remove a lawfully & overwhelmingly elected 
? 
asking for a 
FLF Magazine: We unveiled the brand-new Fight Laugh Feast Magazine at our recent conference: Our Fight Laugh Feast Magazine will be a quarterly issue that packs a punch like a 21 year Balvenie, no ice. We don't water down our theology, why would we water down our scotch? Order a yearly subscription for yourself and then send a couple yearly subscriptions to your friends who have been drinking luke-warm evangelical cool-aid. Every quarter we promise quality food for the soul, wine for the heart, and some Red Bull for turning over tables. Our magazine will include cultural commentary, a Psalm of the quarter, recipes for feasting, laughter sprinkled throughout the glossy pages, and more. Annual subscriptions are $40 – that's for four issues. So sign up and enjoy our Fight Laugh Feast theme park. 
https://flfnetwork.com/product/fight-laugh-feast-magazine/
NBA Commissioner Progressive Religious Slogans Will Fade Next Season
https://dailycaller.com/2020/10/07/nba-social-justice-messages-adam-silver-largely-left-out-of-games-upset-fans/
Audio Clip 3: 2:40-3:20
This is Toby Sumpter with Crosspolitic News. Remember to send us stories and articles that you think we should cover to news at crosspolitic dot com. You can find this and all of our shows at Crosspolitic.com or on our app, which you can download at your favorite app store, just search "Fight Laugh Feast". Support Rowdy Christian media, and become a Fight Laugh Feast Club Member and for as long as the CrossPolitic gods smile upon the land, get your very own Fight Laugh Feast t-shirt and live and archive access to all the talks at our first annual Fight Laugh Feast Conference. Become a member now at fightlaughfeast.com.