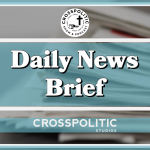 Good Monday! This is The Chocolate Knox with your CrossPolitic Daily News Brief for Monday, October 19, 2020…  Remember to send us stories and articles that you think we should cover to news at crosspolitic dot com
 You can now rent a private AMC theater for just $99
https://www.cnn.com/2020/10/17/business/amc-rental-99-trnd/index.html
https://www.theverge.com/21504536/movie-theaters-close-regal-cineworld-amc-cinemark#:~:text=On%20Thursday%2C%20Regal%20Cinemas%20%E2%80%94%20the,in%20the%20UK%20as%20well.
DONALD Trump has called Dr Fauci "an idiot" and said that people are "tired of hearing about Covid."
https://www.the-sun.com/news/1655736/donald-trump-dr-fauci-coronavirus-idiot/
FLF Magazine: We unveiled the brand-new Fight Laugh Feast Magazine at our recent conference: Our Fight Laugh Feast Magazine will be a quarterly issue that packs a punch like a 21 year Balvenie, or Fresca…. no ice. We don't water down our theology, why would we water down our scotch? Order a yearly subscription for yourself and then send a couple yearly subscriptions to your friends who have been drinking luke-warm evangelical cool-aid. Every quarter we promise quality food for the soul, wine for the heart, and some Red Bull for turning over tables. Our magazine will include cultural commentary, a Psalm of the quarter, recipes for feasting, laughter sprinkled throughout the glossy pages, and more. Annual subscriptions are $40 – that's for four issues. So sign up and enjoy our Fight Laugh Feast theme park. 
DOJ charges 6 Russian military hackers for global cyberattacks that targeted Olympic Games, others
https://www.foxnews.com/politics/doj-charges-russian-military-hackers-worldwide-cyber-attacks-winter-olympic-games?utm_source=feedburner&utm_medium=feed&utm_campaign=Feed%3A%20foxnews%2Fpolitics%20%28Internal%20-%20Politics%20-%20Text%29
This is the Chocolate with Crosspolitic News. Remember to send us stories and articles that you think we should cover to news at crosspolitic dot com. You can find this and all of our shows at Crosspolitic.com or on our app, which you can download at your favorite app store, just search "Fight Laugh Feast". Support Rowdy Christian media, and become a Fight Laugh Feast Club Member and for as long as the CrossPolitic gods smile upon the land, get your very own Fight Laugh Feast t-shirt and live and archive access to all the talks at our first annual Fight Laugh Feast Conference. Become a member now at fightlaughfeast.com.