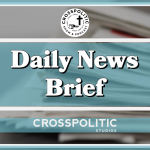 Good Monday, this is the Chocolate Knox with your CrossPolitic Daily News Brief for Monday, October 26th, 2020
Just want to thank you for sending us news stories to News@crosspolitic.com. This is a great way to share articles and stories with us that may end up in our daily or weekly shows: news at crosspolitic dot com
The former Vice president was also on 60 mins with Norah O'Donnell this Sunday and according to his staff he misspoke…again…
https://apple.news/AImiR4dL2R_i18fnjRDnIdw
Biden Staff Tells 60 Minutes He Misspoke in Saying Free College Would Cost $150 Billion
 Norah O'Donnell from 60 mins also interviewed Mrs,
https://twitter.com/trumpwarroom/status/1320527261062356993?s=21
Guess what's waiting for you in the club portal? Fight Laugh Feast conference: Weapons for This War are up in the Club Member Portal, and if you're not already a club member, Go to fightlaughfeast.com and register today and get access to all of the talks: Also: did you hear we started a new magazine? Four issues a year for forty bucks. https://flfnetwork.com/product/fight-laugh-feast-magazine/
Pence tests negative for coronavirus again as Democrats push him to skip Barrett vote
https://www.foxnews.com/politics/mike-pence-coronavirus-test-barrett-vote-schumer
Senate Minority Leader Chuck Schumer is on twitter telling Vice President Pence cannot come to the Senate because…
https://townhall.com/tipsheet/cortneyobrien/2020/10/26/why-dem-senators-dont-want-pence-presiding-over-tonights-vote-n2578776
Schumer believes Pences purely ceremonial and non-essential presence would just put Senators, staff, and Capitol workers at risk.
The Daily News reports that…. https://www.nydailynews.com/news/politics/us-elections-government/ny-trump-barrett-mike-pence-chuck-schumer-supreme-court-20201026-rjeyia4j3fdp3awm32qhulb2m4-story.html
California Overlord. Newsom's Thanksgiving Rules is taking fire from a few blue checks on twitter
https://www.newsweek.com/california-thanksgiving-rules-newsom-coronavirus-celebrity-reaction-1542132
You can find this and all of our shows at Crosspolitic.com or on our app, which you can download at your favorite app store, just search "Fight Laugh Feast". Support Rowdy Christian media, and become a Fight Laugh Feast Club Member and for as long as the CrossPolitic gods smile upon the land, get your very own Fight Laugh Feast t-shirt and live and archive access to