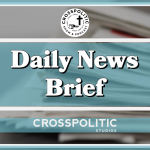 This is Toby Sumpter with your CrossPolitic Daily News Brief for Thursday, August 20, 2020.
Today you will hear about the McCloskeys of St. Louis, Pastor John MacArthur's duel with LA County, Operation Legend nabbing bad guys, Goodyear Tires protesting calls for boycott, Uber & Lyft's fate in California, the chances of getting COVID-19 on an airplane going to Germany, the millions spent on panic hospitals, and the continuing insanity of our cultural god-complex. 
The McCloskeys will be at the Republican Convention
https://disrn.com/news/gun-toting-st-louis-couple-who-faced-off-against-blm-will-appear-at-republican-convention/
You all remember that gun-toting St. Louis couple, right? Well they've been invited to speak at the Republican Convention. Mark and Patricia McCloskey went viral in photos and videos when BLM protestors trespassed in their private community and threatened them and their dog. Their guns were seized and Circuit Attorney Kim Gardner charged the McCloskey's with felony use of a weapon. No word on whether their dog was charged in the incident. The case is still pending, but Missouri Governor Mike Parson has said he would pardon the couple if they are convicted. 
Speaking of Gun-Toting…
https://twitter.com/toddstarnes/status/1296121682852220930
You know Pastor Johnnie Mac was in the pulpit again this last Sunday, right? Last Friday, Jenna Ellis, the attorney for Grace Community Church announced that a deal had been reached between the church and LA County. The deal allowed for the church to meet in person inside, and the church agreed to use masks and social distancing for a few weeks while the case waited to be tried. Then Saturday night word came out that the city had appealed the deal to a judge who struck it down. So Pastor MacArthur was once again welcomed by his congregation this last Sunday to loud applause, and after recounting what had happened, MacArthur said, the good news is that we're here in person without masks and no social distancing. He also emphasized that the point was obedience to God in gathering to worship. 
On Wednesday morning Todd Starnes announced on Twitter that LA county was filing papers to hold Pastor MacArthur in contempt of court. Jenna Ellis, the church's attorney told Starnes that Pastor MacArthur plans to be in the pulpit again this Sunday. 
Operation Legend Has Arrested A Thousand People
https://justthenews.com/government/courts-law/more-200-people-charged-federal-crime-part-feds-operation-legend-barr
Attorney General William Barr announced that more than 200 people have been charged with federal crimes as of Wednesday as part of the Justice Department's Operation Legend which started in July in response to widespread violence in cities. Operation Legend sends federal agents into cities specifically to help local law enforcement to protect federal property. Roughly 400 fire arms have been confiscated, and at least a 1,000 people have been arrested. 
The effort was named in honor of 4-year-old LeGend Taliferro, who was shot and killed in the early morning hours of June 29 as he lay sleeping at his home in Kansas City, Mo. Last week, a prosecutor announced second-degree murder charges against his accused killer. 
Launched initially in Kansas City, the DOJ's program has expanded to Chicago, Albuquerque, Cleveland, Detroit, Milwaukee, St. Louis, Memphis, and Indianapolis. 
Goodyear Says It's Innocent
https://twitter.com/i/events/1296101504030371841
You may have seen a visual aid going around purporting to be from Goodyear Tires, instructing employees to have a zero tolerance policy for slogans like All Lives Matter or Blue Lives Matter, but only allowing for Black Lives Matter and other slogans defending LGBT rights. Calls for a boycott of Goodyear Tires quickly erupted through the interwebs, including from President Trump himself. 
However, Goodyear released a statement on Wednesday denying that the photo was accurate. The statement said: "The visual in question was not created or distributed by Goodyear corporate." 
Uber & Lyft Poised to Shutdown Service in California
https://www.washingtonpost.com/technology/2020/08/19/uber-lyft-ab5/
Uber and Lyft have been making noise since last year's land mark employment law AB5 was signed into law, requiring many classes of independent contractors to be reclassified as employees. The cash value of this law? Employers are required to pay benefits and FICA taxes for employees. What does that mean? It means its more expensive to run a business and at the very least, rates will be increased for consumers. A California Court of Appeal is expected to rule Wednesday on whether a stay may be granted to the companies who are currently appealing the law. A San Francisco court ruled against Uber and Lyft last week and they were given 10 days to comply with the law. That decision has been appealed, but in the meantime, the companies are poised to shut down all operations Friday night if a stay of that order is not approved. 
This is why we need Weapons for this War. Which is why we want to invite you to our first annual Fight Laugh Feast Conference in Nashville October 1-3. We've put together a package that is full of feasting and psalm singing, hearty fellowship, and a line up of speakers committed to showing you how God's Word applies to politics, economics, business, education, creativity, marriage and family, and much more. Please join us this October 1st through the 3rd as we build a rowdy Christian culture for God's glory and our good. Go to Fightlaughfeast dot com and register today.
Low Odds of Spreading COVID-19 on Airplanes
https://www.foxnews.com/health/odds-catching-coronavirus-plane-small-study
German researchers report that chances of catching COVID-19 on an airplane with infected passengers is relatively small. 102 passengers were assessed by German researchers after a March 9th flight from Tel Aviv to Frankfurt revealed the presence of seven positive cases on board. This flight was on a Boeing 737 for just over 4.5 hours, and it occurred before any strict protocols related to masks or seating or congregating had been implemented. The seven infected passengers were part of a 24 person tour group. The study followed up with 71 of the other 78 passengers and reported that only two passengers sitting within two rows of an infected passenger did test positive, likely due to the flight. No other passengers tested positive.
"The good news is that even with no attempts to prevent spread, [the] spread was limited to only those in close proximity." Said Dr. Aaron Glatt, chief of infectious diseases of Mount Sinai Hospital in New York. He also went on to praise the glories of masks and social distancing. 
Millions Wasted on Pandemic Hospitals
Meanwhile, a $66 Million Chicago pandemic hospital has been closed down after treating only 38 patients. 
https://www.theblaze.com/news/chicago-pandemic-hospital-66-million-38-patients
A similar temporary pandemic hospital that was constructed at the Billie Jean King Tennis Center in New York City cost taxpayers $52 Million to build, and it likewise closed down a month later after treating 79 patients. 
We Are Not Gods
https://www.conservativereview.com/news/horowitz-cases-surging-hawaii-strictest-mask-mandate/
Daniel Horowitz has a helpful overview of the data for shutdowns and mask mandates over at the Blaze, and he concludes that despite all of our fussing, we have done nothing to mitigate the virus. The virus has come and gone basically according to its own whims, without correlation to shutdowns and mask mandates. He points to Hawaii which may have the strictest lockdown and mask mandates in the country. People have been jailed for non-compliance with the lockdown orders, and mask wearing has been mandatory indoors since April and now even outdoors for the last month. And the result? Cases are surging now more than ever. Horowitz notes that this same pattern maps with every southern latitude area with strict mandates and lockdown orders, such as Philippines, Hong Kong, Israel, and Australia. Horowitz also notes that testing in Hawaii has remained fairly constant, so this isn't likely to be a function of a spike in testing. 
A sure sign of a god-complex is complete incompetence followed by demands that everyone just do more. 
This is Toby Sumpter with Crosspolitic News. You can find this and all of our shows at Crosspolitic.com or on our app, which you can download at your favorite app store, just search "Fight Laugh Feast". Our app is the only way to get In the Bullpen with Mark Dewey. Support Rowdy Christian media, and become a Fight Laugh Feast Club Member, and for a limited time you can get your very own Fight Laugh Feast t-shirt and access to tons of extended discussions with George Grant, Sho Baraka, David French, C.R. Wiley, Erick Erickson, Maj Toure, Doug and Nancy Wilson, Walter Williams, Gary Demar, and our very own Worldview Shotgun Series. You also get $100 off your registration for our first annual Fight Laugh Feast Conference, where we hope to meet many of you in Nashville, TN October 1st through the 3rd. Go to fightlaughfeast.com to register now. Have a great day. https://flfnetwork.com/coming-soon/