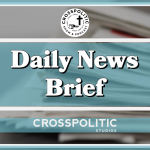 This is Toby Sumpter with your CrossPolitic Daily News Brief for Thursday, August 27, 2020.
Today you will hear about the NBA lying prostrate before the woke gods, burning down businesses turns (shock) violent Tuesday night in Wisconsin, Eric Mason pulls reparations out of a his Exodus hat, churches are being fined in California, Hurricane Laura now identifies as a category 4 storm, and US Appeals Court rules that Hurricane Laura must be allowed in Women's locker rooms, and the Idaho House passes a resolution that says the sky is blue. 
NBA Sits Out Game 5 for Jacob Blake Shooting
https://www.cbssports.com/nba/news/milwaukee-bucks-are-boycotting-game-5-of-the-nba-playoffs-vs-magic-in-aftermath-of-jacob-blake-shooting/
The Milwaukee Bucks didn't take the court for their Game 5 against the Magic on Wednesday. 
The NBA collective bargaining agreement bans strikes, which means the Bucks are breaking their own contract to stop playing in protest of police violence. (But this is your reminder that there aren't really illegal strikes, just unsuccessful ones.
A little later, the NBA released an official statement "The NBA and the National Basketball Players Association today announced that in light of the Milwaukee Bucks' decision to not take the floor today for Game 5 against the Orlando Magic, today's three games – Bucks vs. Magic, Houston Rockets vs. Oklahoma City Thunder and Los Angeles Lakers vs. Portland Trail Blazers – have been postponed.  Game 5 of each series will be rescheduled." 
But it's worth pointing out once again that the mass persecution of the Uigars in China and the cancellation of the democratic freedoms of Hong Kong are too complicated for NBA players to comment on, tweet about, much less boycott over.
More Rioting and Violence in Wisconsin
https://nypost.com/2020/08/26/illinois-teen-charged-in-fatal-shooting-of-2-kenosha-rioters/?utm_source=NYPFacebook&utm_medium=Native&utm_campaign=NYPFacebook&fbclid=IwAR0TfKCNg9fCNWTYqTd8gozwgGqkNaqKStPb_hIyfFr727HPEZc7ZspkqrI
A 17 year old Illionois man has been charged with first-degree intentional homicide in the shooting deaths of two protestors after a third night of rioting in Kenosha, Wisconsin in the aftermath of the Jacob Blake shooting. 
Protests continue in various cities around the country, with recent videos surfacing of protestors harassing people sitting outside of restaurants being ordered to raise their fists in solidarity with the protests. 
Philadelphia Pastor Eric Mason Calls for Reparations 
https://disrn.com/news/philadelphia-minister-dr-eric-mason-calls-for-200-years-of-free-college-for-blacks-as-reparations/
Pastor Mason calls for reparations based on the Exodus story, calling the plagues protests and the fact that the God told the people to ask for gold and clothing from the Egyptians as establishing the right of reparations. He called for 200 years of free college tuition, canceling every black person's student loan debt, and repaying blacks for student loans. Mason did note that reparations cannot bring peace on earth – Jesus will bring peace on earth, but "while we're on earth, we gotta make the most of our time, make the most of our minas…"
When someone in the crowd asked Pastor Mason if they should follow the rest of the laws concerning slavery in the book of Exodus, Mason declined to comment.
This is why we need Weapons for this War. Which is why we want to invite you to our first annual Fight Laugh Feast Conference in Nashville October 1-3. We've put together a package that is full of feasting and psalm singing, hearty fellowship, and a line up of speakers Douglas Wilson, George Grant, Glenn Sunshine, Rod Martin, myself, and Jeff Durbin and David Bahnsen – also a special Darren Doane after hours meet and greet. All committed to showing you how God's Word is a sharp sword to take with you into every battle, from politics to business to education and family and much more. Please join us this October 1st through the 3rd as we seek to build a rowdy Christian culture for God's glory and our good. Go to Fightlaughfeast dot com and register today.
Churches Facing Fines in California for Worship
https://lc.org/newsroom/details/082420-ca-churches-fined-for-worship-1?fbclid=IwAR0gRGkjx5m7coPpS7mThmS7fZL38p-ontjWA4ytOAXIh5sMEj2TpO0AYqc
Liberty Counsel reports: "California Pastor Rob McCoy of Godspeak Calvary Chapel in Thousand Oaks appeared before Judge Vincent O'Neill in Superior Court of Ventura County on Friday, August 21 and was held in contempt of court.  Godspeak Calvary Chapel was fined $500 per three services, for two Sundays, or a total of $3,000. 
Pastor McCoy received an order from a Ventura state judge on Friday, August 7, banning the church's in-person services. Superior Court Judge Matthew Guasco issued a temporary restraining order to Pastor Rob McCoy, the Church, along with anyone "acting in concert with them" who might attend worship in the future. Governor Gavin Newsom ordered no singing or chanting, and then ordered no worship, even in private homes with anyone who does not live in the home. 
Godspeak Calvary Chapel (Church) held three worship services on Sunday, August 9 and August 16. An evidentiary hearing is set for Aug. 31.
Gov. Newsom's orders allow the church to feed, shelter, and provide social services, but the same people in the same building cannot worship. In order words, non-religious services are acceptable but religious services are banned. People can receive food, but not take communion. People can be housed overnight, but cannot hold a short worship service, Bible study, or meet for prayer. People can receive counseling to find work but cannot be counseled on finding eternal life. 
Liberty Counsel Founder and Chairman Mat Staver said, "The same governor who encourages mass protests, bans all worship and is now fining churches for their right to assemble and worship. The same governor who says the church can meet for secular services, bans the church from having religious worship. This unconstitutional hostility against religious worship must end." 
Hurricane Laura Picks Up Some Vim
https://www.cnbc.com/2020/08/26/hurricane-laura-forecast-category-4-poses-catastrophic-threat-to-louisiana-and-texas.html
Hurrican Laura rapidly intensified Wednesday to a category 4 storm set to make landfall near the Texas-Louisiana border Thursday morning. 
"Unsurvivable storm surge with large and destructive waves will cause catastrophic damage from Sea Rim State Park, Texas, to Intracoastal City, Louisiana, including Calcasieu and Sabine Lakes," the National Hurricane Center said on Wednesday. "This surge could penetrate up to 30 miles inland from the immediate coastline." 
Later, estimates had increased to 40 miles inland, with falsh flooding in streams and rivers and roadways as far as lower Ohio by Friday night and Saturday. 
Governor John Bel Edwards was pleading with residents to in the path of Hurricane Laura to evacuate Wednesday. 
The storm has already battered the Dominican Republic, Puerto Rico and Haiti over the weekend, knocking out power for more than 1 million people, collapsing some homes and killing at least 23 people. 
Metereologist Eric Holthaus tweeted out Wednesday afternoon that Laura's winds had reached 145 mph. Only 9 hurricanes since 1850 have been stronger than Laura at landfall in the continental United States. 
The same meteorologist retweeted someone saying that this storm and every disaster is a "product of inequality, erosion of democratic norms, and/or unchecked climate change that we have failed to timely address as a nation."
US Appeals Court Rules 
https://www.nbcnews.com/feature/nbc-out/u-s-appeals-court-sides-transgender-student-over-bathroom-access-n1238201?cid=sm_npd_nn_fb_ma&fbclid=IwAR0uScEjylnOkSK87JriEpHk7SX57svRLfqIx1CMt8m5pN13HPg7lT9vpAc
WASHINGTON — A U.S. appeals court on Wednesday ruled that a Virginia school board acted unlawfully in preventing a transgender student from using a bathroom at his high school that corresponded with his gender identity.
The Richmond, Virginia-based 4th U.S. Circuit Court of Appeals ruled on a 2-1 vote that Gavin Grimm, now a college student, is protected under federal law that bars sex discrimination in education and the U.S. Constitution's requirement that people be treated equally under the law.
Grimm's lawsuit dates back to 2015. Grimm sued the Gloucester County School Board after officials at a local high school refused to allow him to use the boys' restrooms. Assigned female at birth, Grimm identifies as male.
In other news, Hurricane Laura identifies as a soft breeze.
Judge Henry Floyd, writing for the 4th Circuit, said the school board's actions constituted "a special kind of discrimination against a child that he will no doubt carry with him for life."
The appeals court upheld a 2019 lower court ruling in Grimm's favor.
Idaho House Issues Radical Resolution Declaring Sky Blue & Water Wet
https://www.khq.com/news/idahos-house-of-representatives-votes-to-end-coronavirus-emergency-effective-immediately/article_a530255a-e713-11ea-8410-6f4b42473352.html
BOISE, Idaho – Tuesday lawmakers in Idaho's House voted to advance a resolution that ends Idaho Governor Brad Little's Coronavirus Emergency Declaration.
The resolution effectively lifts all restrictions across the state. Lawmakers voted and passed the resolution 48-20 amid a special session that the Governor called to deal with liability laws and mail-in voting concerns.
The resolution now heads to the Senate and if it passes the Governor's Emergency declaration, that he put in place back in March, is over.
There was no word Wednesday that the Senate had in fact taken up the resolution, and there were some indications that it wasn't likely to happen. 
Governor Little's only comment was that his emergency declaration identified as a Category 4 Wisconsin Riot and therefore the NBA should skip the rest of the playoffs. 
This is Toby Sumpter with Crosspolitic News. You can find this and all of our shows at Crosspolitic.com or on our app, which you can download at your favorite app store, just search "Fight Laugh Feast". Our app is the only way to get In the Bullpen with Mark Dewey. Support Rowdy Christian media, and become a Fight Laugh Feast Club Member, and for a limited time you can get your very own Fight Laugh Feast t-shirt and access to tons of extended discussions with George Grant, Sho Baraka, David French, C.R. Wiley, Erick Erickson, Maj Toure, Doug and Nancy Wilson, Walter Williams, Gary Demar, and our very own Worldview Shotgun Series. You also get $100 off your registration for our first annual Fight Laugh Feast Conference, where we hope to meet many of you in Nashville, TN October 1st through the 3rd. Go to fightlaughfeast.com to register now. Have a great day. https://flfnetwork.com/coming-soon/