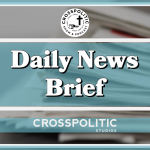 This is Toby Sumpter with your CrossPolitic Daily News Brief for Thursday, December 10, 2020.
Today you will hear about Canadian province Manitoba telling Christians there how to worship, Dr. Pierre Kory says Ivermectin is a miracle drug for COVID, Trump jumps on the Texas lawsuit with 17 other states challenging the elections, and Kristi Noem doesn't think it's the government's job to close down businesses or tell you what to put on your face, and Hunter Biden emerges from the shadows to say he just found out he's under investigation.
If you have a news story you think we might need to cover, please send articles and links to [email protected]
Canadian Church Fined More than 32K
https://christiannews.net/2020/12/07/canadian-church-fined-more-than-32k-for-holding-drive-in-services-loses-legal-challenge/
1:15-2:08
As Springs Church has been fined more than $32,000 for holding drive-in services in violation of the COVID restrictions, receiving numerous tickets, Fontaine filed suit to seek an junction. His attorney argued that the prohibition on church gatherings violates the Charter of Rights and Freedom and contended that the order seems to refer only to gatherings of people and not parking lots of vehicles.
"It's a gathering, but it's a gathering with a person self-isolated in their vehicles," attorney Kevin Williams told CTV News.
However, Justice Joyal disagreed, stating, "The congregation attending in cars are persons. They are persons who have attended for a common purpose."
Attorneys representing the Province of Manitoba asserted that the church had provided no evidence that it is more beneficial for the people to listen to the services in their cars than it is for them to stay at home and watch on YouTube or Facebook.
Springs Church, while now offering online only services, says that the restrictions just don't add up.
"You can spend about the equivalent of a church service in Costco and you can physically get out of your car, so it seems to be a double standard there," member Tim Sanderson told Global News.

Dr. Pierre Kory on Ivermectin
Spoke to Senate Homeland Security and Governmental Affairs Committee 
https://www.youtube.com/watch?v=Tq8SXOBy-4w&feature=youtu.be&fbclid=IwAR3PKHFGHVCwnMjwE434LqWM7mViAmq2IOy6KwHnR5yLXzxz3H4-HSfy044
4:08-5:08, 5:30-6:25, 6:40-8:21
Finally, Dr. Kory noted that COVID is impacting black, Hispanic, and elderly communities that worst: 9:24-9:50

Fight Laugh Feast Merch & Magazine
Also, if you want to rock your Fight Laugh Feast bona fides visit rowdychristian.com for shirts, hats, hoodies, postmill coffee, etc. Also: did you hear we started a new magazine? Four issues a year for forty bucks. https://flfnetwork.com/product/fight-laugh-feast-magazine/
Texas AG to Brian Kilmeade 
https://twitter.com/revrrlewis/status/1336676318310699008?s=20
Texas AG says the Genie may be out of the bottle for this election, but the Supreme Court could require the election to be decided by the state legislatures.
Trump Joins the 17 States' Appeal to the Supreme Court
President Donald Trump on Wednesday asked the U.S. Supreme Court to let him join a long-shot lawsuit by Texas seeking to overturn his election loss by throwing out the voting results in four states, litigation that also drew support from 17 other states.
In a court filing, Trump asked to intervene in the Texas lawsuit, the latest litigation to try to undo Democratic President-elect Joe Biden's victory over the Republican incumbent in the Nov. 3 election. In a separate brief, lawyers for 17 states led by Missouri's Republican Attorney General Eric Schmitt also urged the nine justices to hear the case.
Efforts in the courts on behalf of Trump challenging the election results so far have failed.
The lawsuit, announced on Tuesday by the Republican attorney general of Texas Ken Paxton, targeted four states that Trump lost to Biden after winning them in the 2016 election. Trump has falsely claimed he won re-election and has made baseless allegations of widespread voting fraud. Election officials at the state level have said they have found no evidence of such fraud.
Writing on Twitter earlier on Wednesday, Trump said, "We will be INTERVENING in the Texas (plus many other states) case. This is the big one. Our Country needs a victory!"
Join the Fight Laugh Feast Club
If you're tired of legacy media cramming their pagan worldviews down your throat and social media censoring views they don't approve of, support CrossPolitic by becoming a Fight Laugh Feast Club Member as we build a Christian Media Platform and Network committed to the Lordship of Jesus Christ over everything. Also, we like to laugh and drink beer and smash idols. Support Rowdy Christian Media and become a fight laugh feast club member today. Go to Fightlaughfeast.com.
Kristi Noem in WSJ
https://www.wsj.com/articles/south-dakotas-balanced-covid-response-11607381485
Rather than following the pack and mandating harsh rules, South Dakota provides our residents with information about what is happening on the ground in our state—the science, facts and data. Then, we ask all South Dakotans to take personal responsibility for their health, the health of their loved ones, and—in turn—the health of our communities. The state hasn't issued lockdowns or mask mandates. We haven't shut down businesses or closed churches. In fact, our state has never even defined what an "essential business" is. That isn't the government's role…
As we continue to see spikes move throughout the country, the course of the virus doesn't seem to be quantifiably different in the states that, according to the media, did everything "right." 
Despite harsh lockdowns in Illinois, coupled with a mask mandate since May 1, that state experienced a new single-day record in Covid-19 deaths on Dec. 2, and its active case counts are higher, on a per capita basis, than South Dakota's has ever been… 
South Dakota won't be taking on billions of dollars in new debt. We won't be raising taxes on residents or businesses. And we won't be looking to Congress to send us more stimulus money.
Hunter Biden Emerges from the Shadows
https://www.theblaze.com/news/hunter-biden-federal-investigation
Hunter Biden, the son of former Vice President Joe Biden, said that he was under investigation by the U.S. Attorney General's office in Delaware, Maryland.
The Biden-Harris transition team released a statement from Hunter Biden on Wednesday about the revelation.
"I learned yesterday for the first time that the U.S. Attorney's Office in Delaware advised my legal counsel, also yesterday, that they are investigating my tax affairs. I take this matter very seriously but I am confident that a professional and objective review of these matters will demonstrate that I handled my affairs legally and appropriately, including with the benefit of professional tax advisors," read the statement.
Republicans and other critics have accused the Biden family of illegally abusing the power of the office of vice president in order to enrich themselves.
The transition team also released their statement about the development.
"President-elect Biden is deeply proud of his son, who has fought through difficult challenges, including the vicious personal attacks of recent months, only to emerge stronger," the statement read.This is Toby Sumpter with Crosspolitic News. You can find this and all of our shows at Crosspolitic.com or on our app, which you can download at your favorite app store, just search "Fight Laugh Feast". Support Rowdy Christian media, and become a Fight Laugh Feast Club Member and get your very own Fight Laugh Feast t-shirt and access to all the talks at our first annual Fight Laugh Feast Conference as well as many exclusive behind the scenes interviews with Voddie Bachaum, Tom Ascol, Erick Erickson, Sho Baraka, Douglas Wilson, David French, Gary Demar, Tom Ascol, Maj Toure as well as our very own Worldview Shotgun Series. Go to fightlaughfeast.com.