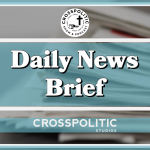 This is Toby Sumpter with your CrossPolitic Daily News Brief for Thursday, December 17, 2020.
Today you will hear about Diane Feinstein being cancelled, a little Dominion voting machine background, Joe Biden is confident Hunter is innocent, Xavier Beccera is Biden's, and Major League Baseball officially recognizes the Negro Leagues as professional baseball. 
If you have a news story you think we might need to cover, please send articles and links to [email protected]. 
Psalm Sing in San Diego This Saturday
Psalm Sing in San Diego on Saturday 12/19 at 3pm at the Balboa Park fountain. Singing and gospel preaching hosted by The Response Church and Stone Mountain Media.
Diane Feinstein Cancelled
https://freebeacon.com/culture/feinstein-canceled-san-francisco-to-rename-elementary-school-named-after-senator/?fbclid=IwAR1pLv6-fGAeL8SSmVraaupN601VEBCsk_vvohET_k3WcNgp4VExgYvE0SM
From the Free Beacon: The San Francisco Unified School District has decided to rename an elementary school named after California Democratic senator Dianne Feinstein, the Daily Mail reported Tuesday.
Dianne Feinstein Elementary School is 1 of 44 schools that will be renamed because the district deemed their namesakes "inappropriate" in October. Feinstein's cancellable offense was raising a Confederate flag in front of San Francisco City Hall while serving as mayor in 1984.
The district decided to reevaluate its school names following a summer of racial-justice protests. Among the schools it plans to rename are those whose namesakes owned slaves, perpetuated human-rights abuses, or oppressed minorities, women, and the LGBT community.
A 1984 copy of Workers Vanguard reported that "Dixie" Feinstein raised a Confederate flag over the San Francisco Civic Center and replaced the flag after racial-justice protesters tore it down.
Schools named after inventor Thomas Edison and Presidents George Washington, Herbert Hoover, and Abraham Lincoln will also be renamed. According to the district, Lincoln, who emancipated slaves, did not demonstrate that "black lives mattered to him."
Other schools and local governments across the country have considered renaming buildings whose namesakes they deem problematic. Last week, a Virginia school district decided to rename schools named after President Thomas Jefferson and Founding Father George Mason, an action they called a "necessary part of our equity work." And Washington, D.C., mayor Muriel Bowser (D.) createda coalition that reviewed the names of buildings and landmarks and recommended renaming the Jefferson Memorial and the Washington Monument.
Who Owns Dominion Voting Systems?
An Aquaintance Jerry Bowyer pushes back on claims that Dominion is owned by a Chinese company. After doing some research he writes, "UBS, the giant Swiss multinational did put some money into Staple Street, a private equity fund, which owns Dominion. But neither Staple Street (the actual owner of Dominion) nor UBS is a Chinese company. What seemed to have happened is that someone confused UBS Securities LLC, with UBS Securities Co., Ltd.. The former invested in Staple Street, not the latter. The latter is the bank with the deep Chinese ties."
Another site, Bill Lawrence Online, makes a similar correction to their story:
https://billlawrenceonline.com/china-bought-dominion/
Things have evolved and some of the criticism is legitimate. For instance, it is correct to point out that the securities sold by Staple Street Capital went to UBS Securities Co., LLC. This is UBS' New York affiliate, not the UBS Securities Co., Ltd. that is openly affiliated with the Chinese communist, and which we incorrectly cited as the purchaser.
On the other hand, some of this evolution is in a far more frightening direction. It turns out that  three out of four board members of USB Securities Co. LLC are Chinese according to NTD.com. 
Two of them, at least, have close ties to the Chinese government.
We think that's worse. The enemy you see is less dangerous than the one you don't.
One of the "fact checkers" says the USB Securities didn't buy Dominion Voting Machines but merely used the $400 million to acquire a partnership in Staple Street Co., Dominion's owner, a month before the election. How exactly is that better?
The Antrim County, Michigan Forensics Report gives a similar description:
https://assets.documentcloud.org/documents/20423772/antrim-county-forensics-report.pdf
"Dominion voting system is a Canadian owned company with global subsidiaries. It is owned by Staple Street Capital which is in turn owned by UBS Securities LLC, of which 3 out of their 7 board members are Chinese nationals."
Does UBS Securities LLC have 4 board members or 7?  
The Antrim County Forensics Report adds:
"The Dominion software is licensed from Smartmatic whch is a Venezuelan owned and controlled company. Dominion Server locations have been determined to be in Serbia, Canada, the US, Spain and Germany." 
 The term "cycle thresholds taken to be more or less 
Join the Fight Laugh Feast Club
Are you confused about who to believe about COVID-19 or election fraud? Support Rowdy Christian Media as we seek build a Christian Media Network committed to telling the truth everywhere because Jesus is Lord everywhere. Become a fight laugh feast club member today, and get our new Fight Laugh Feast Tumbler with silver and platinum memberships. Go to Fightlaughfeast.com.
Joe Biden Is Sure Hunter Did Nothing Wrong
https://twitter.com/thehill/status/1339338048576872450?s=21
Let's listen to that again. 
How about just one more time for posterity sake?
He's confident, folks. 
Fight Laugh Feast Merch & Magazine
If you're still doing some Christmas shopping visit rowdychristian.com for shirts, hats, hoodies, postmill coffee, etc. I don't know how shipping works, but even it's going to be a little late, maybe you do that 12 days of Christmas thing and have various CrossPolitic swag showing up for your true love. Also: did you hear we started a new magazine? Four issues a year for forty bucks. https://flfnetwork.com/product/fight-laugh-feast-magazine/
Xavier Becerra Signals Bloody Biden Abortion Regime 
https://www.nationalreview.com/2020/12/with-xavier-becerra-at-hhs-the-biden-administration-will-be-pro-abortion/
Xan Desanctis writes at National Review: If confirmed to the position of secretary of Health and Human Services, Becerra will take the lead not only on reinstating the most aggressive form of the contraceptive mandate — almost certainly requiring the Little Sisters of the Poor to head to court to defend their religious-conscience rights yet again — but he will have the power to enact a vast array of radical domestic policies pushed by the executive branch with little congressional oversight.
Desanctis continues: Becerra is about as radical of a progressive as you can find in today's Democratic Party, especially on abortion. As a congressman from California, he received a 100 percent rating from leading abortion-rights groups Planned Parenthood and NARAL Pro-Choice America.
Isaac Schorr notes that Becerra voted "against the Conscience Protection Act of 2016, which barred the federal as well as any state or local government from penalizing or discriminating against health-care providers that do not 'perform, refer for, pay for, or otherwise participate in abortion.'" Becerra also voted against the Prenatal Non-Discrimination Act, which would have made it illegal to perform an abortion chosen on the basis of the unborn child's sex.
As California's attorney general, Becerra filed felony charges against pro-life activists who exposed Planned Parenthood's involvement in illegally selling body parts of aborted babies. Becerra also has defended a California law that requires churches to cover elective abortion in their health-insurance plans. Though the Office of Civil Rights at HHS found that the policy was a violation of the federal Weldon amendment, a conscience-protection measure, Becerra ignored the matter and pressed ahead in defending the law.
Becerra also led the way in enforcing a state law that required all pro-life pregnancy-resource centers in the state to advertise for California's free or low-cost abortions. That law was such a blatant violation of free speech that it was overturned by the Supreme Court. He has also led coalitions of blue states in conducting a series of efforts to expand abortion access, attacking red states for enacting pro-life policies, attempting to undo Trump-administration restrictions on funding for abortion providers, and lobbying the federal government to loosen safety regulations on chemical-abortion drugs.
MLB Officially Recognizes Negro Leagues https://drive.google.com/file/d/1ikU7oaXqF6U6Ie3Fm66ffU405uuBtdMc/view
Commissioner of Baseball Robert D. Manfred, Jr. announced today that Major League Baseball is correcting a longtime oversight in the game's history by officially elevating the Negro Leagues to "Major League" status. During this year's centennial celebration of the founding of the Negro Leagues, MLB is proud to highlight the contributions of the pioneers who played in these seven distinct leagues from 1920-1948.
With this action, MLB seeks to ensure that future generations will remember the approximately 3,400 players of the Negro Leagues during this time period as Major League-caliber ballplayers. Accordingly, the statistics and records of these players will become a part of Major League Baseball's history.
MLB credits all of the baseball research community for discovering additional facts, statistics, and context that exceed the criteria used by the Special Committee on Baseball Records in 1969 to identify six "Major Leagues" since 1876. It is MLB's view that the Committee's 1969 omission of the Negro Leagues from consideration was clearly an error that demands today's designation.
The seven leagues that comprised the Negro Leagues of 1920-1948 were the Negro National League (I) (1920–1931); the Eastern Colored League (1923–1928); the American Negro League (1929); the East-West League (1932); the Negro Southern League (1932); the Negro National League (II) (1933–1948); and the Negro American League (1937–1948).
I have not looked into the exact criteria that the MLB used to make this determination, but assuming it's all above board, all the modern affirmative action shenanigans robs this of its true honor. In a world of less-racist-than-thou politics, with everyone virtue signaling like a pack of third graders raising their hands to answer a question, one can't help but wonder whether this is a move that is entirely just and equitable or whether anyone put their fingers on the scale anywhere for political reasons. One hopes it is simply a long overdue act of recognition. But it does no one any good to do justice by grading on a curve. Turns out that curve never flattens out, and eventually even Diane Feinstein and Abe Lincoln aren't woke enough. With this calculus, Eric Mason and Jemar Tisby will be cancelled in the next decade for being instruments of white supremacy and oppression. But in the meantime, I'm just glad that Willie Mays will get 17 more hits added to his astonishing career where he ranks 12th all time in total hits.  
This is Toby Sumpter with Crosspolitic News. You can find this and all of our shows at Crosspolitic.com or on our app, which you can download at your favorite app store, just search "Fight Laugh Feast". Support Rowdy Christian media, and become a Fight Laugh Feast Club Member and get your very own Fight Laugh Feast t-shirt and access to all the talks at our first annual Fight Laugh Feast Conference as well as many exclusive behind the scenes interviews with Voddie Bachaum, Tom Ascol, Erick Erickson, Sho Baraka, Douglas Wilson, David French, Gary Demar, Tom Ascol, Maj Toure as well as our very own Worldview Shotgun Series. Go to fightlaughfeast.com.