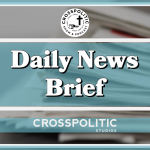 This is Toby Sumpter with your CrossPolitic Daily News Brief for Thursday, December 24, 2020.
Happy Christmas Eve! Daily News Brief will be on break for Christmas and back in action next week.
Today you will hear about Tesla's boom, a new study finds zero asymptomatic spread, Trump mocks the new stimulus spending bill, and Rand Paul speaks the truth about it.
If you have a news story you think we might need to cover, please send articles and links to [email protected] 
Tesla More Valuable Than Top 7 Auto Makers Combined
https://disrn.com/news/tesla-now-more-valuable-than-worlds-top-7-traditional-auto-makers-combined/
Despite turning out only 500,000 vehicles this year, electric auto company Tesla is now valued higher than the other seven top automakers in the world combined and has become the largest entrant to the S&P 500.
The massive profitability of Tesla right now appears to be far less about performance and far more about the general public's view of Tesla owner Elon Musk as a visionary.
"Tesla shares are, in our view and by virtually every conventional metric, not only overvalued, but dramatically so," according to JP Morgan analyst Ryan Brinkman.
Still, the speculation may end up well placed given that automotive industry experts anticipate a "golden age of elective vehicles" on the horizon.
"Many of the naysayers are probably the same individuals that thought LeBron wasn't going to be a good basketball player 15 years ago," said Wedbush Securities analyst Dan Ives.
Ives estimates that the market for electric vehicles will catapult from the current 3% of total auto sales to 10% in just four years.
New Study Finds Zero Asymptomatic Spread of COVID19
https://www.aier.org/article/asymptomatic-spread-revisited/
Jeffrey Tucker writes: I'm not sick so why should I have to be locked down? Why are we quarantining the healthy? And what possibly could it mean, in any case, to be sick without symptoms? Why are half the PCR-positive tests assigned to people who otherwise seem to be perfectly fine? 
All these valid questions came to be answered by this one phrase: asymptomatic spread. You might not feel sick. You might not ever have symptoms from SARS-CoV-2. Still, you could be an even worse super spreader without knowing it, infecting people all around you who will carry it to people who will die from the disease. This was also the moment when, subtly and imperceptibly, we were being asked to think of our fellow citizens not as human beings with dignity and rights but pathogen-carrying disease vectors. We had to be masked, all of us, because we are secretly filthy and unclean: we cannot be allowed to breath near others, so even with a mask we must stay 6 feet away. 
On June 7, Dr. Maria Van Kerkhove, head of the WHO's emerging diseases and zoonosis unit, told a press conference that from the known research, asymptomatic spread was "very rare." "From the data we have, it still seems to be rare that an asymptomatic person actually transmits onward to a secondary individual." She added for emphasis: "It's very rare."
There was the predictably pro-lockdown mainstream media which decried her heresy. The cry was so loud that the WHO immediately started walking back the claim, mostly with hints and suggestions that didn't say untrue things but did not repudiate the initial claim either: "There is much to be answered on this. There is much that is unknown. It's clear that both symptomatic and asymptomatic individuals are part of the transmission cycle. The question is what is the relative contribution of each group to the overall number of cases."
The carrier of rationality is a gigantic study conducted in Wuhan, China, of 10 million people. The article appears in Nature Communications, published November 20, 2020. 
The conclusion is not that asymptomatic spread is rare or that the science is uncertain. The study revealed something that hardly ever happens in these kinds of studies. There was not one documented case. Forget rare. Forget even Fauci's previous suggestion that asymptomatic transmission exists but not does drive the spread. Replace all that with: never. At least not in this study for 10,000,000. 
Stringent COVID-19 control measures were imposed in Wuhan between January 23 and April 8, 2020. Estimates of the prevalence of infection following the release of restrictions could inform post-lockdown pandemic management. Here, we describe a city-wide SARS-CoV-2 nucleic acid screening programme between May 14 and June 1, 2020 in Wuhan. All city residents aged six years or older were eligible and 9,899,828 (92.9%) participated. No new symptomatic cases and 300 asymptomatic cases (detection rate 0.303/10,000, 95% CI 0.270–0.339/10,000) were identified. There were no positive tests amongst 1,174 close contacts of asymptomatic cases. 107 of 34,424 previously recovered COVID-19 patients tested positive again (re-positive rate 0.31%, 95% CI 0.423–0.574%). The prevalence of SARS-CoV-2 infection in Wuhan was therefore very low five to eight weeks after the end of lockdown.
Trump Responds to COVID Relief Bill
https://rumble.com/vc3zhn-president-trump-slams-disgrace-relief-bill-demands-2000-checks.html
But it gets better: 
1:44-1:53 count fish in the gulf of Mexico???
$2000 per individual, cut wasteful spending?
Trump blames this on China, but he's missing the real opportunity which is to come out swinging hard on all the shutdowns. 
And maybe it will be Trump. 
The House vote was 359-53, while the Senate voted 92-6 in favor of passing the bill.Only
Rand Paul Said It Well
https://rumble.com/vc2pid-rand-paul-explodes-on-senate-floor-over-600-covid-stimulus-checks.html?mref=23gga&mc=8uxj1&fbclid=IwAR2yulVz6jjy22sHAHx-gE0jm5t8hqrG8W38axB09H8RfwnIuy8WFy3CUi0
Republicans are no better than socialists. The difference is between Marx and Engels.
This is Toby Sumpter with Crosspolitic News. You can find this and all of our shows at Crosspolitic.com or on our app, which you can download at your favorite app store, just search "Fight Laugh Feast". Support Rowdy Christian media, and become a Fight Laugh Feast Club Member and get your very own Fight Laugh Feast t-shirt and access to all the talks at our first annual Fight Laugh Feast Conference as well as many exclusive behind the scenes interviews as well as our very own Worldview Shotgun Series. Go to fightlaughfeast.com. Merry Christmas!