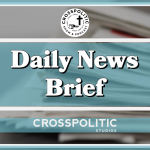 This is Toby Sumpter with your CrossPolitic Daily News Brief for Thursday, December 3, 2020.
If you have a news story you think we might need to cover, please send articles and links to news at crosspolitic dot com. 
A New York Bar Owner was Arrested Tuesday after Defying Gov. Fredo's Order
https://twitter.com/newsmax/status/1334121399028428808?s=20
Audio: 0:57-2:17, 3:06-3:23, 3:29-4:04, 4:31-4:50, 5:24-5:52
Jesse Morgan USPS Truck Driver Says He Delivered Thousands of Ballots from NY to Lancaster Penn Under Unusual Circumstances
Audio: 0:02-2:10, 6:13-7:28, 8:23-9:22
Folks, do you wish You could listen and watch the news any time day or night from a source that was committed to telling the truth about what's going on in the world and have a no-holds barred biblical analysis to accompany it? You tired of woke scolds and latte theologians nuancing everything to death. Do you wish Christian media was a little bit more rowdy and more idols got smashed? That's what CrossPolitic is all about. And we need your help to continue growing the Fight Laugh Feast Network. The best way you can help is by becoming a Fight Laugh Feast club member today. Many of you already have, and it has allowed us to grow so much already, but if you're tired of legacy media cramming their pagan worldviews down your throat and social media censoring views they don't approve of, support CrossPolitic as we build a Christian Media Platform and Network committed to the Lordship of Jesus Christ. Also, we like to laugh and drink beer. Support Rowdy Christian Media and become a fight laugh feast club member today. Go to Fightlaughfeast.com.
Erick Erickson Explains How the Voting Machines Were not Hacked
https://www.instagram.com/tv/CIR-cObl5Mh/?utm_source=ig_web_copy_link
Audio: 0:38-1:44
Patrick Colbeck on Voting Fraud
https://www.youtube.com/watch?v=-lgax_m-8ag
Audio: 6:17-7:41, 8:23-9:02
I asked Patrick about Erick Erickson's claims, and here's what he said:
Audio: 11:51-12:28, 12:43-14:03
Michigan Representative Lana Theis Asks Dr. Linda Lee Tarver What Kind of Audit is Necessary in Michigan
https://www.youtube.com/watch?v=MCWE9Qi84I8
Dr. Tarver served as a public servant under 5 Secretaries of State Michigan, seven years as election integrity liaison, working with the Attorney General relating to issues of voter fraud, ballot harvesting, ballot stuffing, and ballot curing. 
A complete forensic audit not merely a recount of sealed ballots. 
This is Toby Sumpter with Crosspolitic News. You can find this and all of our shows at Crosspolitic.com or on our app, which you can download at your favorite app store, just search "Fight Laugh Feast". Also, if you want to rock your Fight Laugh Feast bona fides visit rowdychristian.com for shirts, hats, hoodies, postmill coffee, etc. Also: did you hear we started a new magazine? Four issues a year for forty bucks. https://flfnetwork.com/product/fight-laugh-feast-magazine/
Support Rowdy Christian media, and become a Fight Laugh Feast Club Member and get your very own Fight Laugh Feast t-shirt and access to all the talks at our first annual Fight Laugh Feast Conference as well as many exclusive behind the scenes interviews with Voddie Bachaum, Tom Ascol, Erick Erickson, Sho Baraka, Douglas Wilson, David French, Gary Demar, Tom Ascol, Maj Toure as well as our very own Worldview Shotgun Series. Go to fightlaughfeast.com.