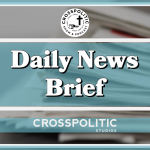 This is Toby Sumpter with your CrossPolitic Daily News Brief for Thursday, January 14, 2021.
Today you will hear about Trump's second impeachment, the President's latest statement, and what's next in the Senate, a US Attorney assures us the capitol criminals will be hung out to dry, and the joint chiefs of staff condemn the capitol business.
If you have a news story you think we might need to cover, please send articles and links to [email protected] 
Two National Events: Fight Laugh Feast Rally in Rapid City, South Dakota, April 29, 30, May 1 & the Fight Laugh Feast Conference in Nashville, TN, October 1-3. Why a rally in South Dakota in April? Because we want to stand with Kristi Noem – the only Governor in the Union to not overstep her authority. And we also want to encourage you wherever you are. Many churches are not meeting, many Christians feel all alone. But you're not alone. So the theme of the Rally in South Dakota is Love God, Sing Psalms, Defy Tyrants. Gather with likeminded Christians who love freedom, confess Jesus Christ is Lord, and be equipped to stand firm in these insane days. Go to flfnetwork dot com forward slash rally. 
 House Votes 232-197 to Impeach President Trump for a Second Time
https://twitter.com/ABC/status/1349471238293479428?s=20
President Trump is the first president in US history to be impeached twice. Ten House Republicans broke with their party and voted for impeachment.  
President Trump released a pre-recorded statement Wednesday afternoon:
Senate Will Not Begin Impeachment Trial until January 19th at Earliest
https://www.politico.com/news/2021/01/13/senate-republicans-impeachment-trump-trial-458934
Sen. Lindsey Graham is leading the charge against President Donald Trump's impeachment and removal in the Senate, while Senate Majority Leader Mitch McConnell suggested he's open to voting to convict the president.
While Graham recently said he'd had "enough" of Trump's bid to overturn the election results, has been calling around to Republican senators urging them to oppose convicting the president in the Senate's expected impeachment trial, according to three people familiar with the effort.
McConnell is taking a different approach. In a letter to Republican senators on Wednesday, the Kentucky Republican did not immediately reject the House's impeachment of Trump and said he plans to weigh the opposing views during the trial. He also urged his colleagues to keep their powder dry in the runup to the trial.
"[W]hile the press has been full of speculation, I have not made a final decision on how I will vote and I intend to listen to the legal arguments when they are presented to the Senate," McConnell wrote, according to a copy of the letter obtained by POLITICO and a McConnell spokesperson.
Regardless, McConnell is not looking to expedite any action. In his letter, McConnell also rejected Senate Minority Leader Chuck Schumer's request that the Senate reconvene this week as soon as the House sends the impeachment article across the Capitol. That means the trial will not begin until Jan. 19 at the earliest.
"Given the history, rules, and Senate precedents governing presidential impeachment trials, there has never been any chance that any fair or appropriate trial would conclude before President-elect Biden is sworn in," McConnell wrote. "Whether it were to begin this week, next week, or later, the trial will not end until after the President has left office. This is simply a fact."
A two-thirds majority is required to convict and remove the president, meaning 17 Republicans would need to join all Democrats. It's unclear whether the numbers would be there, but if McConnell did vote to convict, it would increase the likelihood others would follow.
"Make no mistake, there will be an impeachment trial in the United States Senate," Schumer said Wednesday. "There will be a vote on convicting the president for high crimes and misdemeanors; and if the president is convicted, there will be a vote on barring him from running again."
Share Plug
Is CrossPolitic a blessing to you? One of the most significant ways you can help us is by sharing this news brief or your favorite show with someone you think would appreciate it. Tell someone about the Fight Laugh Feast App. And last of all, become a Fight Laugh Feast Club Member. We want to grow the Fight Laugh Feast Network into a full blown News and Entertainment Network, coming at you with truth, goodness, and beauty. Thanks to all of you who have already shared our content and become club members. 
Acting US Attorney Says Range of Criminal Conduct is Mindblowing
https://twitter.com/cspan/status/1349098739995172865?s=20
Joint Chiefs of Staff Say Capitol Riot Was An Assault on the Constitution
https://news.usni.org/2021/01/12/message-from-joint-chiefs-on-u-s-capitol-riot?fbclid=IwAR3w4rlKZwe3HoDjzya5E8b-NzdZU7z7ncpPbCIf82e2ObVdLQFgvFQEHKs
The violent riot in Washington, D.C. on January 6, 2021 was a direct assault on the U.S. Congress, the Capitol building, and our Constitutional process. We mourn the deaths of the two Capitol policemen and others connected to these unprecedented events.
We witnessed actions inside the Capitol building that were inconsistent with the rule of law. The rights of freedom of speech and assembly do not give anyone the right to resort to violence, sedition and insurrection.
As Service Members, we must embody the values and ideals of the Nation. We support and defend the Constitution. Any act to disrupt the Constitutional process is not only against our traditions, values, and oath; it is against the law.
On January 20, 2021, in accordance with the Constitution, confirmed by the states and the courts, and certified by Congress, President-elect Biden will be inaugurated and will become our 46th Commander in Chief.
This is Toby Sumpter with Crosspolitic News. You can find this and all of our shows at Crosspolitic.com or on our app, which you can download at your favorite app store, just search "Fight Laugh Feast". Support Rowdy Christian media, and become a Fight Laugh Feast Club Member and get your very own Fight Laugh Feast t-shirt and access to all the talks at our first annual Fight Laugh Feast Conference as well as many exclusive behind the scenes interviews as well as our very own Worldview Shotgun Series. We still have a few Fight Laugh Feast tumblers left for club members at 25$ a month or more. Go to FightLaughFeast.com. Have a great day.