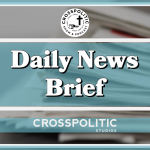 This is Toby Sumpter with your CrossPolitic Daily News Brief for Thursday, January 7, 2021.
Today you will hear about mayhem in DC, Marines beefing up training in the far east, Biden's pick for Attorney General, and more on the SolarWinds hack of the DOJ.
If you have a news story you think we might need to cover, please send articles and links to [email protected]
Two National Events: Fight Laugh Feast Rally in Rapid City, South Dakota, April 29, 30, May 1 & the Fight Laugh Feast Conference in Nashville, TN, October 1-3. Why a rally in South Dakota in April? Because we want to stand with Kristi Noem – the only Governor in the Union to not overstep her authority. And we also want to encourage you wherever you are. Many churches are not meeting, many Christians feel all alone. But you're not alone. So the theme of the Rally in South Dakota is Love God, Sing Psalms, Defy Tyrants. Gather with likeminded Christians who love freedom, confess Jesus Christ is Lord, and be equipped to stand firm in these insane days. Go to flfnetwork dot com forward slash rally. 
Georgia Senate Race
Georgia Democrat Jon Ossoff has won his Senate runoff election. In the other race, the Rev. Raphael Warnock, a Democrat, defeated Republican Sen. Kelly Loeffler.
With the two Democratic victories, the Senate will have a 50-50 seat split between the parties. But the vice president casts tie-breaking votes, and that will be Democrat Kamala Harris.
Democrats already control the House, and adding the Senate will make it more difficult for Republicans to block Biden's agenda, along with his Cabinet picks and judicial nominations.
Trump Rally Turns Cray-Cray
Protestors stormed the capital building following Trump's Rally speech, breaching several barriers and causing a halt to the Electoral College certification vote. VP Pence and congress were evacuated as protestors surged into the capital building, breaking into offices, with reports of at least one protestor shot by Federal police. 
https://twitter.com/TaylerUSA/status/1346913549898149888?s=20
Washington DC Mayor declared a 6pm to 6am curfew, and President Trump called in the National Guard.
Pictures surfaced of protestors in congressional offices and in the chambers, one particular ripe one had a guy in fur cap with bull horns presiding over an empty House chamber. Pictures quickly surfaced linking the same guy to an Arizona Black Lives Matter rally in June. No doubt some of Trump's supporters thought that the revolution had begun, and they are fools and criminals, but what are the chances that antifa and other rabble rousers are involved in this? Oh, I'd say very high. And eye witnesses 
President Trump tweeted out messages asking for people to stay peaceful, to respect law enforcement – no violence. And then issued a brief video statement urging people who are upset about the election results to go home in peace. 
https://twitter.com/realDonaldTrump/status/1346928882595885058?s=20
Shortly after Trump's message was released on Twitter, it was censored, limiting its ability to be shared or liked. 
Part of what Christians have to understand is that the Devil doesn't fight fair. He never has and never will. But Christians are committed to fighting fair. This seems unfair, but this is what it means to be light and not darkness. You can't fight fire with fire; if Satan is cast out by Beelzebub, then his kingdom is come to an end. No, we fight with truth, gladness, Psalm singing, worship on the Lord's Day, sabbath feasting with our families and neighbors, and we only physically and militarily according to God's law, defensively and under lawful authority. We are not thugs, but standing for the truth will get you smeared at times as being with the thugs. Remember, Jesus was crucified between two actual thugs. Paul and the other apostles were persecuted as being part of the various anti-Roman insurrectionist movements, maligned as Jewish zealots and the like. This isn't the first time. Stand your ground in the truth. Condemn all true evil and thuggery, but do not allow the slander and tricks and slime of our enemies (on the right or the left) to cow you into silence or cowardice. 
Share Plug
Is CrossPolitic a blessing to you? One of the most significant ways you can help us is by sharing this news brief or your favorite show with someone you think would appreciate it. Tell someone about the Fight Laugh Feast App. Thanks to all of you who have already done that. 
Marines Stepping Up Training in the Far East
https://www.wsj.com/articles/marines-prepare-for-rising-challenge-from-chinas-military-with-island-training-11609689085?mod=searchresults_pos4&page=1
WSJ – The Marine Corps is stepping up training in Japan for island-based conflict in the Western Pacific, putting it at the leading edge of a pivot by the U.S. to face the military challenge from China. 
The Marines are preparing for a far larger and more sophisticated adversary than extremists in the Middle East and Afghanistan, the focus of their operations in recent years. China's military satellites, cyberwarfare capabilities, use of artificial intelligence and narrowing gap with U.S. firepower make it what the Pentagon calls a "near-peer" rival.
At one of a series of recent exercises, a few dozen Marines faded into long grass after touching down in two CH-47 Chinook helicopters, followed by Japanese soldiers arriving in two Osprey tilt-rotor aircraft. Their simulated mission: avoiding detection and recapturing a port on an island inside the range of much of the enemy's missiles and artillery.
China's emergence as a military force has brought a new focus at the Pentagon on updating strategies and training plans. Gen. Mark Milley, the chairman of the Joint Chiefs of Staff, said recently that China's rise is the single most important security challenge to the U.S., and that the Chinese military was on a path to parity with the U.S. 
Figuring out how to deal with China is one of the biggest early challenges for President-elect Joe Biden. On Friday, the Senate passed into law a defense bill that includes more than $2 billion of funding for military operational and strategy initiatives aimed at countering China. 
Beijing says its military rise is peaceful. It hasn't commented on the recent series of Marine Corps exercises in Japan but has previously called U.S. and Japanese drills in the region provocations.
Biden to Name Judge Merrick Garland as Attorney General
https://www.wsj.com/articles/biden-to-name-appeals-court-judge-merrick-garland-as-attorney-general-11609954069?mod=searchresults_pos4&page=1
Judge Merrick Garland, a 1997 appointee of President Bill Clinton to the U.S. Court of Appeals for the District of Columbia Circuit, was President Obama's Supreme Court Justice Nomination in 2016, but the Republican controlled Senate refused to grant him a hearing or vote. 
His selection became definite as Mr. Biden's team grew increasingly optimistic about Democrats' chances of taking the two Senate seats in Tuesday's Georgia's runoff election, giving them the ability to replace Mr. Garland's seat on the appeals court without concerns that Republicans would block whomever Mr. Biden chooses.
Mr. Biden also intends to nominate longtime national security official Lisa Monaco as deputy attorney general, and Vanita Gupta, who was head of the Justice Department's civil-rights division under President Barack Obama, as the Department's No. 3, officials on his transition team said. Kristen Clarke, president of the Lawyers' Committee for Civil Rights Under Law, will be named head of the civil-rights division, the transition officials said, in a move that will likely please advocates who have urged Mr. Biden to make diversity and racial justice priorities at the Justice Department.

Department of Justice Says SolarWinds Hackers Accessed Thousands of Emails
https://www.politico.com/news/2021/01/06/solarwinds-hackers-justice-department-email-455478
The suspected Russian hackers behind the SolarWinds cyber espionage campaign gained access to Justice Department employees' email accounts, the department said Wednesday.
"At this point, the number of potentially accessed [Microsoft Office] mailboxes appears limited to around 3-percent and we have no indication that any classified systems were impacted," DOJ spokesperson Marc Raimondi said in a statement.
The department has more than 115,000 employees, which means that the hackers accessed almost 3,500 employees' emails accounts.
DOJ discovered the intrusion on Dec. 24 and has blocked the technique that the hackers used to access its email system, Raimondi said.
He added that DOJ is providing information to lawmakers and "the appropriate federal agencies" consistent with a federal law governing major cyber incidents.This is Toby Sumpter with Crosspolitic News. You can find this and all of our shows at Crosspolitic.com or on our app, which you can download at your favorite app store, just search "Fight Laugh Feast". Support Rowdy Christian media, and become a Fight Laugh Feast Club Member and get your very own Fight Laugh Feast t-shirt and access to all the talks at our first annual Fight Laugh Feast Conference as well as many exclusive behind the scenes interviews as well as our very own Worldview Shotgun Series. We still have a few Fight Laugh Feast tumblers left for club members at 25$ a month or more. Go to FightLaughFeast.com. Have a great day.