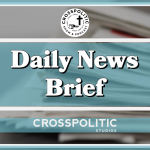 This is Garrison Hardie with your CrossPolitic Daily News Brief for Thursday, July 27th, 2023.
Olive Tree Biblical Software:
Discover why more than a million people use the free Olive Tree Bible App as their go-to for reading, studying, and listening to the God's Word.
Start by downloading one of many free Bibles and start taking notes, highlighting verses, and bookmarking your favorite passages. You can read at your own pace, or choose from a large selection of Reading Plans, including the Bible Reading Challenge. When you are ready to go deeper into your studies, Olive Tree is right there with a large selection of study Bibles, commentaries, and other helpful study resources available for purchase. There's also an extensive bookstore allows you to build your digital library one book at a time and Olive Tree's sync technology lets you pick up where you left off on your tablet, pc or phone and get right to studying on another supported device.
Now here's the best part – You can start with the Olive Tree Essentials Bundle for FREE. Visit www.olivetree.com/FLF and download it today! 
https://apnews.com/article/ufos-uaps-congress-whistleblower-spy-aliens-ba8a8cfba353d7b9de29c3d906a69ba7
Whistleblower tells Congress the US is concealing 'multi-decade' program that captures UFOs
The U.S. is concealing a longstanding program that retrieves and reverse engineers unidentified flying objects, a former Air Force intelligence officer testified Wednesday to Congress. The Pentagon has denied his claims.
Retired Maj. David Grusch's highly anticipated testimony before a House Oversight subcommittee was Congress' latest foray into the world of UAPs — or "unidentified aerial phenomena," which is the official term the U.S. government uses instead of UFOs. While the study of mysterious aircraft or objects often evokes talk of aliens and "little green men," Democrats and Republicans in recent years have pushed for more research as a national security matter due to concerns that sightings observed by pilots may be tied to U.S. adversaries.
Grusch said he was asked in 2019 by the head of a government task force on UAPs to identify all highly classified programs relating to the task force's mission. At the time, Grusch was detailed to the National Reconnaissance Office, the agency that operates U.S. spy satellites.
"I was informed in the course of my official duties of a multi-decade UAP crash retrieval and reverse engineering program to which I was denied access," he said.
Asked whether the U.S. government had information about extraterrestrial life, Grusch said the U.S. likely has been aware of "non-human" activity since the 1930s.
The Pentagon has denied Grusch's claims of a coverup. In a statement, Defense Department spokeswoman Sue Gough said investigators have not discovered "any verifiable information to substantiate claims that any programs regarding the possession or reverse-engineering of extraterrestrial materials have existed in the past or exist currently." The statement did not address UFOs that are not suspected of being extraterrestrial objects.
Grusch says he became a government whistleblower after his discovery and has faced retaliation for coming forward. He declined to be more specific about the retaliatory tactics, citing an ongoing investigation.
https://hotair.com/david-strom/2023/07/26/swiss-study-heart-injuries-from-covid-vaccine-3000x-higher-than-thought-n567151
Swiss study: heart injuries from COVID vaccine 3000x higher than thought
It is a small study, but a very disturbing one.
In fact, in a study with only 777 participants with a median age of 37–all medical professionals getting the COVID vaccine–the incidence of elevated cardiac enzymes 3 days after injection was pretty substantial, at almost 3%.
The CDC did a study and from that, they claimed the rate was 0.001%, or one out of 100,000.
2.8% is a lot higher than 0.001%. Another 0.3% had "probable myocarditis," putting the total at over 3%. That is 3000 times higher than the US government claimed.
In this small study, nobody had serious complications, but with a myocarditis complication rate of 3%, you would have to expect that giving out hundreds of millions of doses is a pretty risky proposition.
I think we all knew that already, but this study seems to put the nail in the coffin of "vaccine injuries are super rare" from COVID-19 shots.
One oddity was that the rate of myocarditis among the participants was heavily weighted toward women, not men. That could be an artifact of the sample, or it could indicate that women are more likely to get a complication, but the complications are more likely to be serious among men.
One reason the researchers posit for the vast difference between their results–which are based upon blood tests looking for cardiac enzymes in all participants–and the commonly asserted claim that vaccine-induced myocarditis is rare is that the only cases that are diagnosed without looking specifically for it are severe.
In other words, most people don't go to the doctor until there is a serious problem, so many people suffer from myocarditis without ever getting diagnosed.
This suggests that there is a very large group of people who were afflicted but never treated. This in most cases would not be a huge problem, as the inflammation resolves on its own, but in some cases, actual damage to the heart was done without it ever being caught.
In any case, this study sheds quite a light on just how deceptive the CDC, the FDA, and NIAID have been about vaccine safety. And also how intentionally ignorant they have chosen to be. This was not a complicated study to do. The researchers chose a cohort easy to recruit, tested them both before and after vaccination to create a baseline and comparison, and analyzed the data.
https://www.foxnews.com/politics/hunter-biden-plea-deal-appears-fall-apart-first-court-appearance
Hunter Biden pleads 'not guilty' as plea deal falls apart during Delaware court appearance
Hunter Biden's plea deal fell apart during his first court appearance Wednesday morning and pleaded "not guilty" as federal prosecutors confirmed the president's son is still under federal investigation.
The president's son was expected to plead guilty to two misdemeanor tax counts of willful failure to pay federal income tax, as part of plea deal to avoid jail time on a felony gun charge.
But Judge Maryellen Noreika did not accept the plea agreement, questioning the constitutionality–specifically the diversion clause and the immunity Hunter Biden would receive.
Hunter Biden was also expected to enter into a pretrial diversion agreement regarding a separate felony charge of possession of a firearm by a person who is an unlawful user of or addicted to a controlled substance.
House Ways & Means Committee Chairman Jason Smith filed an amicus brief to the court, requesting that testimony be considered ahead of accepting the planned plea deal, saying Hunter Biden "appears to have benefited from political interference which calls into question the propriety of the investigation of the U.S. Attorney's Office."
"In the interest of full transparency and fairness for all citizens, it is critical for the Court to have this relevant information when evaluating the Plea Agreement," Smith wrote in the brief.
Meanwhile, on the eve of the court appearance, the judge threatened to sanction Hunter Biden's legal team after one of his attorneys allegedly lied about who she was while asking to remove IRS whistleblower testimony from the court docket.
The defense, though, denied the allegations and called the incident "an unfortunate and unintentional miscommunication."
https://www.washingtonexaminer.com/news/new-york-city-crane-falls-engulfed-flames
New York City crane collapse: Construction equipment tumbles to ground as it is engulfed in flames
A crane fell near the Hell's Kitchen neighborhood of Manhattan on Wednesday after a fire broke out on the construction equipment, but officials say it could have been much worse.
The crane was engulfed in flames before part of it fell to the ground, hitting a nearby building in the process. The New York City Fire Department said that six people, including two firefighters, have injuries. The injuries to the two firefighters are "non-life threatening," while the four civilian injuries are "minor," according to the department.
"As you see from the debris on the street, this could have been much worse. We are extremely fortunate, No. 1, that [it was] not during the busy time of the day — as you know, the Port Authority is here. Many of the buses move through here. We were extremely fortunate," New York City Mayor Eric Adams said at a press conference.
The first report of the fire to FDNY came at 7:25 a.m. local time, with officials saying the fire started in the engine compartment of the crane. The top part of the crane and a 16-ton load collapsed as firefighters were arriving at the scene. One of the injuries was described as "chest pains" for one of the firefighters.
At a news conference Wednesday morning, fire officials said the fire had been mostly extinguished but that operations are still ongoing. Fifty units, totaling 220 fire personnel, responded to the scene of the fire, according to FDNY.
New York City Department of Buildings Commissioner Jimmy Oddo said the building where the crane fire occurred was an under-construction 54-story mixed-use building, which had all proper permits filed. Oddo said the only previous incident at the site was when construction workers hit a vault during excavation for the building.
City officials also said the crane operator had attempted to put out the fire when he noticed it, but when he was unable to do so safely, he evacuated from the crane and is OK.
https://thenationalpulse.com/2023/07/25/accept-deadly-blackouts-to-fight-climate-change-says-paper/
Accept Deadly Blackouts to Fight 'Climate Change', Says Paper
The Los Angeles Times says that blackouts have to increase in order to combat climate change, while stunningly acknowledging the policy may cost people's lives. The newspaper has asked its dwindling audience to consider "a larger conversation" in which people become more accustomed to changing their expectations, including the idea of living without electricity for large parts of their lives so as to prevent "climate catastrophe."
The piece also insists that "fossil-funded lies," apparently spread by Republicans – such as the overall uselessness of solar farms and wind turbines – should not be considered within the discussion on how to address climate change. Instead, the conversation must be orientated towards adding "solar panels, wind turbines and all kinds of energy storage to the grid as fast as possible."
The newspaper also recognizes the risk of such a policy as it reports that someone dies every time there is a blackout, and includes a quote from the director of reliability assessment and performance analysis at the North American Electric Reliability Corp, John Moura, that "it's not really about keeping the lights on. It's about keeping people alive."
Accepting increased blackouts is yet another extreme measure being suggested to tackle climate change. One recent study suggested changing working hours from 9 am to 5 am to 6 am to 2 pm.
Speaking of climate change…
https://www.theblaze.com/news/npr-ridiculed-for-regurgitating-claim-that-the-movement-to-push-bug-food-on-the-masses-is-a-racist-conspiracy-theory
NPR ridiculed for regurgitating claim that the movement to push bug food on the masses is a 'racist' conspiracy theory
NPR's race-obsessed and taxpayer-subsidized show "Code Switch" recently peddled the notion that it is conspiratorial thinking to take proponents of the bug-food movement at their word.
What's more, host Gene Demby's guest on the July 19 episode, entitled "This right wing conspiracy theory about eating bugs is about as racist as you think," has intimated that criticism both of bug food and of those technocrats who seek to alter consumer behavior may be racist.
NPR has since been met with ridicule by those aware that the desire to supplement or replace normal food with bugs is not a conspiracy theory but rather a real initiative with substantial momentum, which has been long detailed and defended in academic journals, trusted publications, and even on NPR.
NPR reporter Huo Jingnan joined "Code Switch" host Gene Demby on last week's episode to regurgitate talking points from his April NPR article, wherein he simultaneously held that the claim that "elites want people to eat bugs" was a right-wing conspiracy theory while also acknowledging the inclusion of bugs in human food was "an emerging, but still marginal, idea among climate scientists and food security experts."
Jingnan hinted both in his article and on Demby's show there must also be a racial component to the growing concerns about the bug-food movement and the motivations driving it.
While Demby appeared keen to write off the bug-food movement as "not that big a deal," and Jingnan intimated that it might just the MAGA crowd who are paying attention, critics have pointed that NPR's publication history suggests otherwise.
Here are the titles of just a few NPR features in recent months and years:
"These Pictures Might Tempt You To Eat Bugs" — July 18, 2013;
"Making Food From Flies (It's Not That Icky)" — Sept. 19, 2013;
"Even Neil DeGrasse Tyson Is Now Munching On Bugs" — March 23, 2015;
"Street Food No More: Bug Snacks Move To Store Shelves In Thailand" — April 15, 2015;
"Are Insects The Future Of Food?" — Nov. 17, 2016;
"At Bug-Eating Festival, Kids Crunch Down On The Food Of The Future" — Sept. 14, 2017;
"Your Ancestors Probably Ate Insects. So What's Bugging You?" — July 16, 2018;
"VIDEO: 4 Ways That Wild Edibles, Including Insects, Will Wow You" — Dec. 20, 2018; and
"Should Hyping Edible Bugs Focus On The Experience Instead Of The Environment?" — Jan. 10, 2019.
The food of the future indeed…