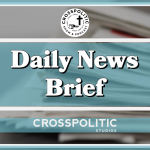 This is Toby Sumpter with your CrossPolitic Daily News Brief for Thursday, November 19, 2020.
Today you will hear about the religion of face masks from an epidemiologist, the religion of Chicago's mayor, Trump sending soldiers home from the Middle East, and some quack theorist at the University of Calgary has been smoking Oregon crack. 
Director of Institute for Immunology at Bern University: Beda Stadler Says Masks Don't Work
https://twitter.com/DougTenNapel/status/1328695512514654208?s=20
It's a "religion" – a "belief system." And notice how intolerant this religion has gotten. If you don't wear masks you're a hater and they want to kill you. This is why neutrality does not work. Secularism and all the promises of neutrality always end up here. In the name of Science, you must comply, you must keep the new purity laws. Speaking of compliance…
Chicago Mayor Describes How She's Bringing the New World Order to Her City
https://twitter.com/uribrito/status/1328698218759262212?s=20
Here are the priests of this religion – this new world order, they are the people running cities who have been trained to require compliance. 
Folks, do you wish you had a one stop news source that covered all current events from a distinctively Biblical worldview? Do you wish You could listen and watch the news any time day or night from a source that was committed to telling the truth about what's going on in the world and have a no-holds barred biblical analysis to accompany it? You tired of woke scolds and latte theologians nuancing everything to death. Do you wish Christian media was a little bit more rowdy and more idols got smashed? That's what CrossPolitic is all about. And we need your help to continue growing the Fight Laugh Feast Network. The best way you can help is by becoming a Fight Laugh Feast club member today. Many of you already have, and it has allowed us to grow so much already, but if you're tired of legacy media cramming their pagan worldviews down your throat and social media censoring views they don't approve of, support CrossPolitic as we build a Christian Media Platform and Network committed to the Lordship of Jesus Christ. Also, we like to laugh and drink beer. Support Rowdy Christian Media and become a fight laugh feast club member today. Go to Fightlaughfeast.com.  
Trump Orders Half US Soldiers Home for Afghanistan and Iraq
https://disrn.com/news/trump-orders-american-troops-reduced-to-2500-in-both-iraq-and-afghanistan-by-january-15/
Christopher Miller, President Trump's acting Secretary of Defense, announced on Tuesday that the U.S. military will withdraw a significant number of troops from both Afghanistan and Iraq by January 15, 2021.
The U.S. will cut the number of troops in both war-torn countries to just 2,500. That is half the total soldiers currently in Afghanistan and a reduction of 500 in Iraq.
Within moments of the announcement, Iraqi intelligence said at least four rockets were launched at the U.S. embassy in Baghdad.
Trump has consistently said he wants American troops withdrawn from the two countries, but fellow Republican lawmakers have objected to such a quick timeline.
"I believe that these additional reductions of American troops from terrorist areas are a mistake," Rep. Mac Thornberry (R-TX) said. "Further reductions in Afghanistan will also undercut negotiations there; the Taliban has done nothing – met no condition – that would justify this cut."
But Miller said he has been in touch with NATO and other allies about the decision, explaining Trump's thought process in making the decision.
"This decision by the president is based on continuous engagement with his national security cabinet over the past several months, including ongoing discussions with me and my colleagues across the United States government," Miller said. "I have also spoken with our military commanders and we all will execute this repositioning in a way that protects our fighting men and women, our partners in the intelligence community and diplomatic corps, and our superb allies that are critical to rebuilding Afghan and Iraqi security capabilities and civil society for a lasting peace in troubled lands."
Former Defense Secretary Mark Esper sent a memo to the White House expressing his concern about the drawdown. He was fired days later and replaced with Miller.
The withdraws will be complete roughly five days before Democrat Joe Biden is set to be inaugurated.
Alaina Lentin from University of Calgary Explains that Anti-Racism is Actually Racist Violence
https://twitter.com/SwipeWright/status/1328577016753434624?s=20
Denial of racism — "not racism" is actually racist because it denies someone else's subjective experience. It denies what someone else may perceive of as racist. So it's discursive racist violence. But by this logic I can claim anything I feel to be racist or bigoted legitimately as racism or bigoted even if objectively it was nothing of the sort. 
Also, I self-identify as someone who is most safe when not wearing a mask. Don't bring your epistemic positivism at me, bro. That's racist. 
But don't miss the fact that this kind of subjectivism is the death of society and civilization. You cannot have a civilization built on this kind of nonsense. It reduces to utter and complete babble, like for example, the Tower of Babel. If words and actions are granted their meaning by every individual discreetly, we cannot communicate. We cannot speak meaningfully about the world. And of course these people will try to insist that we actually do have a lot of shared experiences, but this all of this is simply a hostage situation. They will agree to have shared experiences so long as they are the ones in charge, so long as they have the power. But we are Christians and so we must insist that Jesus has all the power and authority, and the world is what He says it is because He made it and He upholds by the word the word of His power. 
This is Toby Sumpter with Crosspolitic News. Remember to send us stories and articles that you think we should cover to news at crosspolitic dot com. You can find this and all of our shows at Crosspolitic.com or on our app, which you can download at your favorite app store, just search "Fight Laugh Feast". Also, if you want to rock your Fight Laugh Feast bona fides visit rowdychristian.com for shirts, hats, hoodies, postmill coffee, etc. Also: did you hear we started a new magazine? Four issues a year for forty bucks. https://flfnetwork.com/product/fight-laugh-feast-magazine/
Support Rowdy Christian media, and become a Fight Laugh Feast Club Member and get your very own Fight Laugh Feast t-shirt and access to all the talks at our first annual Fight Laugh Feast Conference as well as God and Government and Eschatology with Gary Demar, Pastors and Politics with Pastor Douglas Wilson, as well as a great Parenting Basics session with Pastor Wilson and his wife, as well as the Worldview Shotgun Series. Go to fightlaughfeast.com.