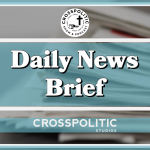 This is Toby Sumpter with your CrossPolitic Daily News Brief for Thursday, October 15, 2020.
Today you will hear about Hunter Biden's Old Laptop, Indiana's Governor Holcomb extending Stage 5 state of emergency for another month, and the First Lady's statement on her COVID-19 experience. 
Remember: If you come across a news story you think we might need to cover, please send it to: news at crosspolitic dot com. This is a great way to share articles and stories with us that may end up in our daily or weekly shows: news at crosspolitic dot com
Hunter Biden's Old Laptop 
https://www.redstate.com/bonchie/2020/10/14/940923/
The New York Post has received emails and videos recovered from a laptop that is suspected to have been formerly owned by Hunter Biden. In what is being described as a "blockbuster" story, Hunter Biden is shown to have set up a meeting between his Ukrainian business associates and his father Joe Biden, who was Vice President at the time.
A computer shop owner in Delaware received the computer in 2019 from someone whom he could not definitely identify as Hunter Biden, but the contents certainly point to it being his computer. 
Regardless, these documents are out there now and they once again blow holes in the narrative Joe Biden has tried to spin about him and his son's dealings overseas. Remember, the elder Biden has repeatedly said he was completely ignorant of his son's business connections in Ukraine, for example.
https://twitter.com/DanScavino/status/1316375525364035584?s=20
That now appears to be officially debunked by these newly revealed emails. Hunter Biden introduced his father, then-Vice President Joe Biden, to a top executive at a Ukrainian energy firm less than a year before the elder Biden pressured government officials in Ukraine into firing a prosecutor who was investigating the company, according to emails obtained by The Post.
The never-before-revealed meeting is mentioned in a message of appreciation that Vadym Pozharskyi, an adviser to the board of Burisma, allegedly sent Hunter Biden on April 17, 2015, about a year after Hunter joined the Burisma board at a reported salary of up to $50,000 a month.
"Dear Hunter, thank you for inviting me to DC and giving an opportunity to meet your father and spent [sic] some time together. It's realty [sic] an honor and pleasure," the email reads.
An earlier email from May 2014 also shows Pozharskyi, reportedly Burisma's No. 3 exec, asking Hunter for "advice on how you could use your influence" on the company's behalf.
The continued efforts to pretend that Hunter Biden wasn't involved in influence peddling has become laughable. This was a man who was making tens of thousands of dollars a month to sit on the board of a foreign energy company while he was setting up meetings between those associates and his vice president father.
Aside from the emails, there were also pictures and video showing Hunter Biden doing lewd activities, sexually and drug wise. That's no surprise given his history. Of course, that is something that would be made a major story if this were a Republican involved, but these are Democrats so this will all be swept under the rug.
What we do know is that Joe Biden lied. He has met with multiple business associates of Hunter Biden and had to have known about what was going on. That he's been able to escape answering questions about this is a travesty as we move closer to election day.
Steve Deace's Summary of NY Post bombshell story on Biden and Ukraine:
1) The whole time they were accusing Trump of Ukrainian collusion, they were doing it. 
2) A shady foreign operative literally put in emails to Joe Biden's son "how can you use your influence (which we're paying you for) to help us" and "thanks for introducing us to the vice president." Who then later did what they wanted him to do by using his leverage to get rid of the prosecutor looking into their business dealings a few months later. 
3) The whole time Trump was being impeached for pressing Ukraine to investigate shady Biden business dealings, the FBI was sitting on a laptop computer with prima facie evidence of such shadiness AND SAID NOTHING!
A reminder that all of the talks from this year's Fight Laugh Feast conference: Weapons for This War are up in the Club Member Portal, and if you're not already a club member, what are you waiting for? Go to fightlaughfeast.com and register today and get access to all of the talks: Douglas Wilson, George Grant, David Bahnsen, Jeff Durbin, Glenn Sunshine, and more. Next year's conference has been scheduled for October 14-16 back in Franklin, TN again. Next year's theme is Politics of Sex. More information will be coming out soon, but mark the dates now. In the meantime, check out this year's talks.
From the News Inbox
https://www.wane.com/community/health/coronavirus/indiana-governor-to-resume-briefings-as-virus-cases-spike/
INDIANAPOLIS (WANE) — Indiana will stay in Stage 5 of its reopening plan for at least another month, Gov. Eric Holcomb announced Wednesday.
Holcomb said in his weekly coronavirus response briefing that Stage 5 would be extended through at least Nov. 14. The state's mask mandate will continue through that date as well.
Three weeks ago, the governor moved the state into Stage 5 with the mask mandate expected to end Oct. 17. However, Gov. Holcomb decided to continue both the mask mandate and Stage 5 after an increase in the positivity rate.
"In less than a month, our positivity rate has moved to under 4% to where it sits today 5.3%," Holcomb said.
The level of COVID-19 spread has not been seen in Indiana seen since the spring.
He noted record daily case numbers and hospitalizations are also concerning.
"Too many are ignoring science and rolling the dice," Holcomb said.
He said Stage 5 is not an excuse for indifference. He said while most Hoosiers are following the guidelines, that's not the case for everyone.
"We all see Hoosiers with a disregard for the health of fellow citizens," he said.
"It turns out it's children at our schools who are showing us how it's done, and the administrators, how this can be done safely," Holcomb explains.
The actions of every determines whether our kids can stay in school or not, Holcomb warns. It also affects the rate of those who are going homeless or hungry. The decisions of individuals can directly or indirectly cost lives.
"The numbers have everything to do with how many of us are and aren't letting our guard down," Holcomb said.
State Health Commissioner Dr. Kristina Box joined the briefing remotely to share that she, her daughter and grandson tested positive for the coronavirus. She said she's not experiencing symptoms, while her daughter and grandson are experiencing mild symptoms. Box worked with contact tracers to notify anyone she was in contact with of the diagnosis.
Governor Holcomb and other state officials will get tested Wednesday afternoon.
https://www.wane.com/community/health/coronavirus/indiana-governor-to-resume-briefings-as-virus-cases-spike/
Driven by data? What data exactly? The fact that more children die from influenza than coronavirus? What data? The fact that no reputable scientific study shows masks significantly reduce risk of viral spread? The fact that even while you've had mask mandates in place, the spread of COVID 19 has increased? And while we're talking about data, could you please define for us what a state of emergency consists of? How many hospitalizations and deaths constitute a health emergency? And this is not just for Governor Holcomb and Indiana, this if for every state, county, or city where any restrictions remain.
FLF Magazine: We unveiled the brand-new Fight Laugh Feast Magazine at our recent conference: Our Fight Laugh Feast Magazine will be a quarterly issue that packs a punch like a 21 year Balvenie, no ice. We don't water down our theology, why would we water down our scotch? Order a yearly subscription for yourself and then send a couple yearly subscriptions to your friends who have been drinking luke-warm evangelical cool-aid. Every quarter we promise quality food for the soul, wine for the heart, and some Red Bull for turning over tables. Our magazine will include cultural commentary, a Psalm of the quarter, recipes for feasting, laughter sprinkled throughout the glossy pages, and more. Annual subscriptions are $40 – that's for four issues. So sign up and enjoy our Fight Laugh Feast theme park. 
https://flfnetwork.com/product/fight-laugh-feast-magazine/
First Lady Describes Her COVID-19 Experience
https://www.whitehouse.gov/articles/first-lady-melania-trump-personal-experience-covid-19/

I was very fortunate as my diagnosis came with minimal symptoms, though they hit me all at once and it seemed to be a roller coaster of symptoms in the days after. I experienced body aches, a cough and headaches, and felt extremely tired most of the time. I chose to go a more natural route in terms of medicine, opting more for vitamins and healthy food.
I encourage everyone to continue to live the healthiest life they can. A balanced diet, fresh air, and vitamins really are vital to keep our bodies healthy. For your complete well-being, compassion and humility are just as important in keeping our minds strong. For me personally, the most impactful part of my recovery was the opportunity to reflect on many things—family, friendships, my work, and staying true to who you are.
I am happy to report that I have tested negative and hope to resume my duties as soon as I can. Along with this good news, I want people to know that I understand just how fortunate my family is to have received the kind of care that we did. If you are sick, or if you have a loved one who is sick—I am thinking of you and will be thinking of you every day. I pray for our country and I pray for everyone who is grappling with COVID-19 and any other illnesses or challenges.
This is Toby Sumpter with Crosspolitic News. Remember to send us stories and articles that you think we should cover to news at crosspolitic dot com. You can find this and all of our shows at Crosspolitic.com or on our app, which you can download at your favorite app store, just search "Fight Laugh Feast". Support Rowdy Christian media, and become a Fight Laugh Feast Club Member and for as long as the CrossPolitic gods smile upon the land, get your very own Fight Laugh Feast t-shirt and live and archive access to all the talks at our first annual Fight Laugh Feast Conference. Become a member now at fightlaughfeast.com.