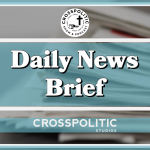 This is Toby Sumpter with your CrossPolitic Daily News Brief for Thursday, October 22, 2020.
Today you will hear about two Colorado churches win in federal court over COVID restrictions, the pope embraces two kingdom theology, COVID deaths are plummeting even while cases rise, and the Department of Justice has brought an antitrust lawsuit against Google.
Remember: If you come across a news story you think we might need to cover, please send it to: news at crosspolitic dot com. This is a great way to share articles and stories with us that may end up in our daily or weekly shows: news at crosspolitic dot com
Two Colorado Churches Win in Federal Court
https://denver.cbslocal.com/2020/10/20/colorado-churches-win-federal-court-decision-covid-19-mandates-governor-polis-coronavirus-worship-religious-freedom/?fbclid=IwAR0zkjnU1YFd_gIkl021e2MNe4_r2ZBxtIgm98lwu5zePQKLmcUV7KpNAPE
Two Colorado churches will no longer be required to wear masks or limit their numbers as required by the governor of Colorado's COVID-19 mandates. The pastors of two Colorado churches — Bob Enyart of Denver Bible Church in Wheat Ridge and Joey Rhoads of Community Baptist Church in Brighton – filed the lawsuit in August.
"The lawsuit," said Special Counsel Rebecca Messall, one of the Thomas More Society attorneys representing the Colorado pastors, "calls both the federal government and Colorado leaders into account for their violations of the right to free exercise of religion, among other abuses of power, primarily resulting from Gov. Jared Polis' COVID-19 related Executive Orders."
A spokesperson from the governor's office on Thursday indicated the state's Attorney General filed an emergency motion for an injunction on Monday to keep the orders in place and the state plans to appeal the federal judge's decision.
In his ruling, U.S. District Court Judge Daniel D. Domenico stated, "…the Constitution does not allow the State to tell a congregation how large it can be when comparable secular gatherings are not so limited, or to tell a congregation that its reason for wishing to remove facial coverings is less important than a restaurant's or spa's."
"It's like 'The Boy Who Cried Wolf'," Enyart told CBS4. "If it was a true emergency, people would not be inclined to ignore government orders because of government's overreach. There's so much evidence coming out that the lockdown is hurting people."
"We hope other churches will follow along."
In their own words, the churches' attorneys argued that "Colorado imposes capacity limits on houses of worship that are more severe than those that apply to other so-called critical businesses whose settings pose a similar risk of COVID-19 transmission. The state also allows a variety of exceptions to its facial-covering requirement where it recognizes that removing a mask is necessary to carry out a particular activity."
The Pope Embraces Two Kingdom Theology 
https://www.ncregister.com/news/pope-francis-calls-for-civil-union-law-for-same-sex-couples-in-shift-from-vatican-stance?fbclid=IwAR2KCBKfPJgUAvxxRzxgwOcp2EHSj6i0eWLOlteiusM8yRK4af1wvwsbq34
In a documentary that premiered Wednesday in Rome, Pope Francis called for the passage of civil union laws for same-sex couples, departing from the position of the Vatican's doctrinal office and the pope's predecessors on the issue.
"Homosexuals have a right to be a part of the family. They're children of God and have a right to a family. Nobody should be thrown out, or be made miserable because of it," Pope Francis said in a documentary film, Francesco, released on Octobe 21st in Europe, set to premiere on Sunday in North America. 
"What we have to create is a civil union law. That way they are legally covered," the pope said. "I stood up for that."
Remember at least two things here: first, the pope, according to Roman Catholic dogma is still not merely the spiritual head of the church but the political head of the world as well. So you can't give the pope wiggle room as they he were some lame 2 Kingdom theologian from southern California, as if he didn't think the claims of Christ reach into the political realm, and here's a bone for the wolves howling at the door. No, the Roman Pontiff is supposed to be the Christ's chief political representative on earth. So this cannot be anything other than surrender by the Roman Church. 
And this leads to the second thing which is that the Roman Catholic Church really is in the process of surrendering to every -ism that currently afflicts the West. There are still some stalwart exceptions out there, but the illusion that some evangelicals have had that Roman Catholicism or Eastern Orthodoxy are some how safe havens from crazy town is just a farce. 
A reminder that all of the talks from this year's Fight Laugh Feast conference: Weapons for This War are up in the Club Member Portal, and if you're not already a club member, what are you waiting for? Go to fightlaughfeast.com and register today and get access to all of the talks: Douglas Wilson, George Grant, David Bahnsen, Jeff Durbin, Glenn Sunshine, and more. Also, if you want to rock your Fight Laugh Feast bona fides visit rowdychristian.com for shirts, hats, hoodies, postmill coffee, etc. Also: did you hear we started a new magazine? Four issues a year for forty bucks. https://flfnetwork.com/product/fight-laugh-feast-magazine/
Covid Deaths Plummet, NPR Admits with Tears in Their Eyes
https://www.npr.org/sections/health-shots/2020/10/20/925441975/studies-point-to-big-drop-in-covid-19-death-rates?fbclid=IwAR05ZITPv-2i3yqhC5Jb_aSlZbO6HzSWtKTCU98AJNwx1B4QlWUDg-aeayk
Two new peer-reviewed studies are showing a sharp drop in mortality among hospitalized COVID-19 patients. The drop is seen in all groups, including older patients and those with underlying conditions, suggesting that physicians are getting better at helping patients survive their illness.
"We find that the death rate has gone down substantially," says Leora Horwitz, a doctor who studies population health at New York University's Grossman School of Medicine and an author on one of the studies, which looked at thousands of patients from March to August. 
The study, which was of a single health system, finds that mortality has dropped among hospitalized patients by 18 percentage points since the pandemic began. Patients in the study had a 25.6% chance of dying at the start of the pandemic; they now have a 7.6% chance.
Horwitz and her colleagues looked at more than 5,000 hospitalizations in the NYU Langone Health system between March and August. They adjusted for factors including age and other diseases, such as diabetes, to rule out the possibility that the numbers had dropped only because younger, healthier people were getting diagnosed. They found that death rates dropped for all groups, even older patients by 18 percentage points on average.
Doctors around the country say that they're doing a lot of things differently in the fight against COVID-19 and that treatment is improving. "In March and April, you got put on a breathing machine, and we asked your family if they wanted to enroll you into some different trials we were participating in, and we hoped for the best," says Khalilah Gates, a critical care pulmonologist at Northwestern Memorial Hospital in Chicago. "Six plus months into this, we kind of have a rhythm, and so it has become an everyday standard patient for us at this point in time."
Doctors have gotten better at quickly recognizing when COVID-19 patients are at risk of experiencing blood clots or debilitating "cytokine storms," where the body's immune system turns on itself, says Amesh Adalja, an infectious disease, critical care and emergency medicine physician who works at the Johns Hopkins Center for Health Security.
Department of Justice Files Antitrust Lawsuit Against Google
https://www.justice.gov/opa/pr/justice-department-sues-monopolist-google-violating-antitrust-laws
Today, the Department of Justice — along with eleven state Attorneys General — filed a civil antitrust lawsuit in the U.S. District Court for the District of Columbia to stop Google from unlawfully maintaining monopolies through anticompetitive and exclusionary practices in the search and search advertising markets and to remedy the competitive harms. The participating state Attorneys General offices represent Arkansas, Florida, Georgia, Indiana, Kentucky, Louisiana, Mississippi, Missouri, Montana, South Carolina, and Texas.
"Today, millions of Americans rely on the Internet and online platforms for their daily lives.  Competition in this industry is vitally important, which is why today's challenge against Google — the gatekeeper of the Internet — for violating antitrust laws is a monumental case both for the Department of Justice and for the American people," said Attorney General William Barr. "Since my confirmation, I have prioritized the Department's review of online market-leading platforms to ensure that our technology industries remain competitive.  This lawsuit strikes at the heart of Google's grip over the internet for millions of American consumers, advertisers, small businesses and entrepreneurs beholden to an unlawful monopolist.
 "As with its historic antitrust actions against AT&T in 1974 and Microsoft in 1998, the Department is again enforcing the Sherman Act to restore the role of competition and open the door to the next wave of innovation—this time in vital digital markets," said Deputy Attorney General Jeffrey A. Rosen.
What are Antitrust Laws?
Antitrust laws are statutes developed by governments to protect consumers from predatory business practices and ensure fair competition.
Antitrust laws are applied to a wide range of questionable business activities, including market allocation, bid rigging, price fixing, and monopolies.
Core U.S. antitrust law was created by three pieces of legislation: the Sherman Anti-Trust Act of 1890,1 the Federal Trade Commission Act,2 and the Clayton Antitrust Act.3
Without going into it here, the government's job is not to play God and sometimes that means letting businesses get really big which enables them to throw their weight around the market some, and at the same time, the government must require equal weights and measures, truth-telling, and honest dealings in the market. At the same time, once the government has taken up a very active referee position in the markets, it takes a lot of wisdom to try to get the refs back to the sidelines where they belong. Frequently the government's attempt to "help" competition in the markets is like that homestyle hair cut where you keep trimming on one side to make it even with the other and before you know it, junior doesn't have any bangs.
This is Toby Sumpter with Crosspolitic News. Remember to send us stories and articles that you think we should cover to news at crosspolitic dot com. You can find this and all of our shows at Crosspolitic.com or on our app, which you can download at your favorite app store, just search "Fight Laugh Feast". Support Rowdy Christian media, and become a Fight Laugh Feast Club Member and for as long as the CrossPolitic gods smile upon the land, get your very own Fight Laugh Feast t-shirt and live and archive access to all the talks at our first annual Fight Laugh Feast Conference. Become a member now at fightlaughfeast.com.