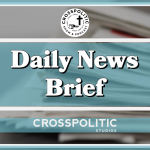 This is Toby Sumpter with your CrossPolitic Daily News Brief for Thursday, October 8, 2020.
Today you will hear about hundreds of Orthodox Jews protesting more Cuomo tyranny, the Great Barrington Declaration from thousands of epidemiologists, Trump extols the glories of Regeneron and tweets Gabe Rench's arrest video, and Moscow, Idaho continues to flail in response to Psalm Singing. 
Remember: If you come across a news story you think we might need to cover, please send it to: news at crosspolitic dot com. This is a great way to share articles and stories with us that may end up in our daily or weekly shows: news at crosspolitic dot com
From our News Inbox:
https://www.foxnews.com/us/nyc-orthodox-jewish-community-protests-new-state-mandated-coronavirus-lockdowns
Hundreds of members of the Borough Park Orthodox community took to the streets Tuesday night defying orders to disperse and lighting a fire to burn masks in protest of new state-mandated restrictions imposed on area synagogues, schools and non-essential businesses over a COVID-19 surge.
Audio Clip: 0:15-0:21 
Governor Cuomo insists that the restrictions are not targeting religious gatherings, it just so happens that religious gatherings are one of the hot spots for the virus to spread: 
Audio Clip: 01:36 – 1:50A reminder that all of the talks from this year's Fight Laugh Feast conference: Weapons for This War are up in the Club Member Portal, and if you're not already a club member, what are you waiting for? Go to fightlaughfeast.com and register today and get access to all of the talks: Douglas Wilson, George Grant, David Bahnsen, Jeff Durbin, Glenn Sunshine, and more. Next year's conference has been scheduled for October 14-16 back in Franklin, TN again. Next year's theme is Politics of Sex. More information will be coming out soon, but mark the dates now. In the meantime, check out this year's talks.
From our News inbox:
The Great Barrington Declaration is a statement that has now been signed by 3,781 Medical and Public Health Scientists and 6, 406 Medical Practitioners as well as 94,000 others from the general public. 
"As infectious disease epidemiologists and public health scientists we have grave concerns about the damaging physical and mental health impacts of the prevailing COVID-19 policies, and recommend an approach we call Focused Protection. 
Coming from both the left and right, and around the world, we have devoted our careers to protecting people. Current lockdown policies are producing devastating effects on short and long-term public health. The results (to name a few) include lower childhood vaccination rates, worsening cardiovascular disease outcomes, fewer cancer screenings and deteriorating mental health – leading to greater excess mortality in years to come, with the working class and younger members of society carrying the heaviest burden. Keeping students out of school is a grave injustice… 
Fortunately, our understanding of the virus is growing. We know that vulnerability to death from COVID-19 is more than a thousand-fold higher in the old and infirm than the young. Indeed, for children, COVID-19 is less dangerous than many other harms, including influenza. 
As immunity builds in the population, the risk of infection to all – including the vulnerable – falls. We know that all populations will eventually reach herd immunity – i.e.  the point at which the rate of new infections is stable – and that this can be assisted by (but is not dependent upon) a vaccine. Our goal should therefore be to minimize mortality and social harm until we reach herd immunity. 
The most compassionate approach that balances the risks and benefits of reaching herd immunity, is to allow those who are at minimal risk of death to live their lives normally to build up immunity to the virus through natural infection, while better protecting those who are at highest risk. We call this Focused Protection. 
Adopting measures to protect the vulnerable should be the central aim of public health responses to COVID-19. By way of example, nursing homes should use staff with acquired immunity and perform frequent PCR testing of other staff and all visitors. Staff rotation should be minimized. Retired people living at home should have groceries and other essentials delivered to their home. When possible, they should meet family members outside rather than inside. A comprehensive and detailed list of measures, including approaches to multi-generational households, can be implemented, and is well within the scope and capability of public health professionals. 
Those who are not vulnerable should immediately be allowed to resume life as normal. Simple hygiene measures, such as hand washing and staying home when sick should be practiced by everyone to reduce the herd immunity threshold. Schools and universities should be open for in-person teaching. Extracurricular activities, such as sports, should be resumed. Young low-risk adults should work normally, rather than from home. Restaurants and other businesses should open. Arts, music, sport and other cultural activities should resume. People who are more at risk may participate if they wish, while society as a whole enjoys the protection conferred upon the vulnerable by those who have built up herd immunity.
FLF Magazine: We unveiled the brand-new Fight Laugh Feast Magazine at our recent conference: Our Fight Laugh Feast Magazine will be a quarterly issue that packs a punch like a 21 year Balvenie, no ice. We don't water down our theology, why would we water down our scotch? Order a yearly subscription for yourself and then send a couple yearly subscriptions to your friends who have been drinking luke-warm evangelical cool-aid. Every quarter we promise quality food for the soul, wine for the heart, and some Red Bull for turning over tables. Our magazine will include cultural commentary, a Psalm of the quarter, recipes for feasting, laughter sprinkled throughout the glossy pages, and more. Annual subscriptions are $40 – that's for four issues. So sign up and enjoy our Fight Laugh Feast theme park. 
https://flfnetwork.com/product/fight-laugh-feast-magazine/
President Trump released a video on Wednesday extolling the medicine Regeneron as the cause of his very quick recovery. 
Audio clip 0:45-2:13, 3:10-4:02
Regeneron's website says: We are using our end-to-end antibody technologies to develop REGN-COV2*, our novel anti-viral antibody cocktail that is being studied for its potential both to treat people with COVID-19 and to prevent SARS-CoV-2 infection. Our COVID-19-related discovery efforts started in early 2020, when we produced hundreds of virus-neutralizing antibodies in our genetically-engineered mice and identified similarly-performing antibodies from human COVID-19 survivors. By June, we had moved the two potent antibodies that form REGN-COV2 into cell production lines for large-scale manufacturing purposes and begun clinical trials.
*REGN-COV2 is an investigational medicine, and its safety and efficacy have not been fully evaluated by any regulatory authority.
REGN-COV2 is currently being studied in four late-stage clinical trials: two Phase 2/3 trials for the treatment of hospitalized and non-hospitalized ("ambulatory") COVID-19 patients, the open-label, Phase 3 RECOVERY trial of hospitalized COVID-19 patients in the UK, and a Phase 3 trial for the prevention of COVID-19 in uninfected people who are at high-risk of exposure to a COVID-19 patient (such as the patient's housemate). The Phase 3 prevention trial is being jointly conducted with the National Institute of Allergy and Infectious Diseases (NIAID), part of the National Institutes of Health (NIH). The safety of REGN-COV2 is also being evaluated in a Phase 1 healthy volunteer study.
President Trump is obviously feeling better because he retweeted Gabe Rench's arrest video early Wednesday morning: 
https://twitter.com/realDonaldTrump/status/1313823809150087168?s=20
Audio clip: 0:00-0:35
I wonder if this is the first time a President of the United States as shared a Heinrich Schutz psalm setting. Some always trust in chariots and others trust in horses, but recall our Lord and God, strong past our own resources.  
Trump shared the video with the words in all caps: DEMS WANT TO SHUT YOUR CHURCHES DOWN, PERMANENTLY. HOPE YOU SEE WHAT IS HAPPENING. VOTE NOW!
Speaking of Psalm Singing in Moscow, the pastors of Christ Church announced another public protest psalm sing for Wednesday afternoon. This caused the City of Moscow to release a statement notifying the public that they were aware that the event was planned and recommending that the public stay clear of the area. The statement claims that there has been a significant increase in daily confirmed COvid-19 cases in the county, a while 96 new cases. After claiming that this makes Latah County "Critical Risk Level," the City clarified in the exploding comments section of their Facebook post that "Due to the other factors, test return time, and hospitalizations, we are at a minimal risk overall which we're working to maintain by being cautious and following CDC and Public Health guidelines." Latah County still has had maybe one hospitalization and zero deaths. 
This is Toby Sumpter with Crosspolitic News. Remember to send us stories and articles that you think we should cover to news at crosspolitic dot com. You can find this and all of our shows at Crosspolitic.com or on our app, which you can download at your favorite app store, just search "Fight Laugh Feast". Support Rowdy Christian media, and become a Fight Laugh Feast Club Member and for as long as the CrossPolitic gods smile upon the land, get your very own Fight Laugh Feast t-shirt and live and archive access to all the talks at our first annual Fight Laugh Feast Conference. Become a member now at fightlaughfeast.com.