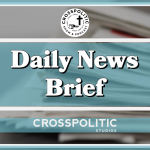 This is Toby Sumpter with your CrossPolitic Daily News Brief for Thursday, September 10, 2020.
Only 56 days until the pandemic is over. 22 days until the Fight Laugh Feast Conference in Nashville. 
Today you will hear how a COVID testing is coming along, the Atlantic's anonymous defamation of the president, why antifa riots don't spread COVID-19, a 7th grade boy has been suspended for flashing zombie weapons, the Oscars go full racist, and more. 
If you come across a news story you think we might need to cover, please send it to: news at crosspolitic dot com. This is a great way to share articles and stores with us that may end up in our daily or weekly shows: news at crosspolitic dot com
This story is from a listener sent to our news inbox:
https://www.wthr.com/article/news/nation-world/shelby-county-woman-died-6-months-ago-letter-covid-19-positive/522-bcd8c6e1-5d75-4e07-af99-ed7babed909b
According to WTHR out of Tennessee, a woman who died in February just recently received positive Covid-19 test results. 
A Shelby County man, Troy Whitington, says he was surprised to receive the letter from the Shelby Health Department and even more confused when the letter claimed that his mother was positive for COVID-19 and needed to isolate. 
That would be difficult, according to her obituary: the 66-year-old died February 16th. That was weeks before the first case of COVID-19 was detected in Shelby County.
"It's been 6 months, almost 7, since she passed away. There was no testing that was done at that time. On her death certificate it was stated she died, what the cause of death was, and it was not COVID-19. It was COPD," said Whittington.  
When Whittington called the Shelby Health Department to inquire about the letter, he was told that his mother took the test on June 20th, which was impossible since she was cremated. 
Don't worry, everyone, mail in voting will be a cinch. 
https://disrn.com/news/bolton-says-claim-that-trump-disparaged-fallen-us-soldiers-is-simply-false/
You may have caught wind of a story breathlessly published in the Atlantic last Thursday alleging that Trump cancelled a trip to an American cemetery in France last year because it was "filled with losers." The story and that alleged quotation were provided helpfully by anonymous sources. 
John Bolton, the former US National Security Advisor, who released a book earlier this year entitled "The Room Where it Happened," in which Trump and his presidency are criticized roundly, nevertheless debunked the anonymous claims of the Atlantic story. "According to what that article said, the president made disparaging remarks about soldiers and people buried in the cemetery in connection with the decision for him not to go to the ceremony that was planned that afternoon, and that was simply false," said Bolton. Bolton claims the cancellation of the trip was entirely over the weather conditions. 
Remember, Christians, anonymous testimony is not credible testimony. An anonymous tip might lead to go find actual evidence or a real testimony, but anonymous testimony is not itself true or reliable testimony. Why? Because it cannot be cross-examined. Biblical law requires penalties for false testimony. First off, the Bible requires two or three witnesses to establish any matter (Dt. 19:15). But then it also requires that witnesses be examined and cross examined. "If a false witness rise up against any man to testify against him that which is wrong… the judges shall make diligent inquisition; and behold, if the witness be a false witness, and hath testified falsely against his brother; then shall ye do unto him, as he had thought to have done unto his brother" (Dt. 19:16, 18-19). 
So in this case, if there are no credible witnesses, the Atlantic should not have run the story, and without credible proof, the Atlantic is bearing false witness against the president. And this is why we have defamation and libel laws, which Nick Sandmann is still taking advantage of. 
This is why we need Weapons for this War. Which is why we want to invite you to our first annual Fight Laugh Feast Conference in Nashville October 1-3. We've put together a package that is full of feasting and psalm singing, hearty fellowship, and a line up of speakers Douglas Wilson, George Grant, Glenn Sunshine, Rod Martin, myself, and Jeff Durbin and David Bahnsen – also a special Darren Doane after hours meet and greet. All committed to showing you how God's Word is a sharp sword to take with you into every battle, from politics to business to education and family and much more. Please join us this October 1st through the 3rd as we seek to build a rowdy Christian culture for God's glory and our good. Go to Fightlaughfeast dot com and register today.
https://www.businessinsider.com/nyc-contact-tracers-not-asking-people-attend-george-floyd-protest-2020-6
In recent headlines, some media outlines have been trying to pin hundreds of thousands of dollars in health costs and COVID cases emanating from the Sturgis, South Dakota motorcycle rally. Could there be any coincidence that Kristi Noem, the state's Governor, was one of the only to refuse a statewide lockdown on constitutional grounds? 
Meanwhile, other headlines have repeatedly insisted that no increase of the virus has been detected in any of the antifa riots. Period. Full stop. Why? Well, at least one reason is because much contact tracing has avoided asking that question. 
Business Insider reported back on June 15 that New York's team of contact-tracers were instructed not to ask if their respondents had attended any protests. Because then we might have information we have to deal with. Business Insider's bullet point helpfully summarized: "The policy marks a balanced approach between public health ad respecting public outrage about police violence against Black Americans."
Balanced approach? Heh. Heads I win, tails you lose. Very balanced. 
And what about all the violence that these protests are doing against black Americans. Pretty sure these riots have killed more black Americans than police do. 
https://kdvr.com/news/problem-solvers/12-year-old-suspended-over-toy-gun-seen-in-virtual-class/?fbclid=IwAR0b_Tu1YBgwlkBNgXh5YyTapuoDxLLjTGa9cWINJn0hhkOFthpOrxDAfKQ
In Colorado Springs, Colorado, a 12 year old boy has been suspended for having a nerf gun. For having a toy gun he never brought to school. On Thursday, Aug. 27th, the seventh grader was attending an online art class when a teacher saw Isaiah Elliott flash a bright orange and neon green handgun across the screen. In case there was any question, the gun also had the words "Zombie Hunter" emblazoned on its side. 
The teacher notified the principle who suspended Isaiah for five days and called the El Paso County Sheriff's Office to conduct a welfare check on the boy, without even calling his parents. 
The sheriff's report actually confirms that the teacher said she thought it was a toy gun but was not certain. 
Isaiah's parents, Dani and Curtis Elliott told FOX31 their son could return to Grand Mountain School on Friday, Sept. 4, but they intend to transfer him to a charter or private school instead.
https://www.latimes.com/entertainment-arts/movies/story/2020-09-08/academy-oscars-inclusion-standards-best-picture?_amp=true&__twitter_impression=true&fbclid=IwAR1eNTtN4NHKAeNWSHn6QdMqpl-cELh4-C4pJLI2sN83dSSMFcITEEVfwFU
The Los Angeles Times reports that on Tuesday the Film Academy issued new guidelines for Oscar eligibility.
According to the new guidelines, to be eligible for best picture, a film must meet at least two standards across four categories: "Onscreen Representation, Themes and Narratives," "Creative Leadership and Project Team," "Industry Access and Opportunities" and "Audience Development." Within each category are a variety of criteria involving the inclusion of people in underrepresented groups, including women, people of color, LGBTQ+ people and those with cognitive or physical disabilities. (Other Oscar categories will not be held to these same standards, but the contenders for best picture typically filter down to other feature-length categories.)
Previously, the only standards to qualify for best picture involved a film's running time (over 40 minutes) and specifics about how, where and when it's screened in a public venue
Some recent best picture nominees that featured almost exclusively white and male casts — including the World War I film "1917″ and the gangster epic "The Irishman" — might have had difficulty meeting the new onscreen standards. Those standards require one of the following: at least one of the lead actors or significant supporting actors is from an underrepresented racial or ethnic group; at least 30% of all actors in secondary and more minor roles are from certain underrepresented groups; or the main storyline, theme or narrative is centered on an underrepresented group.
These new guidelines will go into effect in 2024. 
Meanwhile, President Trump has been nominated for the 2021 Nobel Peace Prize by a member of the Norwegian parliament. Christian Tybring-Gjedde has nominated the president again, and this time he cites the president's work in the Israel-United Arab Emirates peace deal. There were 318 candidates for the 2020 Peace Prize. 
"For his merit, I think he has done more trying to create peace between nations than most other Peace Prize nominees," Tybring-Gjedde, a four-term member of Parliament who also serves as chairman of the Norwegian delegation to the NATO Parliamentary Assembly, told Fox News in an exclusive interview." — Fox News
Upon hearing the news, several liberals were seen running around with their hair lit on fire. 
Finally a Patriotic Poem from a Listener – also from our news bag inbox:
The folks down in Michville liked freedom a lot.
The Gretch who craved power really did not.
Michville was rich with cars, farms, fruit and lakes.
The roads weren't the best, and sometimes dams break.
But the people of Michville loved their fair state,
They worked hard, played hard, and thought it was great.

The Gretch, in her mansion, saw peons be free.
"That can't be quite right", said herself to she.
So she grasped at more power to run all their lives.
"A flu!" She cried out, "will kill husbands and wives!
Stay in your house! Close up your shops! 
If you don't, I will threaten to call out the cops!
Don't ride in a boat or plant any flowers! 
Don't go see your grandma! I have all the power
To say all the things you can and can't do.
It's for your own safety, you dumb peasant, you.
You'd better not protest, or cut someone's hair!
(But, I can do all things) You'd better not dare.
To save just one life, the mask ain't a 'maybe'.
And, of course, for health, you can still kill your baby.
I'm protecting you all with my lectures and tomes.
('Cept for the elderly in nursing homes.)."

The people of Michville have had it with Gretch.
Her hypocrite orders will make them all wretch.

Off with the mask! Open the shops! "Her orders aren't laws!", say all the good cops!
She's under law, too. The Constitution's not dead!
She can't just do all things that enter her head.
She's sworn to uphold it. Her power is given
By the people she serves, and by God Who's in heaven.

Stop living in fear of the lies you've been told.
Be willing to research, to live, and be bold.
It's fear that allows Gretch to plow on her way:
Fear of Trump, fear of flu, fear of what others say.
Yet, the Lord Who made all is the One we should fear.
When you're right before Him, all else is made clear.
This is Toby Sumpter with Crosspolitic News. Remember to send us stories and articles that you think we should cover to news at crosspolitic dot com. You can find this and all of our shows at Crosspolitic.com or on our app, which you can download at your favorite app store, just search "Fight Laugh Feast". Support Rowdy Christian media, and become a Fight Laugh Feast Club Member and for as long as the CrossPolitic gods smile upon the land, get your very own Fight Laugh Feast t-shirt and access to tons of extended discussions with George Grant, Sho Baraka, David French, Voddie Baucham, C.R. Wiley, Tom Ascol, Erick Erickson, Maj Toure, Doug and Nancy Wilson, Walter Williams, Gary Demar, and our very own Worldview Shotgun Series. You also get $100 off your registration for our first annual Fight Laugh Feast Conference, where we hope to meet many of you in Nashville, TN October 1st through the 3rd. Go to fightlaughfeast.com to register now. Have a great day. https://flfnetwork.com/coming-soon/