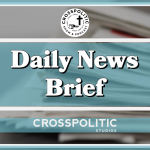 This is Toby Sumpter with your CrossPolitic Daily News Brief for Thursday, September 24, 2020.
Today you will hear about Trump promising to save more babies, millions of COV1D dollars by jet engine parts, Seattle is adding crack to their drunken frenzy, Capital Hill Baptist flexes, Rush Limbaugh has a word for the Senate, a CDC Halloween, Bloomberg is buying votes, and will they put another man on the moon?
Remember: If you come across a news story you think we might need to cover, please send it to: news at crosspolitic dot com. This is a great way to share articles and stories with us that may end up in our daily or weekly shows: news at crosspolitic dot com
https://thefederalist.com/2020/09/23/trump-to-sign-born-alive-executive-order-protecting-premature-babies-and-abortion-survivors/?fbclid=IwAR0jXCmqGBqZKBBBjJmLZAvOLIFJEa_WfqEcy1PQV5flqgKS8B3U-7_TDV8#.X2umEV3f_FI.facebook
President Donald Trump announced in a pre-recorded video at the National Catholic Prayer Breakfast Wednesday morning that he plans to sign a "born alive" executive order, ensuring medical care for all babies, including those born prematurely or after an attempted abortion.
[Audio clip: https://www.facebook.com/WhiteHouse/videos/3633916199975757]
 https://www.washingtonpost.com/business/2020/09/22/covid-funds-pentagon/
A $1 billion fund Congress gave the Pentagon in March to build up the country's supplies of medical equipment has instead been mostly funneled to defense contractors and used to make things such as jet engine parts, body armor and dress uniforms.
The Cares Act, which Congress passed earlier this year, gave the Pentagon money to "prevent, prepare for, and respond to coronavirus." But a few weeks later, the Defense Department began reshaping how it would award the money in a way that represented a major departure from Congress's intent.
DOD officials contend that they have sought to strike a balance between boosting American medical production and supporting the defense industry, whose health they consider critical to national security. The Pentagon, which as of 2016 employed more than 156,000 people working in acquisitions alone, also has lent its expertise to the Department of Health and Human Services as it seeks to purchase billions of dollars in needed medical equipment.
"We are thankful the Congress provided authorities and resources that enabled the [executive branch] to invest in domestic production of critical medical resources and protect key defense capabilities from the consequences of COVID," Ellen Lord, the Pentagon's undersecretary for acquisition and sustainment, said in a statement. "We need to always remember that economic security and national security are very tightly interrelated and our industrial base is really the nexus of the two."
 https://www.seattletimes.com/opinion/why-seattle-educators-demand-cut-to-police-budget/
Seattle's Education Association representative assembly — the union body that represents Seattle's teachers, nurses, librarians, instructional assistants, office professionals and educational support staff — has overwhelmingly passed seven resolutions in solidarity with the movement for Black lives.
Building on that legacy, educators took a bold new step to call for a 50% cut from the $409 million already budgeted for the Seattle Police Department this year. Seattle educators now understand the words of Michelle Alexander, leading human-rights advocate and author of "The New Jim Crow," who recently wrote:
"After decades of reform, countless commissions and task forces, and millions of dollars poured into 'smart on crime' approaches, the police behave with about as much brutality today as they did in 1966 … More than 95% of arrests every year are for nonviolent offenses like loitering, fare evasion and theft."
Yet the resolution passed by Seattle's educators wasn't simply about shrinking the size and malignancy of the police but about re-imagining justice, education, public safety and our society. The resolution also demands that,
"Seattle's Mayor and City Council must protect and expand investments to make our communities safe, prioritizing community-led health and safety strategies. Full access to affordable housing, community-based anti-violence programs, trauma services and treatment, universal child care and free public transit are just a few of the non-police solutions to social problems."
City council voted to override Seattle Mayor Jenny Durkan's recent veto of cuts to the police department's remaining 2020 budget by a 7-2 vote, with the mayor issuing a statement after the fact indicating she might not adhere to all of the provisos laid out in the council's proposal.
"We cannot look away from this and we can no longer accept the status quo if we truly believe that Black lives matter," said Council President Lorena Gonzalez after expressing that she would be voting to override the mayor's veto.
https://www.foxnews.com/us/andre-taylor-seattle-pimp-not-this-time
Next up in the category "You won't believe this except it's 2020 so you probably will"…
Seattle is paying an ex-pimp $150,000 a year to act as the city's "street czar" and offer "alternatives to policing" after protests morphed into the no-police-allowed Capitol Hill Occupied Protest.
Taylor was a critic of the Capitol Hill Occupied Protest and encouraged CHOP protesters to ask the city for money before agreeing to leave the occupied zone.
"You gotta get something," he told protesters in a recorded conversation, according to the Seattle Times. "Let me make that happen for you, and then I can bring that back to you. I don't know, we'll ask for $2 million. They might give us $1 million, but let's ask for it. Because the reason why we're holding that space is not only for George Floyd but for the millions of George Floyds."
Taylor's July contract, first reported on by PubliCola, is with the city's Department of Neighborhoods. It designates him as a consultant hired to "act as an adviser to the City of Seattle and 'street czar' community liaison."
"Mayor Durkan believes that we have to make deep investments in community – one of the key demands of the Black Lives Matter protests," Durkan spokesperson Kelsey Nyland told The Seattle Times in a statement.
 https://www.washingtonpost.com/religion/2020/09/22/dc-mayor-bowser-sued-church-coronavirus-covid-restrictions/
A large, prominent evangelical Capitol Hill church late Tuesday filed a legal challenge to the District, alleging the city government is violating the First Amendment by facilitating and tolerating massive anti-racism protests but forbidding worship services — indoor or outdoor — of more than 100 because of covid-19.
The complaint filed by the 850-member Capitol Hill Baptist Church is the first legal challenge by a religious organization to the capital's coronavirus restrictions. There have been two others in the region — one in Virginia and one in Maryland — since quarantine measures began, and final decisions are pending in both.
The suit, filed in U.S. District Court, challenges the city's limits on worship generally, but asks specifically only for the right to meet outdoors. It notes that Bowser appeared at a huge anti-racism rally in June, that the city police have been assigned to such events and that her office has not enforced its own ban on outdoor gatherings of more than 50 people.
The 26-page complaint focuses on legally contrasting the city's Phase 2 guidelines for houses of worship, which allows services and activities for up to 100 people or up to 50 percent of the building's capacity, whichever is fewer, with what it sees as permissiveness for the large public rallies that took place this summer and Bowser's comments in support of large Black Lives Matter-related events.
Looking forward to seeing everyone who registered for the Fight Laugh Feast Conference in Franklin – just outside Nashville – next week! Registration is now officially closed. We are so thankful for everyone who is coming. If you registered for the conference, you should have an email in your inbox with details about hotels nearby and schedule and itinerary for the conference. See you soon! But wait for all the rest of you: we will be livestreaming and making all conference talks available to club members. Talks from Douglas Wilson, George Grant, Glenn Sunshine, David Bahnsen, Jeff Durbin, me, and live show with the whole Fight Laugh Feast Network. If you're already a member look for links, if you're not already a member, what are you waiting for? Go to fightlaughfeast.com.
 https://thehill.com/homenews/media/517408-rush-limbaugh-encourages-senate-to-skip-hearings-for-trumps-scotus-nominee
Rush Limbaugh suggests the Senate just skip the tradition of holding hearings for the Supreme Court pick.
https://fox28spokane.com/halloween-what-washington-and-idaho-governors-are-saying-about-trick-or-treating/
SPOKANE, Wash. – It's the question on the minds of parents and every child, is trick-or-treating going to happen this year? For those in Washington, there isn't a clear answer yet. Gov. Jay Inslee's office said the governor is discussing with health officials and a decision has not been made.
However, if you live in Idaho, it's a different story. Gov. Brad Little's office said no restrictions are being put on trick-or-treating, but the state does want people to follow the CDC's guidelines when planning their activities
Little's office said carving pumpkins with family members is a low risk activity, but going door-to-door for candy is a high risk activity. The CDC says the best practice for going out is maintaining a 6-foot distance and wearing a mask.
Now for those of you passing out candy at home, Seattle Children's Hospital says the best thing you can do is put candy in pre-packaged bags instead of letting kids pick their own candy. Doing so will help minimize cross-contamination.
https://www.cdc.gov/coronavirus/2019-ncov/daily-life-coping/holidays.html#halloween
  https://twitter.com/thehill/status/1308652340501770242?s=21 
Billionaire Michael Bloomberg has reportedly raised more than $16 million in an effort to help convicted felons in Florida register to vote. 
The Florida Rights Restoration Coalition estimated Bloomberg's fundraising push has already paid off monetary obligations for 32,000 felons, Axios reported. 
Florida passed a law in 2018 reinstating voting rights for felons that dictated they could register only if they pay all fines, fees and restitution — sometimes totaling more than $1,000 — owed to the government. 
The 11th U.S. Circuit Court of Appeals, which covers Florida, last week ruled to uphold the law. 
 https://twitter.com/rainmaker1973/status/1308650279248764928?s=21
NASA on Monday revealed its latest plan to return astronauts to the Moon in 2024, and estimated the cost of meeting that deadline at $28 billion, $16 billion of which would be spent on the lunar landing module.
Congress, which faces elections on November 3, will have to sign off on the financing for a project that has been set by President Donald Trump as a top priority. The $28 billion would cover the budgetary years of 2021-25. 
In a phone briefing with journalists Monday on the Artemis mission to return human beings to the Moon, NASA administrator Jim Bridenstine noted that "political risks" were often the biggest threat to NASA's work, especially before such a crucial election.
Barack Obama cancelled plans for a manned Mars mission, after his predecessor spent billions of dollars on the project.
This is Toby Sumpter with Crosspolitic News. Remember to send us stories and articles that you think we should cover to news at crosspolitic dot com. You can find this and all of our shows at Crosspolitic.com or on our app, which you can download at your favorite app store, just search "Fight Laugh Feast". Support Rowdy Christian media, and become a Fight Laugh Feast Club Member and for as long as the CrossPolitic gods smile upon the land, get your very own Fight Laugh Feast t-shirt and live and archive access to all the talks at our first annual Fight Laugh Feast Conference. Become a member now at fightlaughfeast.com.