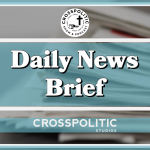 This is Toby Sumpter with your CrossPolitic Daily News Brief for Tuesday, August 18, 2020.
Today you will hear about Trump going postal, dead people are voting again, Fortnite goes to war with Apple and Google, Facebook sometimes sends Democrats to timeout, and Ted Cruise has thoughts about US dealings with Iran. 
DNC Goes Virtual
The Democratic National Convention started Monday, packed full of disgruntled Republicans, or at least John Kasich.  The originally scheduled Milwaukee convention has been transformed into a virtual convention, with speeches being delivered from various locations across the country. In addition to former Republican Presidential candidate John Kasich, Michelle Obama and Former Democratic Presidential candidate Bernie Sanders had the microphone Monday night. 
Has Trump Gone Postal?
You might be wondering what all the fuss in the news about the US Postal Service is about. Former President Barack Obama recently accused President Trump of trying to "actively kneecap" the Postal service in an effort to suppress mail-in voting. For some reason many democrats have been particularly giddy about the idea of mass mail-in voting. And please note, this is not the same thing as absentee voting, where you request a ballot, it is sent to you, and then you send it in. That sort of thing has been done routinely for many years. But the idea that every eligible voter might receive a ballot to mail in, is quite different and raises a number of legitimate questions. Like, for example, how do we know if the ballot returned was returned by the right person? How do we know that person has not moved, voted twice, or maybe even died? 
Meanwhile, the US Postal Service has lost 78 Billion since 2007. It is not exactly in tip-top shape. Since the advent of email, the need for letters has dropped dramatically. And then comes the Coronapanic. In the 2 Trillion dollar CARES Act, congress gave the Postal Service permission to borrow up to 10 Billion. Completely separately, 400 million was included in for the Election Assistance Commission.  Later, the House barely based another Coronavirus bill called HEROES Act which has not yet seen the light of day in the Senate. That bill earmarked 25 Billion as a full bailout gift to the Postal Service. Likewise, in the HEROES Act a few million was also earmarked for more Election Assistance. But again, the HEROES Act got stuck after the House passed it. 
But the US Postmaster has been busy doing his job. His name is Louis DeJoy (a major Republican donor and Trump supporter), but he started implementing changes to help the ailing postal service, including two particular pilot programs: the first is to implement an Expedited Street/Afternoon Sortation in order to cut down on overtime hours being paid. The second is the removal under utilized collection boxes and letter sorter machines. With the decline in sending letters, the collection boxes and letter sorter machines just aren't being used as much. They cost money to maintain and sorter machines take up a lot of space. 
Well, all of this is the backstory on the giddy Democrats wanting universal mail-in voting for the Presidential election while Trump and other Republicans have raised doubts and concerns. And then there's the Post Master doing his job and a stimulous bill held up in congress. Oh, and one more thing, in a couple of interviews Trump has apparently conflated all the money in the stimulus bills as related to funding mail in voting. Thus, adding to the blood in the water for the democrats. Trump is removing letter collection boxes, letter sorter machines, and won't approve the stimulus money for the Post Office. Clearly, he is preparing to destroy the ability of people to vote by mail. 
Well, he might be bungling some of the questions, and at points seems to be conflating universal voting with absentee voting, but the Post Office has delivered hundreds of millions of piece of mail every year and despite the random mistakes that are made from time to time, this looks like a lefty conspiracy theory this time. 
White House Chief of Staff Mark Meadows said on CNN Sunday that the removals of the collection boxes and letter sorting machines would be halted until after the election just so everybody can stop hyperventilating. He also clarified that the President doesn't have a problem with anybody voting by mail with an absentee ballot, but he opposes universal mail in ballots."
More from Byron York on this here:
https://www.washingtonexaminer.com/opinion/byron-yorks-daily-memo-whats-really-going-on-with-trump-and-the-post-office
Meanwhile, Michigan has announced that 10,694 of the state's 1.6 million absentee ballots for their August 4th primary have been rejected. 
https://disrn.com/news/michigan-rejects-846-mail-in-ballots-because-the-voter-was-dead/
Many thousands were rejected for arriving late or without signatures, but 846 of the ballots received were rejected because the voter was dead. 
Dead people and pets were among the nearly 500,000 rejected absentee ballots in Virgiania, while another quarter of a million met the same fate in Nevada's June primary. 
However, Kanye West's lawyer is going on the offensive saying that Democrats will have to prove that the Micky Mouse and Bernie Sanders signatures on his Wisconsin ballot petition are not real. 
This is why we need Weapons for this War. Which is why we want to invite you to our first annual Fight Laugh Feast Conference in Nashville October 1-3. We've put together a package that is full of feasting and psalm singing, hearty fellowship, and a line up of speakers committed to showing you how God's Word applies to politics, economics, business, education, creativity, marriage and family, and much more. We aren't abolishing history. We're going to dig deep. So please join us this October 1st through the 3rd as we build a rowdy Christian culture for God's glory and our good. Go to Fightlaughfeast dot com and register today.
Fortnite in Battle Royal with Apple & Google
Apple and Google both booted the blockbuster video game "fortnite" from their app stores last Thursday, after its mother company Epic Games, launched a new in-game payment system that bypassed both app stores' payment rules. The company's founder, Tim Sweeny, has been complaining about the 30% commissions charged by the app stores for years, and quickly filed two lawsuits in federal courts following the ejection from the app stores – accusing both platforms of monopolistic behavior – charging such high commissions that makes it difficult for competitors to emerge. Apple CEO was questioned last month during congressional anti-trust hearings about whether the company treats app developers equally, citing some lower commissions for app store sales from Amazon.com for example. 
Facebook Sometimes Disciplines Democrats
The Washington State Democratic Party Facebook Page got the temporary church discipline ban for about a month during June, the Wall Street Journal reports. Facebook has apparently crafted its' on policy for political ads, independent of the state's own ad disclosure rules. And as usual, the social media giant refused to answer questions about what part of the policy the Washington Democrats had violated. The gods do not answer direct questions like that. After a number of days, the gods did condescend to give two examples of ads that were considered violations. 
Ted Cruise Raise Alarms Over Obama-Era Nuclear Deal
Ted Cruise writes in Newsweek that perhaps the most pernicious part of the Obama-Biden Nuclear Deal with Iran was the provision that would allow Iran to begin purchasing billions of dollars of conventional weapons from countries like China and Russia. Senator Cruise writes to raise the alarm that it turns out those deals are already in motion. 
https://www.newsweek.com/we-need-invoke-un-snapback-iranbefore-its-too-late-opinion-1525424
This is Toby Sumpter with Crosspolitic News. You can find this and all of our shows at Crosspolitic.com or on our app, which you can download at your favorite app store, just search "Fight Laugh Feast". Our app is the only way to get In the Bullpen with Mark Dewey. Support Rowdy Christian media, and become a Fight Laugh Feast Club Member, and for a limited time you can get your very own Fight Laugh Feast t-shirt and access to tons of extended discussions with Sho Baraka, David French, Erick Erickson, Maj Toure, Biblical Parenting with Doug and Nancy Wilson, God and Government and End Times Eschatology with Gary Demar, Pastors and Politics with George Grant and C.R. Wiley and more, Proverbs with Me, and our very own Worldview Shotgun Series. You also get $100 off your registration for our first annual Fight Laugh Feast Conference, where we hope to meet many of you in Nashville, TN October 1st through the 3rd. Go to fightlaughfeast.com to register now. Have a great day. https://flfnetwork.com/coming-soon/