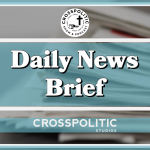 This is Toby Sumpter with your CrossPolitic Daily News Brief for Tuesday, December 15, 2020.
Today you will hear about the Electoral College voting, AG Bill Barr resigning, Florida reforming COVID testing, some dude in NYC going off, and Trump wishes America a Merry Christmas.
If you have a news story you think we might need to cover, please send articles and links to [email protected]
Psalm Sing in San Diego This Saturday
Psalm Sing in San Diego on Saturday 12/19 at 3pm at the Balboa Park fountain. Singing and gospel preaching hosted by The Response Church and Stone Mountain Media.
Electoral College Voted Monday
https://www.cnn.com/politics/live-news/electoral-college-vote-2020-biden-trump/
The meeting of electors is the next major step in the Electoral College process to affirm the general election results. Electors are required by law to vote for president and vice president on the first Monday after the second Wednesday in December, which this year was yesterday, Monday, December 14. It takes 270 electoral votes of the 538 available to become president. Joe Biden was certified the winner in 25 states and the District of Columbia, accounting for 306 electoral votes. Donald Trump was certified the winner in 25 states with a total of 232 electoral votes.
Attorney General Bill Barr Resigns
https://www.wsj.com/articles/attorney-general-william-barr-resigns-effective-dec-23-11607986828?mod=hp_lead_pos5
Trump tweeted: "Just had a very nice meeting with Attorney General Bill Barr at the White House. Our relationship has been a very good one, he has done an outstanding job! As per letter, Bill will be leaving just before Christmas to spend the holidays with his family…"
The president and Mr. Barr had grown distant more recently, with Mr. Trump fuming over a number of actions his attorney general took in the lead-up to the election and afterward, including the disclosure of extensive efforts that the nation's top law-enforcement official made for months to shield federal investigations into Hunter Biden from public view during the heated election campaign.
Mr. Barr said in a resignation letter that he would leave Dec. 23 and was "proud to have played a role in the many successes and unprecedented achievements you have delivered for the American people."
In a glowing letter, dated Monday, Mr. Barr said he gave Mr. Trump an update on the Justice Department's review of voter-fraud allegations in the 2020 election and said those allegations "will continue to be pursued."
Florida Trying Reform COVID Testing?
https://www.lewrockwell.com/2020/12/jon-rappoport/florida-forcing-labs-to-report-number-of-pcr-test-cycles-game-changer/?fbclid=IwAR0zXLzKGenUuDgd2qrvqhCIa65uFoic4_hpCZrfRBnfJTuvNE_BTBPXSwA
COVID testing labs never tell doctors or patients how the PCR test is run – this is the way the virus is directly detected. [1] This means the number of cycles is a secret.
A cycle is a step up in amplification of the tissue sample taken from the patient.
As even Tony Fauci has asserted, tests run at 35 cycles or above are useless. [1] [2] They're also misleading. The results tend to be positive, meaning the patient is "infected with the virus." But this is false.
However, as I've also reported, the CDC and the FDA recommend that the test should be run at up to 40 cycles. [1] [3] This is a direct hustle. It ensures false positives and higher COVID case numbers—used as justification for lockdowns.
Now, the state of Florida is doing something unheard of. It's demanding that labs report the "cycle threshold" for every test they run.
Here is the relevant wording in a release from the Florida governor, Ron DeSantis, and the state Department of Health, dated December 3, 2020 [4]:
"Cycle threshold (CT) values and their reference ranges, as applicable, must be reported by laboratories to FDOH via electronic laboratory reporting or by fax immediately."
"If your laboratory is not currently reporting CT values and their reference ranges, the lab should begin reporting this information to FDOH within seven days of the date of this memorandum."
We can assume there is only one reason for this order. The Florida governor and the Department of Health are aware that tests run at 35 cycles or higher are useless and misleading, and they want to stop this crime.
Imagine what happens if the trend of "new COVID cases" in Florida soon takes a sudden dip and keeps on falling—because labs are finally telling the truth. Because their deceptive test results are being rejected. The con will be exposed. And imagine other states following Florida's example.
e a few concerns. The term "cycle thresholds taken to be more or less 
Join the Fight Laugh Feast Club
If you're already a Fight Laugh Feast Club Member, you have access to all of the talks from the first Fight Laugh Feast conference, and if you're not a member yet, what's wrong with you. Support Rowdy Christian Media as we build a Christian media Network and encourage Christians to take the Lordship of Jesus to every corner of the universe. Become a fight laugh feast club member today, and get our new Fight Laugh Feast Tumbler with silver and platinum memberships. Go to Fightlaughfeast.com.
Politicians Stealing the Right to Earn a Living
https://twitter.com/stoolpresidente/status/1337453710822285316?s=20
Play Audio: 0:50-2:01
Fight Laugh Feast Merch & Magazine
If you're still doing some Christmas shopping visit rowdychristian.com for shirts, hats, hoodies, postmill coffee, etc. Also: did you hear we started a new magazine? Four issues a year for forty bucks. https://flfnetwork.com/product/fight-laugh-feast-magazine/
Trump Wishes America a Merry Christmas
https://rumble.com/vbppzj-mainstream-media-wont-share-president-trump-thanks-god-for-sending-his-son-.html
Play Audio: 1:15-3:17
This is Toby Sumpter with Crosspolitic News. You can find this and all of our shows at Crosspolitic.com or on our app, which you can download at your favorite app store, just search "Fight Laugh Feast". Support Rowdy Christian media, and become a Fight Laugh Feast Club Member and get your very own Fight Laugh Feast t-shirt and access to all the talks at our first annual Fight Laugh Feast Conference as well as many exclusive behind the scenes interviews with Voddie Bachaum, Tom Ascol, Erick Erickson, Sho Baraka, Douglas Wilson, David French, Gary Demar, Tom Ascol, Maj Toure as well as our very own Worldview Shotgun Series. Go to fightlaughfeast.com.