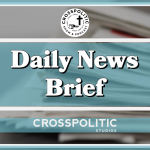 This is Toby Sumpter with your CrossPolitic Daily News Brief for Tuesday, December 22, 2020.
Today you will hear Canadians being arrested for ice skating outside, scientists examining a new strain of COVID 19 in the UK, Mayor DeBlasio goes full socialist, Black Ministry plead with Georgians not to vote for pro-abortion Senate candidates, and an 18 year old gets 4 months in prison for sinning against COVID protocols. 
If you have a news story you think we might need to cover, please send articles and links to [email protected] 
Now the Canadian Police are Arresting Kids For Ice Skating Outside
https://www.facebook.com/clint.senko/videos/10157498947596822/
Obviously you can't see the video, but you can click on the link in the show notes available in the Fight Laugh Feast App. Two female cops in Calgary, Alberta attempt to arrest a young man, and when they are unable to pull him to the ground they start threatening to tazer him. It should be noted that he does not resist with any force at all, he just pulls away. 
0:00-1:37
Eventually, the two female cops were able to arrest the young man, but there are multiple layers worth considering here. The first is obviously the question of why COVID 19 is a threat for people ice skating outside. The second is the hilarity of having two female cops trying to arrest one young man. This young man was respectful and did not hardly resist at all, just imagine an actual violent criminal. And third, if Canadians don't stand up for their right to play hockey, I'm pretty sure they won't stand up for anything. And the thing is there were a bunch of men stand around watching these two women mistreat this young man. And if the men of Canada don't start standing up to this tyranny, this is just a parable of what's coming down the pike. 
Scientists Examine Whether Vaccine is Effective with New Coronavirus Variant
https://www.cnn.com/2020/12/20/health/walter-reed-covid-19-variant/index.html?utm_source=Sailthru&utm_medium=email&utm_campaign=EBB%2012.21.20&utm_term=Editorial%20-%20Early%20Bird%20Brief
Scientists at the Walter Reed Army Institute of Research expect to know in the next few days if there's a concern that the coronavirus vaccines might not work against a mutated variant of the virus that's rapidly spreading in parts of England, according to the institute's top vaccine researcher. 
While there's always a worry that a vaccine won't work if a virus mutates significantly, the Walter Reed scientists still expect the vaccine will be effective against this new variant, said Dr. Nelson Michael, director of the Center for Infectious Diseases Research at the Walter Reed Army Institute of Research. 
"It stands to reason that this mutation isn't a threat, but you never know. We still have to be diligent and continue to look," Michael said.
NYC Mayor DeBlasio Says the Mission is the Redistribute Wealth
https://www.youtube.com/watch?v=rXF6j3J08xs
 1:58-3:11
The Frederick Douglas Foundation: Black Ministry Leaders Press Conference in Georgia
https://georgiastarnews.com/2020/12/19/coalition-of-black-ministry-leaders-rebuke-raphael-warnock-and-jon-ossoff-for-unbiblical-stances-that-hurt-the-black-community/
https://www.facebook.com/FDFNational/videos/683830612289829
1:25-1:46
Bishop Garland Hunt objected to Rev. Raphael Warnock's stance on abortion and the equality act, as defying scripture and appealed to voters to vote their biblical values:
6:52-8:58
Pro-Murder Pastor
Kathryn Davis Executive Director of the Restoration Project:
9:17-12:05
18 Year Old Sentenced to 4 Months in Prison for Sinning Against Covid Regulations
https://www.koco.com/article/georgia-college-student-gets-4-months-in-prison-for-breaking-cayman-islands-covid-19-protocol/35018367
An 18-year-old college student from Georgia has been sentenced to four months in prison in the Cayman Islands after breaking the British Caribbean territory's COVID-19 protocol while visiting her boyfriend for a jet skiing competition, according to her family.
Skylar Mack, a pre-med student at Mercer University, left for the Islands Nov. 27 after testing negative for COVID-19 at home, her grandmother, Jeanne Mack, told CNN.
When Mack landed, she was given another COVID-19 test, which came back negative and she was told to remain in isolation for two weeks. Instead, she decided to attend her boyfriend's jet ski competition two days later.
"In her mind, as long as she stayed away from everybody, she would be OK to go watch her friend's race, it was their big national finals race, the last race of the year, big deal," her grandmother said.
Race attendees, who knew Mack, reported her breach of isolation and officials arrested her.
This is Toby Sumpter with Crosspolitic News. You can find this and all of our shows at Crosspolitic.com or on our app, which you can download at your favorite app store, just search "Fight Laugh Feast". Support Rowdy Christian media, and become a Fight Laugh Feast Club Member and get your very own Fight Laugh Feast t-shirt and access to all the talks at our first annual Fight Laugh Feast Conference as well as many exclusive behind the scenes interviews as well as our very own Worldview Shotgun Series. Go to fightlaughfeast.com.