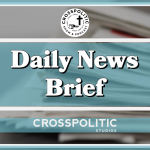 This is Toby Sumpter with your CrossPolitic Daily News Brief for Tuesday, December 8, 2020.
If you have a news story you think we might need to cover, please send articles and links to news@crosspolitic.com 
Matthew McConaughey on Left/Right Politics
https://www.youtube.com/watch?v=cOkIHQ326JU
Radically centrist? Take the dare? I like Matthew McConaughey, but that's just rhetoric. What does that even mean?
Daniel Horowitz Explains Mail-In Ballot Anomalies to Mark Levin
https://twitter.com/RMConservative/status/1336026743073894401?s=20
Folks, do you wish You could listen and watch the news any time day or night from a source that was committed to telling the truth about what's going on in the world and have a no-holds barred biblical analysis to accompany it? You tired of woke scolds and latte theologians nuancing everything to death. Do you wish Christian media was a little bit more rowdy and more idols got smashed? That's what CrossPolitic is all about. And we need your help to continue growing the Fight Laugh Feast Network. The best way you can help is by becoming a Fight Laugh Feast club member today. Many of you already have, and it has allowed us to grow so much already, but if you're tired of legacy media cramming their pagan worldviews down your throat and social media censoring views they don't approve of, support CrossPolitic as we build a Christian Media Platform and Network committed to the Lordship of Jesus Christ. Also, we like to laugh and drink beer. Support Rowdy Christian Media and become a fight laugh feast club member today. Go to Fightlaughfeast.com.
Supreme Court Declines to Hear Oregon Case to Prevent Cross-Dressing Girl in Boy's Locker Rooms
https://www.dailywire.com/news/scotus-declines-hearing-case-where-parents-dont-want-transgender-students-sharing-facilities
On Monday, the Supreme Court declined to hear an appeal of a case from parents in Oregon who want to stop transgender students from using locker rooms and bathrooms with students of the same biological sex, the Associated Press reported. "The petition filed by the advocacy group Parents for Privacy was rejected by the justices without comment," Law and Crime stated.
The case, Parents for Privacy v. Barr, involved a high school student in Oregon who is biologically a girl but says she is a boy. The Dallas School district in Oregon's policy gave the student the right to share locker rooms and bathrooms with boys. In 2017, parents of students in the school sued the district, arguing that the policy infringed on the privacy rights of their children.
U.S. District Judge Marco A. Hernandez dismissed the action in 2018, prompting the parents to appeal the decision.
In July 2019, the Ninth Circuit took on the case, and explained the case as follows: "The Dallas School District No. 2 implemented a Student Safety Plan after a student who had been born and who remained biologically female publicly identified as a boy, and asked school officials to allow him [her] to use the boys' bathroom and locker room. The Plan acknowledged the student as a 'transgender male' and permitted him [her] to use the boys' locker room and bathroom facilities with his peers."
Gov. Cuomo Says He and Fauci Will Be Like De Niro and Pacino in a TV Ad Telling people to get the COVID vaccine
https://twitter.com/DailyCaller/status/1336004869333934086?s=20
Reasonable Reply to Total Death Data Study
https://amgreatness.com/2020/12/06/yes-total-deaths-in-the-u-s-are-up/
Edward Ring at American Greatness writes:
Johns Hopkins study claiming that COVID-19 deaths are vastly overstated made the rounds recently on social media and alternative news websites—until the university retracted it. The work in question may still be found on the Wayback Machine. Researchers measured total U.S. deaths from all causes during 2020 and concluded that these deaths were not greater than deaths in previous years.
Skeptics were quick to pounce. For example, in this report, an alternative content provider led with the headline "Study: Absolutely NO excess deaths from COVID-19." Then when Johns Hopkins pulled down the study, the plot thickened. A typical reaction: "Johns Hopkins Publishes Study Saying COVID-19 Deaths Overblown, Then Deletes It."
When university took the study down, the Johns Hopkins News-Letter published an explanationthat only clarified some of the issues raised by the study. To the main point—that deaths from all causes in the United States are not higher in 2020 than in previous years—the editors wrote "This claim is incorrect . . . according to the CDC, there have been almost 300,000 excess deaths due to COVID-19."
Briand did have a useful insight, however, by focusing only on "deaths from all causes." This eliminates the question of misclassification and merely asks whether or not more people are dying this year than in previous years.  The CDC issues reports weekly, and each time they arrive in downloadable spreadsheet format, showing how many people died, per week, for every week preceding the week of the report. (Here, for example, is a link to the CDC's weekly report for the week ended November 24.)
The graph below shows CDC data on U.S. deaths from all causes for this year. It depicts the data from 23 weekly reports from the CDC, starting on week 25 (the week ending June 24) through week 47 (the week ending November 24). Each report is one line on the graph. The vertical axis represents the number of deaths, the horizontal axis represents weeks in 2020.
Note how each week of data plummets toward zero as it plots the more recent weekly total deaths. Note, too, how the earlier weeks, where all data have been collected, show these lines all converging. This shows graphically how the CDC's weekly reports do not provide complete totals for the weeks immediately preceding each of their reports. Only the data eight to 10 weeks behind any CDC weekly report are a reliable indicator of how many people actually died.
We can see there are six years of prior year data that track in close formation. The 2017-2018 flu season stands out as the most severe, with deaths peaking in January at nearly 70,000 per week. Overall, during the peak weeks of flu season over the six years prior to 2020, total deaths in the United States rose to not quite 60,000 per week, then dropped in midsummer to around 50,000 per week. That is the normal progression.
Against that backdrop, the dark blue line, which represents total deaths from all causes in 2020, offers a very different curve. Flu season was normal, with deaths topping out around 60,000 per week for several weeks in January and February. But then deaths spiked dramatically in March and April, during a time when deaths from all causes typically start to cycle downward slightly. The sharp peak in April clearly shows that something very alarming was happening, with the week of April 15 peaking at 78,821 deaths, around 15,000 deaths (or 46 percent) higher than what would have been typical for that week.
For the calendar years 2014-2019, through September 16, the average number of deaths from all causes (adjusted for population growth) was 1,991,648. For 2020 through September 16, the number of deaths from all causes was 2,302,633. This means that over the first 37 weeks of 2020, there were 310,985 more deaths in the United States than should be expected based on the averages from the six preceding years.
The question though – if that number is correct – is how many of those deaths were caused by the lockdowns and panic? How many excess deaths were caused by sending sick elderly folks to nursing homes? How many excess deaths have been created by people not getting their cancer screenings or treatments? How many excess deaths have come from deaths of despair (suicide, drug overdoses, etc.)? Remember Denis Rancourt told us months ago that he agreed that there had been a spike in excess deaths back in March, but he believed that was largely caused by the lockdowns and sending the sick to nursing homes. 
This is Toby Sumpter with Crosspolitic News. You can find this and all of our shows at Crosspolitic.com or on our app, which you can download at your favorite app store, just search "Fight Laugh Feast". Also, if you want to rock your Fight Laugh Feast bona fides visit rowdychristian.com for shirts, hats, hoodies, postmill coffee, etc. Also: did you hear we started a new magazine? Four issues a year for forty bucks. https://flfnetwork.com/product/fight-laugh-feast-magazine/
Support Rowdy Christian media, and become a Fight Laugh Feast Club Member and get your very own Fight Laugh Feast t-shirt and access to all the talks at our first annual Fight Laugh Feast Conference as well as many exclusive behind the scenes interviews with Voddie Bachaum, Tom Ascol, Erick Erickson, Sho Baraka, Douglas Wilson, David French, Gary Demar, Tom Ascol, Maj Toure as well as our very own Worldview Shotgun Series. Go to fightlaughfeast.com.