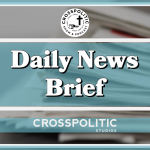 This is Toby Sumpter with your CrossPolitic Daily News Brief for Tuesday, January 12, 2021.
Today you will hear about the outcome of our Psalm Sing arrests, a quick tour of election fraud crazy town, Parler sues Amazon, Twitter censors the Ayatollah Ali Khamenei (but not for what you might expect), a new study shows COVID immunity lasts, and we remember Dodger Great Tommy Lasorda. 
If you have a news story you think we might need to cover, please send articles and links to [email protected] 
Two National Events: Fight Laugh Feast Rally in Rapid City, South Dakota, April 29, 30, May 1 & the Fight Laugh Feast Conference in Nashville, TN, October 1-3. Why a rally in South Dakota in April? Because we want to stand with Kristi Noem – the only Governor in the Union to not overstep her authority. And we also want to encourage you wherever you are. Many churches are not meeting, many Christians feel all alone. But you're not alone. So the theme of the Rally in South Dakota is Love God, Sing Psalms, Defy Tyrants. Gather with likeminded Christians who love freedom, confess Jesus Christ is Lord, and be equipped to stand firm in these insane days. Go to flfnetwork dot com forward slash rally. 
City of Moscow Admits Mistake in Arrests at Psalm Sing
https://moscowidaho.news/2021/01/09/city-admits-mistake-in-psalm-sing-arrests/
The Moscow City Code gives the Mayor the authority to issue emergency orders, but it also provides default exemptions, specifically rights listed in the US Constitution. This means gatherings for political and religious reasons are exempt from the mask order.
It seems the Mayor and City Council did not read the City Code carefully. City Supervisor Gary J. Riedner said, "The omission by City staff to include the specific language to include the expressive and associative activities is unfortunate and has resulted in confusion." Riedner apologized for this confusion.
Bautista recommended that the city investigate the City Codes and make adjustments to the mask order. Bautista said, "In addition, the Mayor and City Council have directed that staff prepare recommended amendments to Moscow City Code to address these issues."
Let's go to with Crazy Town. 
General McInerny Claims Some Good Guys Stole Pelosi's Laptop
https://rumble.com/vcl9r3-gen.-mcinerny-we-got-pelosis-laptop.html
And that's why she wants to impeach him… But wait there's more:
Have You Heard of ItalyGate Yet?
https://www.facebook.com/TrumpTrainNewsMedia/videos/vb.109501620454657/154496396469452/?type=2&theater
That's Maria Zollo Zack, and all of that data was stored on the servers in Germany…
However, USA Today Says These Claims Are Baseless
https://www.usatoday.com/story/news/factcheck/2021/01/08/fact-check-italygate-claims-electoral-fraud-rome-baseless/6567335002/
They are also easily contradicted by statements from multiple federal officials who have found no proof of electoral fraud.
On Nov. 12, a national coalition of election security officials announced that "there is no evidence that any voting system deleted or lost votes, changed votes, or was in any way compromised."
"All of the states with close results in the 2020 presidential race have paper records of each vote, allowing the ability to go back and count each ballot if necessary," they wrote. "This is an added benefit for security and resilience. This process allows for the identification and correction of any mistakes or errors."
USA TODAY, Reuters, PolitiFact and the Associated Press have debunked these claims. Most "spikes" were caused by late-counted absentee ballots, which tended to skew Democratic, or left-leaning counties that released results in large batches.
Some aspects of the claims in the videos are also easily disproven. 
For example, the theory relies on the notion that votes were changed via satellite, software or the internet. But hand recounts of paper ballots have confirmed election results in at least one contested state and locality. 
In Georgia, officials performed a weeklong statewide audit of paper ballots that affirmed a narrow victory for Biden. Georgia Secretary of State Brad Raffensperger said the audit "reaffirmed that the state's new secure paper ballot voting system accurately counted and reported results."
A hand tally of every vote cast for president in Antrim County, Michigan, also confirmed that its machine-tabulated results were correct, per the Detroit Free Press. Out of 15,962 votes cast, the hand recount showed a net gain of 12 votes for Trump, who won the county but lost the state.
Multiple details in the videos are also inaccurate.
Gen. Claudio Graziano is not listed as a member of the board of directors at Leonardo, per its website. Graziano serves as the chairman of the European Union Military Committee, per a website run by the European Union. 
Employees of Leonardo were arrested on Dec. 5, but they were arrested for their alleged role in hacking the company's computers to steal sensitive information between 2015 and 2017, per Reuters. [The video goes on to allege that they were arrested for safekeeping.]
And there was no raid of election servers in Germany. USA TODAY says it has previously debunked that theory, since the U.S. Army denied preforming such a raid, and the company whose purported servers were seized didn't even have servers in Germany.
Proponents of "ItalyGate" have also claimed that the news media in Italy has covered the scandal. However, the Italian news feeds of the the Associated Press, Reuters, and Sky News contained no references to any of the claims, according to Lead Stories dot com.
https://leadstories.com/hoax-alert/2021/01/fact-check-stefan-serafini-an-alleged-foreign-service-officer-did-not-work-with-barack-obama-former-italian-prime-minister-matteo-renzi-and-others-to-rig-the-2020-election.html
Share Plug
Is CrossPolitic a blessing to you? One of the most significant ways you can help us is by sharing this news brief or your favorite show with someone you think would appreciate it. Tell someone about the Fight Laugh Feast App. And last of all, become a Fight Laugh Feast Club Member. We want to grow the Fight Laugh Feast Network into a full blown News and Entertainment Network, coming at you with truth, goodness, and beauty. Thanks to all of you who have already shared our content and become club members. 
Parler Sues Amazon
https://www.wsj.com/articles/parler-sues-amazon-kicks-site-off-its-servers-11610363052
Social-media platform Parler has sued Amazon.com Inc. after the tech giant abruptly ended web-hosting services to the company, effectively halting its operation.
In a complaint filed Monday in Seattle federal court, Parler alleged that Amazon Web Services kicked the company off its cloud servers for political and anti-competitive reasons. The conservative social network founded in 2018 exploded in popularity among supporters of President Trump after the November U.S. election. 
"AWS's decision to effectively terminate Parler's account is apparently motivated by political animus. It is also apparently designed to reduce competition in the microblogging services market to the benefit of Twitter, " according to the complaint, which also accused Amazon of breaching a contract between the parties.
Amazon said Saturday that it would cut off Parler because it wasn't confident in its ability to sufficiently police content on its platform that incites violence. The company said while it would no longer provide web services to Parler after Sunday at 11:59 p.m. Pacific time, it would preserve the platform's data and help it migrate to different servers.
In its complaint, Parler also accused Amazon of applying a double standard than with other platforms, noting that Twitter had recently signed a multi-year web-hosting deal with the company. 
Ayatollah Ali Khamenei's Tweet Censored by Twitter
https://www.dailymail.co.uk/news/article-9129751/Twitter-hides-Iran-Iyatollahs-tweet-vaccine-conspiracy-permanently-banning-Trump.html
Twitter has removed a COVID-19 conspiracy theory posted by Iran's Supreme Leader Ayatollah Ali Khamenei calling the vaccines imported from the U.S. or U.K 'completely untrustworthy.' 
Khamenei, who has the final say on all state matters, still has access to the account and has since tweeted – to the ire of Twitter critics demanding he be suspended since the platform banned U.S. President Donald Trump from their services. 
'It's not unlikely they would want to contaminate other nations,' the tweet said in reference to the two countries, CBS News reports. It also said the vaccines from France 'aren't trustworthy.' 
It raises questions as to why certain leaders such as Venezuelan president Nicolás Maduro and Saudi Arabia's King Salman bin Abdulaziz Al Saud all still have access to their accounts.
Khamenei in the past as even called for genocide in Israel through the 'elimination of Zionists', but is allowed to remain on the platform. 
The Daily Mail notes: OJ Simpson, white nationalist Richard Spencer, and known anti-Semite Louis Farrahkan are also still allowed to freely tweet. 
A tweet on Khamenei's Farsi-language account is still up and expresses similar sentiments regarding Israel. 
Khamenei on Friday announced a ban on importing vaccines from the United States and Britain. 
The Red Crescent in Iran said it will not import the massive stash of the Pfizer vaccine that benefactors from America had planned to donate to the country. 
Facebook and Twitter Hemorrhaging Investors
https://markets.businessinsider.com/news/stocks/facebook-stock-price-president-trump-ban-capital-riots-zuckerberg-fb-2021-1-1029956600
Facebook sank as much as 4.5% on Monday as investors continued to balk at the platform's ban of President Donald Trump.
The slide saw $33.6 billion erased from Facebook's market cap at intraday lows. Shares have since pared some losses and now trade about 2.6% lower.
The stock's decline comes as Wall Street reconciles with the president's role in encouraging supporters to storm the Capitol on Wednesday. Facebook CEO Mark Zuckerberg announced on Thursday the company would ban Trump "indefinitely," adding the risks of allowing him to remain on the platform "are simply too great."
Twitter, which permanently banned Trump on Friday, also underperformed the broader market slump on Monday. The downturns saw the communications-services stocks drop more than any other S&P 500 sector.
While Facebook is far from the only platform to ban Trump, it is among the largest to do so. Investors likely fear that the move will lead pro-Trump users to boycott the website and congregate elsewhere. Right-wing social-media platform Parler was poised to take in such users until Amazon removed the website from its hosting service.
San Diego Research Says COVID Immunity Lasts
https://timesofsandiego.com/tech/2021/01/10/san-diego-researchers-find-covid-survivors-have-long-term-immunity-to-re-infection/?fbclid=IwAR32nKRbL2TyVR6S4EWGyJCTo6KsVRgwY6-2nMosrOrdRzqZYcY3beoxCH4
A new study by researchers at the La Jolla Institute of Immunology found nearly all COVID-19 survivors retain immune cells that can fight re-infection for at least eight months and likely longer.
The findings, based on analyses of blood samples from 188 COVID-19 patients, suggest that responses to the virus from the body's immune system can last for at least eight months after the onset of symptoms from the initial infection.
"Our data suggest that the immune response is there—and it stays," said Dr. Alessandro Sette, who co-led the study with Dr. Shane Crotty and Research Assistant Dr. Daniela Weiskopf.
"We measured antibodies, memory B cells, helper T cells and killer T cells all at the same time," said Crotty. "As far as we know, this is the largest study ever, for any acute infection, that has measured all four of those components of immune memory."
The findings, published in the Jan. 6 online edition of Science, mean that COVID-19 survivors could have protective immunity against the coronavirus for months and perhaps years after infection.
The team cautioned that protective immunity varies dramatically from person to person. People with weak immune system memory may be vulnerable to a case of recurrent COVID-19, or may be more likely to infect others.
"There are some people that are way down at the bottom of how much immune memory they have, and maybe those people are a lot more susceptible to reinfection," said Crotty.
The researchers will continue to analyze samples from COVID-19 patients in the coming months and hope to track their responses 12 to 18 months after the onset of symptoms.
Tommy Lasorda Died Last Thursday, January 7th
https://www.mlb.com/video/mlb-remembers-tommy-lasorda
This is Toby Sumpter with Crosspolitic News. You can find this and all of our shows at Crosspolitic.com or on our app, which you can download at your favorite app store, just search "Fight Laugh Feast". Support Rowdy Christian media, and become a Fight Laugh Feast Club Member and get your very own Fight Laugh Feast t-shirt and access to all the talks at our first annual Fight Laugh Feast Conference as well as many exclusive behind the scenes interviews as well as our very own Worldview Shotgun Series. We still have a few Fight Laugh Feast tumblers left for club members at 25$ a month or more. Go to FightLaughFeast.com. Have a great day.