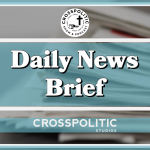 This is Garrison Hardie with your CrossPolitic Daily News Brief for Tuesday, May 16th, 2023.
Concordis Education Partners:
Classical Christian education has reminded us to aim education at truth, but the trivium has been used as a formula rather than a way of training students in discernment.
To teach well, you must coach.
Concordis Foundation is offering their third annual BOOT CAMP – a faculty summit – July 11-13th in Moscow, Idaho. This is a three-day intensive teaching training where you learn to coach students, using the trivium, so that you can meet students at all learning levels.
Learn more at concordispartners.com
https://www.19fortyfive.com/2023/05/the-u-s-navy-is-no-longer-the-largest-on-earth-it-might-not-matter/
The U.S. Navy Is No Longer The Largest On Earth
China now operates the world's largest Navy and has for several years exceeded the U.S. Navy in terms of sheer size, a fact that raises the much-considered question as to whether the People's Liberation Army – Navy (PLAN) can outmatch or simply might be superior to the U.S. Navy.
In terms of sheer numbers of ships, the PLA-Navy surpassed the U.S. Navy several years ago, but how impactful are pure numbers when it comes to maritime warfare superiority? Can today's Chinese Navy outperform or even destroy the U.S. Navy? However unlikely this may be, it is certain to be a possibility being closely studied at the Pentagon.
Do sheer numbers equate to or parallel technological sophistication? Certainly "mass still matters," to reference the famous concept expressed by Sun Tzu, yet several critical modern variables such as sensor and weapons range, multi-domain networking, and the effective use of unmanned systems could definitely offset or even counter any numerical advantage.
The U.S. Navy, for example, operates 11 aircraft carriers, is fast adding a new fleet of unmanned surface and undersea vessels, and is arming its warships with a wide range of advanced technologies including laser weapons, next-generation electronic warfare (EW), and an unprecedented ability to launch and control a small fleet of unmanned systems. The U.S. Navy has also demonstrated breakthrough technologies with multi-domain networking, AI-enabled autonomous platforms, and course-adjusting weapons such as the Tactical Tomahawk, which can re-route as needed in-fight to hit moving targets at sea.
The specifics of China's technological sophistication may be tough to fully assess, yet there is little doubt that the PLA-Navy is trying to challenge and ultimately surpass the U.S. Navy in terms of both size and capability.
China's shipbuilding ambitions and pace of construction may be difficult for the U.S. to match. For instance, multiple reports say China is on pace to double its fleet of destroyers within just the next five years. The concern, however, is by no means restricted to pure numbers but also grounded in uncertainties related to the relative sophistication and capability of China's new destroyers. Having more destroyers does not necessarily equate to maritime superiority if they cannot compete with the range, precision, networking, and overall capability of U.S. destroyers. The U.S. Navy does have as many as 10 DDG Flight III destroyers under contract and is moving quickly to modernize its sensors, radar systems, computing, and ship-integrated weapons.
https://thepostmillennial.com/eric-adams-wants-to-revoke-nycs-sanctuary-city-status-amid-massive-migrant-influx?utm_campaign=64487
Eric Adams wants to revoke NYC's 'sanctuary city' status amid massive migrant influx
As New York City deals with a massive influx of illegal immigrants, Mayor Eric Adams on Thursday said he was asking a judge to revisit the city's sanctuary city law.
"The law of sanctuary city was in place long before I became mayor. I'm following the law. As a law enforcement person, you know, we follow the law," Adams said. "We are now in court now, today, asking the judge to revisit this law to deal with this humanitarian crisis because, even when they decided to put in place that law, no one thought they would be dealing with a humanitarian crisis of this proportion."
The statement comes as hotels in Upstate New York have canceled pre-booked hotel rooms and booted homeless veterans to make space for Adams' migrants.
The Crossroads Hotel in Newburgh, New York abruptly canceled a Florida couple's 30-room reservation made for their wedding, made a few months ago to accommodate traveling guests.
35-year-old Deanna Mifsud and 37-year-old Gary Moretti intend to get married on June 24 in upstate Wallkill, New York, and made the reservation at the hotel because it was 20 minutes away. Their reservation was canceled, with no help from the hotel staff.
Another pair to be married from Queens said Crossroads also canceled their May 20 reservation.
Also in Newburgh, homeless veterans staying in multiple hotels were told by staff that their temporary housing would not be extended and they would have to leave immediately.
The city of Newburgh, which is roughly 60 miles north of New York City, has become the staging ground for illegal immigrants in the state as Mayor Eric Adams continues to transport them into the county from New York City.
Adams signed an emergency declaration on Wednesday, ahead of Title 42's expiration, suspending the city's right-to-shelter rules that find private rooms for illegal immigrants immediately, according to CBS News.
Regarding the emergency declaration, Adams said on Thursday, "this was a hard decision, but it's the right decision, that this is just wrong what is happening to New York City. It's wrong and no one seems to care, but I care. And it was a challenging thing to do, but we're doing the right thing. No one thought about a humanitarian crisis when they first took this court case of right-to-shelter."
https://www.foxnews.com/politics/durham-doj-fbi-failed-uphold-mission-strict-fidelity-law-trump-russia-probe
Durham finds DOJ, FBI 'failed to uphold' mission of 'strict fidelity to the law' in Trump-Russia probe
Special Counsel John Durham found that the Department of Justice and FBI "failed to uphold their mission of strict fidelity to the law" when it launched the Trump-Russia investigation.
Fox News Digital obtained Durham's report Monday afternoon after his years-long investigation into the origins of the FBI's original investigation, known as "Crossfire Hurricane." That investigation looked into whether the Trump campaign coordinated with Russia to influence the 2016 presidential election.
Durham gave his final report to the Justice Department, which released it Monday afternoon. The report spans more than 300 pages.
Durham said his investigation also revealed that "senior FBI personnel displayed a serious lack of analytical rigor towards the information that they received, especially information received from politically-affiliated persons and entities."
Durham is referring to past FBI leadership in his report – specifically former FBI Director James Comey and former FBI Deputy Director Andrew McCabe.
Reacting to the report, the FBI said in a statement: "The conduct in 2016 and 2017 that Special Counsel Durham examined was the reason that current FBI leadership already implemented dozens of corrective actions, which have now been in place for some time. Had those reforms been in place in 2016, the missteps identified in the report could have been prevented. This report reinforces the importance of ensuring the FBI continues to do its work with the rigor, objectivity, and professionalism the American people deserve and rightly expect."
Still, Durham said there is a "continuing need for the FBI and the Department to recognize that lack of analytical rigor, apparent confirmation bias, and an over-willigness to rely on information from individuals connected to political opponents caused investigators to fail to adequately consider alternative hypotheses and to act without appropriate objectivity or restraint in pursuing allegations of collusion or conspiracy between a U.S. political campaign and a foreign power."
Special Counsel Robert Mueller completed his investigation into a possible Trump-Russia connection in April 2019, which yielded no evidence of criminal conspiracy or coordination between the Trump campaign and Russia to influence the 2016 election.
Durham indicted three people as part of his investigation: former Clinton attorney Michael Sussmann in September 2021, Igor Danchenko in November 2021 and Kevin Clinesmith in August 2020.
And now this!!!
https://www.conservativereview.com/netflix-s-woke-queen-cleopatra-bombs-gets-2-average-audience-score-2660240969.html
Netflix's woke 'Queen Cleopatra' bombs, gets 2% average audience score
Cleopatra, the last ruler of Ptolemaic Egypt, is said to have killed herself with poison. Netflix's new series about the historic figure similarly did itself in, albeit by other means.
The series, which debuted on May 10 and is #6 in Netflix's Top 10 list, presently has a 2% average audience score on Rotten Tomatoes and an average critic score of 11%.
The show did not fare better with reviewers on IMDB, where it has a 1.1 out of 10 rating. As of the time of publication, 94.2% (around 37,000) of the approximately 39,000 ratings the show received gave it the lowest possible review.
Forbes noted, "Fans usually rate things higher than critics, even bad shows, and the point being, a 1% audience score seems borderline mathematically impossible, even with the controversy the film has attracted."
While Adele James may be a talented dramatist, the decision to cast the black actress in the role and the show's corresponding ahistorical framing have proven contentious in recent months.
TheBlaze previously reported that after the trailer for the show was released, the project was widely lambasted on social media for portraying the historical figure as black. Cleopatra was of Macedonian Greek descent.
"From Executive Producer Jada Pinkett Smith comes a new documentary series exploring the lives of prominent and iconic African Queens," reads the description of the movie from the Netflix YouTube account.
A voiceover in the trailer says, "I remember my grandmother saying to me, 'I don't care what they tell you in school. Cleopatra was black.'"
The casting decision was widely criticized, especially in light of the claim that the series would be a documentary — and therefore correspond in some way with historical reality.
One popular response to the announcement read, "Egypt is diverse in skin colors, there's no one Egyptian look so you could do a documentary about black Egyptian rulers but Cleopatra was of Greek ancestry and presenting her story as a battle between native Egyptians and the oppressive Roman tyrants is extremely anachronistic."
The BBC reported that Zahi Hawass, a prominent Egyptologist and former antiquities minister, spoke out against the show, saying, "This is completely fake. Cleopatra was Greek, meaning that she was light-skinned, not black."
"Netflix is trying to provoke confusion by spreading false and deceptive facts that the origin of the Egyptian civilisation is black," added Hawass, who indicated that the only known black rulers of Egypt were the Kushite kings of the 26th Dynasty (747-656 B.C.).
Others accused the streaming service of cultural appropriation and historical revisionism.
While some argued that any actor could play the role, Jada Pinkett Smith, an executive producer and narrator on the project, said of the casting decision, "We don't often get to see or hear stories about black queens, and that was really important for me."
Tina Gharvi, the show's director, made clear ahead of time that her intentions were ideological.