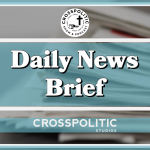 This is Garrison Hardie with your CrossPolitic Daily News Brief for Tuesday, May 9th, 2023.
Samaritan Ministries:
Don't be limited by restrictive networks. There's another way. A Biblical way. Samaritan Ministries. Say you have a medical need. You don't have to check and see what hospital is in your network, or be concerned about the doctor being in-network, too. No. You go to the hospital you choose, and don't give a second thought as to what's in-network and what's not, because with Samaritan Ministries, you're in control of your health care. Afterwards, fellow members pray for you, and send money directly to you to help you pay your medical bills. And when they have a medical need, you'll do the same for them. That's what Biblical health care sharing looks like. Check it out today at samaritan ministries dot org slash cross politic
First, we start with the news of a coronation for our friends across the pond.
https://www.cnn.com/2023/05/06/europe/coronation-king-charles-ckc-gbr-intl/index.html
King Charles III is crowned in once-in-a-generation ceremony
Britain's King Charles III has been crowned in a once-in-a-generation royal event witnessed by hundreds of high-profile guests inside Westminster Abbey, as well as tens of thousands of well-wishers who gathered in central London despite the rain.
While Charles became King on the death of his mother, Queen Elizabeth II last September, the coronation on Saturday was the formal crowning of the monarch.
The service was a profoundly religious affair, reflecting the fact that aside from being head of state of the United Kingdom and 14 other countries, Charles is also the Supreme Governor of the Church of England.
In the most significant moment of the day, Archbishop of Canterbury Justin Welby placed the 360-year-old St. Edward's Crown on Charles' head. The spiritual leader of the Anglican Church then declared: "God Save the King."
The intricate service lasted just over two hours – about an hour shorter than Elizabeth II's coronation in 1953 – and followed a traditional template that has stayed much the same for more than 1,000 years.
However, it has been modernized in certain key ways. The archbishop acknowledged the multiple faiths observed in the UK during the ceremony, saying the Church of England "will seek to foster an environment in which people of all faiths may live freely."
The King took the Coronation Oath and became the first monarch to pray aloud at his coronation. In his prayer he asked to "be a blessing" to people "of every faith and conviction."
In what is considered the most sacred part of the ceremony, the King was anointed with holy oil by the Archbishop of Canterbury. He was also presented with the coronation regalia, including the royal Robe and Stole, in what is known as the investiture part of the service.
Then, for the first time in coronation history, the archbishop invited the British public, as well as those from "other Realms," to recite a pledge of allegiance to the newly crowned monarch and his "heirs and successors."
Ahead of the event, some parts of the British media and public interpreted the invitation as a command, reporting that people had been "asked" and "called" to swear allegiance to the King. In the face of such criticism, the Church of England revised the text of the liturgy so that members of the public would be given a choice between saying simply "God save King Charles" or reciting the full pledge of allegiance.
The ceremony also included a reading from the Bible by UK Prime Minister Rishi Sunak and, in another coronation first, gospel music.
Once the King was crowned, his wife, Queen Camilla, was crowned in her own, shorter ceremony with Queen Mary's Crown – marking the first time in recent history that a new crown wasn't made specifically for this occasion.
After the ceremony, the newly crowned King and Queen rode back to Buckingham Palace in a much larger parade, featuring 4,000 members of the armed forces, 250 horses and 19 military bands.
The pomp and pageantry concluded with a royal salute and the customary balcony appearance by the King and family members. They and the crowds below watched a flypast of military aircraft, slimmed down because of the poor weather.
Despite the splendor of the occasion, it has not been without controversy. Some have objected to millions of pounds of taxpayers' money being spent on a lavish ceremony at a time when millions of Britons are suffering a severe cost-of-living crisis.
Security is by far the most costly element of large events and the Met said ahead of time that Saturday would be the largest one-day policing operation in decades, with more than 11,500 officers on duty in London.
The coronation has also attracted anti-monarchy demonstrations, with a small number of protesters arrested in central London on Saturday morning before the event began.
Republic, a campaign group that calls for the abolition of the monarchy, said the idea of the "homage of the people" was "offensive, tone deaf and a gesture that holds the people in contempt."
Some eyebrows were also raised earlier this week when a controversial and widely criticized UK public order bill came into force.
Since the death of Queen Elizabeth II last year, there have been a number of instances of anti-monarchists turning up at royal engagements to voice their grievances against the institution.
The new rules, signed into law by the King on Tuesday, just days before the coronation, empower the police to take stronger action against peaceful protesters.
https://thepostmillennial.com/biden-to-veto-house-remain-in-mexico-bill?utm_campaign=64487
Biden to veto House 'remain in Mexico' bill
On Monday, the White House announced that Joe Biden would veto an immigration bill coming out of the House of Representatives that would reinstitute several Trump-era policies including construction of the border wall and the remain in Mexico policy, which stated that anyone seeking asylum had to wait in Mexico as their claim was processed.
According to the Associated Press, the White House Office of Management and Budget said in a statement, "While we welcome Congress' engagement on meaningful steps to address immigration and the challenges at the border, this bill would make things worse, not better. Because this bill does very little to actually increase border security while doing a great deal to trample on the nation's core values and international obligations, it should be rejected."
On Thursday, the House is set to vote on the 213-page Secure the Border Act. Thursday also marks the expiration of Title 42, the Trump-era policy instituted under Covid that granted Border Patrol and Department of Homeland Security officials the ability to expel illegal immigrants over health concerns.
The Secure the Border Act would also require employers to verify a worker's immigration status for employment and institute the E-Verify system
House Majority Leader Steve Scalise said, "Joe Biden sent a message that America's border is open, and millions of people answered that call and started coming across our border illegally. We're going to show the president how to solve the problem."
The Daily Mail reports, the Secure the Border Act would limit federal funds for NGOs (non-governmental organizations) that aid illegal immigrants crossing the border, would end Biden's expedited entry policy for Nicaraguans, Venezuelans, Haitians, and Cubans, and grant more money for hiring additional border agents.
Joe Biden loosened restrictions along the southern border after he took office and HHS Secretary Alejandro Mayorkas made the announcement that migrants seeking asylum would be permitted entry into the US as would unaccompanied minors.
US Border Patrol Chief Raul Ortiz said that over the weekend 26,382 apprehensions were made by border patrol and that 11 pounds of fentanyl and 83 pounds of meth were seized.
Mexican cartels have exploited Biden's border crisis, with 2,378,944 illegal immigrant encounters reported in the 2022 fiscal year and 1,659,206 reported in FY 2021, by trafficking humans and drugs, especially fentanyl across the border in record numbers.
https://www.dailywire.com/news/airlines-may-soon-be-on-the-hook-for-delayed-and-canceled-flights-transportation-dept-says
Airlines May Soon Be On The Hook For Delayed And Canceled Flights, Transportation Dept Says
Transportation Secretary Pete Boo-tuh-jeg announced on Monday that the agency introduced rules requiring airlines to reimburse customers who incur expenses due to certain delayed and canceled flights, a move which comes as the industry faces elevated demand and a constrained labor force.
The proposed rules, which would apply when an airline delays a flight for more than three hours or cancels a flight for a "controllable" reason, would mandate that the firms offer compensation for stranded passengers, as well as a meal or meal voucher, overnight accommodations, and ground transportation between the airport and hotel.
"When an airline causes a flight cancellation or delay, passengers should not foot the bill," Buttigieg said in a statement, noting that the proposed reimbursement rules would be the first in American history.
The move comes after Southwest Airlines experienced holiday travel disruptions last year due to extreme winter weather conditions, staff shortages, and an outdated computer system. The carrier canceled thousands of flights days after other carriers had resumed normal operations. Buttigieg told the company, which has since promised to compensate passengers for all expenses incurred during that time, that the disruptions were "unacceptable" and promised that his agency would exercise "the fullest extent of its investigative and enforcement powers" to ensure customers are reimbursed.
The new proposals also occur as the sector faces a severely limited pool of available pilots and frontline staff. Carriers previously encouraged commercial pilots to retire as worldwide lockdowns caused demand for air travel to plummet in the spring of 2020, worsening a previous trend toward a lack of available pilots. Elevated prices for airline tickets and a rapid return in travel demand, however, are now prompting lawmakers to consider the problem.
Regional Airline Association CEO Faye Malarkey Black told members of the House Transportation and Infrastructure Committee last month that more than 50% of current pilots would be forced to retire within the next 15 years because of federal rules mandating that pilots exit their positions once they reach 65 years of age, even as only 8% of pilots are below 30 years of age due to the high cost of flight education. Buttigieg has opposed legislation that would increase the retirement threshold to 67 years of age, contending that "the answer is to make sure we have as many and as good pilots ready to take their place, to have a stronger pipeline."
https://www.nbcnews.com/health/health-news/fecal-transplant-pill-fda-approval-rcna81779
FDA approves first pill for fecal transplants, made from healthy bacteria in human waste
U.S. health officials on Wednesday approved the first pill made from healthy bacteria found in human waste to fight dangerous gut infections — an easier way of performing so-called fecal transplants.
The new treatment from Seres Therapeutics provides a simpler, rigorously tested version of stool-based procedures that some medical specialists have used for more than a decade to help patients.
The Food and Drug Administration cleared the capsules for adults 18 and older who face risks from repeat infections with Clostridium difficile, a bacteria that can cause severe nausea, cramping and diarrhea.
diff is particularly dangerous when it reoccurs, leading to between 15,000 and 30,000 deaths per year. It can be killed with antibiotics but they also destroy good bacteria that live in the gut, leaving it more susceptible to future infections. The new capsules are approved for patients who have already received antibiotic treatment.
More than 10 years ago, some doctors began reporting success with fecal transplants — using stool from a healthy donor — to restore the gut's healthy balance and prevent reinfections.
The FDA approved the first pharmaceutical-grade version of the treatment last year from a rival drugmaker, Ferring Pharmaceuticals. But that company's product — like most of the original procedures — must be delivered via the rectum.
Cambridge, Mass.-based Seres will market its drug as a less invasive option. The treatment will be sold under the brand name Vowst and comes as a regimen of four daily capsules taken for three consecutive days.
Both of the recent FDA approvals are the product of years of pharmaceutical industry research into the microbiome, the community of bacteria, viruses and fungi that live in the gut.
Currently most fecal transplants are provided by a network of stool banks that have popped up at medical institutions and hospitals across the country.
While the availability of new FDA-approved options is expected to decrease demand for donations from stool banks, some plan to stay open.
The FDA warned in its approval announcement that the drug "may carry a risk of transmitting infectious agents. It is also possible for Vowst to contain food allergens," the agency noted.
The FDA approved the treatment based on a 180-patient study in which nearly 88% of patients taking the capsules did not experience reinfection after 8 weeks, compared with 60% of those who received dummy pills.